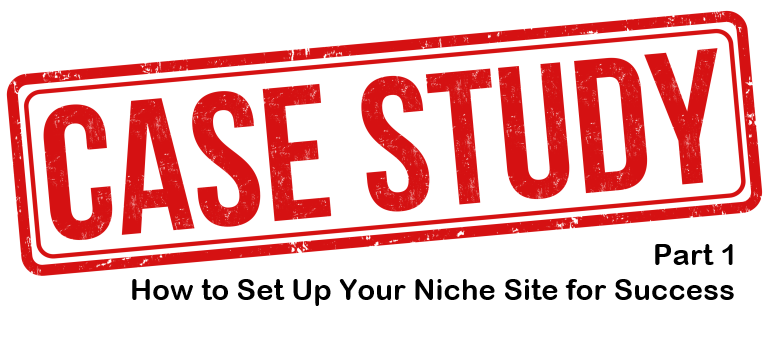 Fridays with Vicky 33
Hands on learning, with real examples, has always been a great way to learn.
In this niche site case study, you will get an opportunity to follow along how one of my niche sites develop over time. This will be an ongoing case study, that shows success and failure, the real life of a website, not the glorified version.
I will take a real site that I started earlier this year and be as transparent and real as possible. I will show you how I create a niche site, what works for me and the result the site is getting. Yes, I will show you real numbers of traffic, rankings, sales and more. I will show both the ups and the downs for the site.
This is all things that has worked for me and my sites.
You can get a lot of affiliate marketing information online. Not all is accurate though. So who should you listen to? Who can you trust?
Let me give you an example. Backlinks for example has gotten a "bad reputation". Are all backlinks bad? No, absolutely not, but using spam links will not help your site for sure.
Why Should You Listen to Me?
I have been working with niche sites since 2007 and learned a few things on the way. I make a full time living doing affiliate marketing. That might mean nothing but I will show you what works for me and what doesn`t. This is no guessing game what will work and what will not, we will implement and see the result from it.
We are in this together. I don`t have the results of the site, I don`t know the rankings or sales for next month. But we will try different strategies and figure out what works well for this site.
Some things that works well for one site might not get the same result with another site. Seeing what I do with this site will help you figure out what rout to go with your own site.
Sometimes you learn more from what doesn`t work than from a success, I found that out the hard way.
The Site
So let me tell you a little bit about the site that we will be following through this case study.
Niche: Health
Monetization: Amazon products
We will work with 2 Sub-niches.
Sub-niche 1 traffic potential: 20.000 monthly
Sub-niche 2 traffic potential: 15.000 monthly
Seasonal peek for sub-niche 1: Winter months
Seasonal peek for sub-niche 2: No peek all year around product
Niche Research
The first thing I started researching before deciding on my site was the niche. I wanted a site with an evergreen topic that overtime can grow and potentially become authority in its sub-niches. I also wanted a site where the trend is positive. Health is an enormous industry so I target in on two sub-niches to begin with.
Which sub-niche should I start with?
I used Google Trends to see the trends and searches for each of these two sub-niches.
Sub-niche 1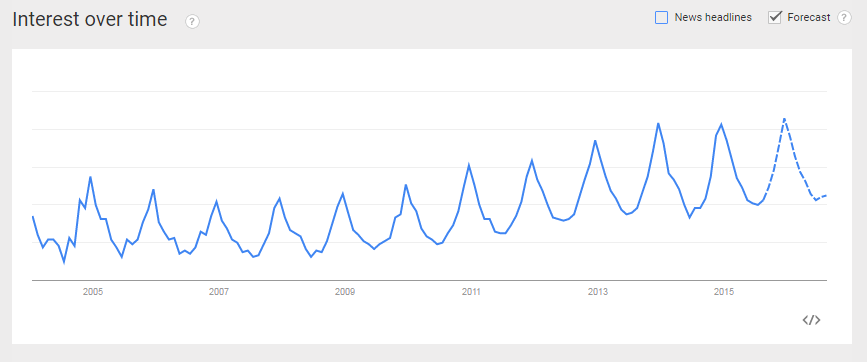 As you can see the main keyword has a seasonal peek in December and during the winter months. The forecast for the coming year looks positive.
In Google Trends I also check the regional interest. Since I will be using Amazon products to monetize my site I want to make sure I can get traffic from the US, Canada and other regions that use Amazon.

Looks like the majority of the searches comes from US, Canada and India.
Sub-niche 2
Sub-niche 2 has two main keywords, so I want to check them both out.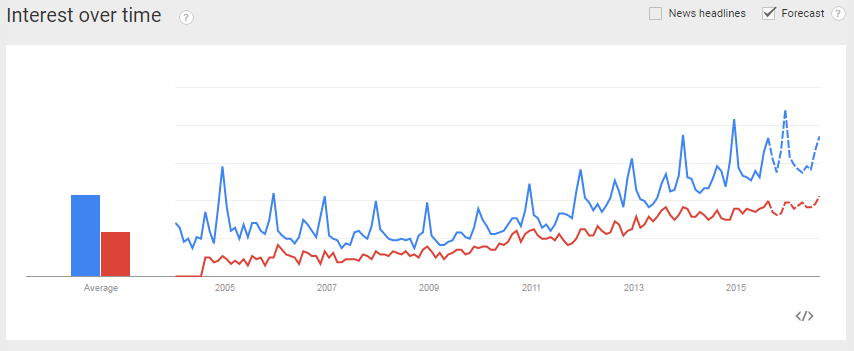 Not sure why this sub-niche is having such a peek in December, my guess would be Christmas but that`s a guess and that`s something I would have to research. The forecast looks good.
I want to make sure that I can target regions that use Amazon here as well.

After checking Google Trends, both sub-niches seems like good alternatives. They are both evergreen and both have positive trends.
Even though sub-niche 1 is seasonal it still has good search volume through out the year and I decide to proceed.  In fact if I plug in all 3 keywords, the seasonal low for sub-niche 1 is still higher than the peek of sub-niche 2`s keyword 2.
Blue – Main keyword sub-niche 1
Red – Main keyword 1 sub-niche 2
Yellow – Main keyword 2 sub-niche 2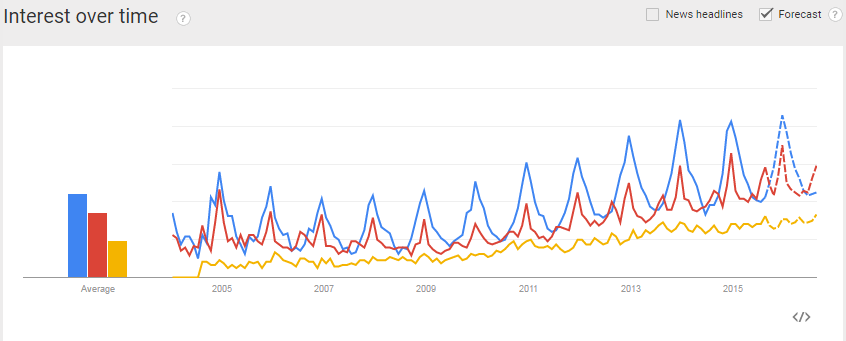 After some keyword research, I decide that I will start focusing on sub-niche 1 and when I have gotten that going and I see some result I will start taking on the other.
These are both good niches and if you combine the two keywords they might even get more traffic. There are lot`s more keywords to look at so that will be our next step.
If you want more information on research, read my article – Affiliate marketing research resources.
Keyword Research
There are two parts of keyword research that I focus on:
Coming up with keyword ideas
Analyse the keywords
I use tools like ubersuggest or Keyword researcher to generate keyword ideas. I also use the keyword tool Jaaxy that both generate ideas and analyse the keywords. Having one tool that does both, saves me time.
The main things I look at when I do keyword research is the following.
Potential traffic
Competition
Jaaxy SEO score (the closer to 100 the better)
Let`s take a closer look at some of the keywords, using the Jaaxy tool.
Avg – average search / month
Traffic – possible traffic with a #1 position in Google
QSR – Number of competing websites
KQI – Keyword quality – Green is great, Yellow is ok, Red stay away
SEO – Score based on traffic and competition. The closer to 100 the better.
Keyword 1 

Keyword 2

Keyword 3 – product related

Keyword 4
After I have narrowed the keywords down, I check out the competition in Google. I want to make sure that the first page of Google is not filled with authority sites like health.gov and webmed.com. Those are authority sites that are hard to "beat" in the rankings. If I see that there are smaller niche sites ranking or even some sales pages, than I will try to rank for that keyword.
What to Do With The Keywords?
Most keywords I use for content creation, it can be content on my site or off my site. I create blog posts and pages on my site. Off site use of a keyword can be a video or guest post.
I know that with these main keywords I want to create pillar articles. These are main articles that you can point other content to. So this can be "Top 10… reviewed" for example. This page will then point to in dept reviews.
I will start with Keyword number 3 and 4. They have decent traffic, not too much competition and a pretty good Jaaxy SEO score. Hopefully I can get the word out there, get the site going and get some rankings for it.
Now we have an evergreen niche, with a positive trend. We have some good keywords to start working with.
If you want more info on keyword research, read my training – Keyword Research Explained. Here I walk you through 5 ways to generate ideas, how to analyse the keyword and how to use the keyword.
Now it`s time to get started with the actual site.
Domain and Hosting
I picked a broad domain name so that I can build out the site over time. Since health is an enormous topic, I will stay focused and target my sub-niches. I do want a domain name which allow the site to grow over time though. I don`t want to limit myself by getting a domain name that target my sub-niche.
A sub-niche in health could be thermometers for example. If I would get the name bestthermometersever dot com I would limit myself to that niche, I don`t want to limit myself so I got a broader domain name.
I will not go into what domain and hosting service to use, but you can read more about it here:
The Plan for the Site
At this point I like to create an overview plan. Write down what I want to achieve with the site. How I want it to look, what I want it to do. What my main focus will be the first months and who my target group is.
I will create a main page, a "Top 10… Review" page, targeting keyword #4. This will be the page I link to internally on my site for related content. This top 10 review page will then link to in-dept reviews on 10 different products. Keyword 3 will be based on one of the product reviews.
I start out targeting a keyword that hopefully will not be too hard to rank. Getting that ranking power will then help me when I take on the more competitive keywords.
Schedule for My Site
Starting out I will be posting 2 posts weekly. I will be hiring a writer for this site, so that I can be a little bit more hands off. This is of course completely up to you if you want to write content yourself or outsource.
Starting out I will spend time getting the site set up, I want to get it organized so the categories make sense. I will need to find a WordPress theme that I like and update it to fit the needs of this site. I want something plain, with an easy layout but well organized with the features I want.
I will use Twitter and Pinterest to get the word out about my content.
To Do:
Find a WP theme that I can work with.
Keyword research so that I can submit keywords to my weekly writer.
Submit 2 weekly articles.
Submit 2 pillar articles monthly , this can be a review or other pillar article, written by me.
My Goals
My goals for this site is to help solve problems through content that the reader find valuable. I also want to help people find the product that they need in this specific niche.
Another goal is for this site to be out of the red at the end of the year. If I can be hands off with the writing and outsource that part and still make a profit, it`s a winner for me.
Content Goals 3 Months
I want to submit 2 posts each week. Total of 24 articles.
2 Pillar articles monthly. Total of 6 pillar articles.
Traffic Goals 3 Months
1000 visitors from organic rankings and some social media. I use no paid advertising.
But mostly I will be looking for a positive trend. I do have to take into consideration though that there are more requests during the cold months, so at this point I will focus on the rankings. Hopefully gain ground in the niche and be able to rank more and more keywords.
Financial Goals 3 Months
After 3 Months I would like to have 10 sales monthly from Amazon.
This is a completely new niche for me so it will be interesting to see how it all plans out.
Why Will I Not Give You the Actual Site? Well, I Can…
Well I was debating back and forth if I should reveal the site or not. At this point I decided not to because of the "copy cats" out there. I know you are not one of the copy cats, so I will be happy to share the site with you.
Just drop me an email at vicky at itsvicky dot com and I will be happy to share the site with you.
I love to connect with my readers so I would love to hear from you.
In the next part of this case study we will take a closer look at the 3 Month Results. We will look at traffic, rankings and sales, don`t miss it.
Feel free to leave a comment below,
Have a productive day and a great week!
See you next Friday,
Vicky