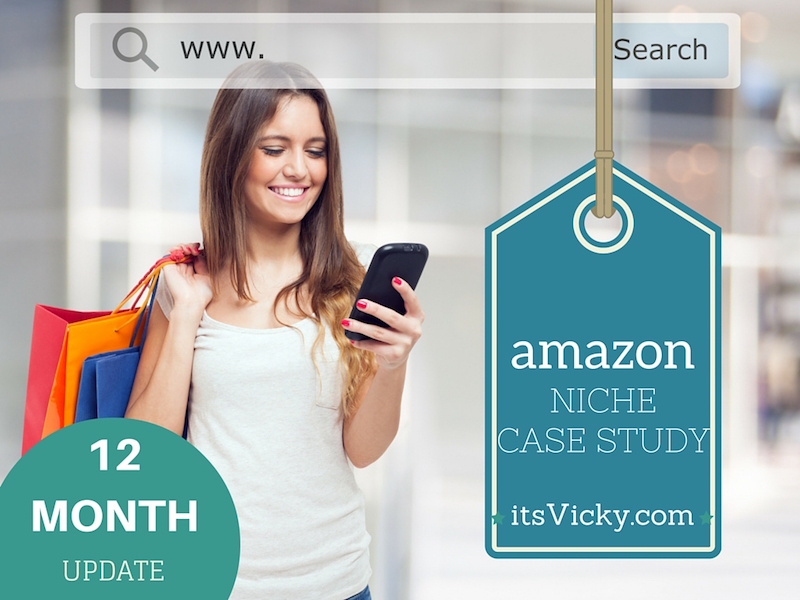 Fridays with Vicky 61
The curve is pointing up, this hands off site, is growing on all levels. It increases monthly in traffic, rankings, and sales.
Maybe most importantly it's starting to get some traction, it's getting noticed not only by consumers, but brands are showing interest as well.
I received a free product today, from one brand that wants me to review their product. Highly relevant to what I'm doing so will happily try the product and review it.
This is a confirmation that the site is on the right track and I'm very excited for our second year with this site.
This case study series was created so that you can follow along, on the ups and downs. Learn from my mistakes and experience, and create a great site for yourself, monetized with Amazon.
In this article, we will take a look at the first year with our Amazon cases study site.
What I Have Learned During the First Year, with This Amazon Case Study Site
Looking back at this first year, with this Amazon site, I've learned a lot. From the mistakes I've done, I will grow and learn, and hopefully not make them again.
Here are 3 things, I should have done from the beginning:
Promote High Ticket Items
If you want to make decent money, you have to promote high ticket items with Amazon. The products I've reviewed this year has mostly cost between $20 – $100. These have converted very well. Since I sold a decent amount, that means that for the last few months I got a bump in the % earning, earning around 7%. (You start out each month with 4%).
The increase in % is great, but to increase earnings, you want to review high ticket items as well. That's where I fell short.
It will take you the same amount of time to review a $50 item as it will reviewing a $350 item. Might as well do both. So going forward I will dive into some more high ticket sub-niches, to try and get those additional high ticket sales to help bump up earnings for the coming year.
YouTube
I want this to be a hands off site and since I outsource most content it is. One thing I do want to take the time to do is video. Video is a great way to drive traffic.
My plan was to do weekly videos, that didn't really happen. I did submit about 10 videos to YouTube and most of them are ranking on the first page of Google for its keyword. Going forward I will priorities video.
Social Media
It does not take much to click that share button. Social media is an area where I need to improve on this site. I did set up a Twitter account for the site but have not done much with it since. Social media is a great way to create, brand awareness and drive some traffic to the site. For the coming year, social media like Twitter and G+ must improve.
Traffic Progress Over the First Year
Let's first look at how I get traffic:
Content
Over the year I have submitted 155 posts and pages. This is really the backbone of this site. I have consistently submitted 2-3 posts weekly.
Most of this content has been outsourced. I'm lucky to have found a great writer with niche expertise. This allows me to be pretty hands off with the site, which has been the goal all along.
Use of long tail keywords
Not all but most posts are keyword based. I take use of long tail keywords to rank the content organically. This has proven to be a good strategy for the site, and it grows consistently in both traffic and keyword rankings.
Social Media – Some of the traffic do come from the two platforms that I have used occasionally Twitter and YouTube.
Traffic Result

March 2015 – 310 Users
February 2016 – 3127 Users
Total Users for the last year – 18,397
Total Sessions for the last year – 20,365
The numbers are slowly increasing, it will be very interesting to see if the positive trend will continue over the summer since my sub-niche has its peak during the winter months.
I'm happy to see that my "low traffic days" are now over a 100 visitors.
Ranking Progress Over the First Year
What I do to get organic rankings:
Great content – great content should always be in focus for organic listings. Provide helpful information to your readers.
Long tail keyword – help Google and other search engines rank your content by using long tail keywords. This is a long-term strategy that will help the site grow slow and steady over time.
Inbound links – link within your website, point to helpful resources, reviews and other information that you share on your site.
Outgoing links – link out to authority sites and other great resources when suitable. This proves that you are really trying to help your readers, even if it's not on your site.
Ranking Result for the First Year
I went from 0 to 1.8K ranked keywords according to Semrush. I would say that's a good start for the site. I see this increasing continuing to submit helpful content on a regular basis.
The traffic number is "users expected to visit the site the following month through organic listings", I see this number being off from looking at the Google Analytics.
Traffic cost is the est. price of organic keywords if they would be bought in Google Adwords.
Another tool I use is Jaaxy. If I have some main keywords that I really want to keep an eye on I plug them into Jaaxy. When I come back at a later time, it will tell me, the changes…

The ranking results have been improving over the year and that's what I'm looking for the positive trend.
Sales Result from the First Year
This site is monetized with Amazon. The sales have been increasing month by month, again the positive trend I'm looking for.
March 2015 Sales Stats 
4 Sales
Commission: $7.29
February 2016 Sales Stats for this Niche Site
141 Sales
Commission: $327.79
What I need to do going forward is to review more high ticket items. I will focus on a couple of sub-niches with high ticket items to try and increase the sales amount.
Overall though I'm happy with the positive trend. Also for a hands off site like this, I'll take the extra money.
Expenses Month 12
The expenses have varied a little bit from month to month, depending on how much content I have outsourced. With 2-3 submitted outsourced articles weekly we look at the following expenses:
Content 10 articles outsourced $60
Pictures for blog posts $8
Total Expense February 2016: $68 
Total Result for the Site
Result Month 1 – 3: $

-200.17

Result Month 4 – 6: $

-65.19

Result Month 6 – 9: $147.93
Result Month 10: $187.53
Result Month 11: $221.88
Result Month 12: $259.79
Total result after 12 months: $551.77
This is not an income to retire on, but I like the improvements. There's always initial costs starting a site and it took a few months to catch up. The first year finished on a positive note so that's a great thing.
What I'm looking at is the positive trend, again. The site is growing and increasing revenue each and every month. If I can keep the momentum, I believe the Holiday months, November and December will deliver great results for this case study site.
How to Kick Things Up – Goals for Year 2
Find more high ticket items to promote – this is a must for me, to increase revenue.
Find an additional writer for product reviews – the writer onboard is a niche expert, will be looking for an additional writer that write excellent product reviews.
Solid summer month niche – Since I have a good sub-niche for the winter months, I want to make sure I find a solid relevant sub-niche with a focus on the summer months.
Content Submission – Submit at least 3 articles weekly, maybe crank it up even more through out the year.
Traffic –  This year the site went from 300 to 3,000 the first year. My traffic goal for year 2, is to reach 20,000 unique visitors monthly.
Sales – Within a year I went from 0 to 141 monthly sales. My goal for the coming year is to reach 700 sales within a month. If I reach my traffic goal this should be doable.
Work with more brands – Like I mentioned in the beginning, I have had one brand contact me, asking me to do a review of their product and working more closely with them. This is something I would like to do more of.
I see this as my site is getting traction, not only consumers but also brands are starting to noticing the site. A good place to be and I'm excited for the year ahead.
14 Month Update, See How the Site Improved!
This has been an ongoing case study and if you missed any of the earlier posts, you can read the here:
As always I want to hear from you! Feel free to chime in below in the comment section.
Have a productive day,
Vicky