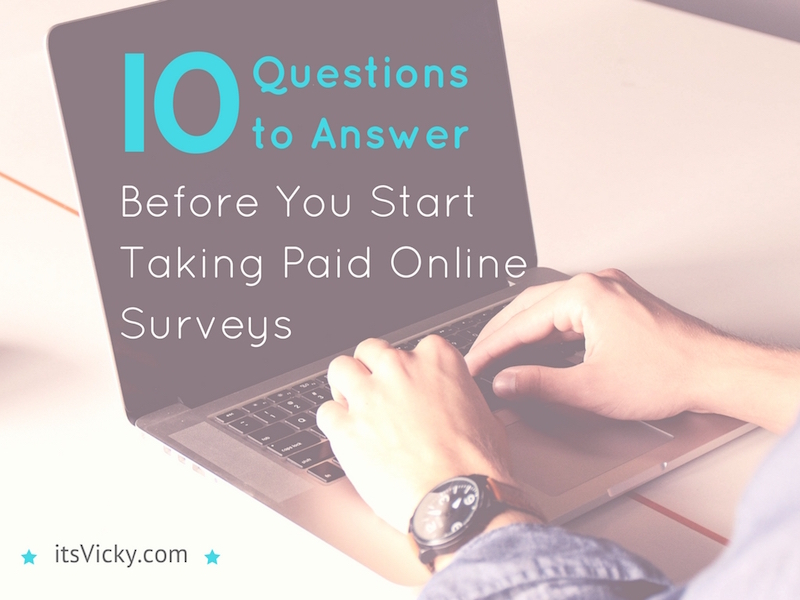 Fridays with Vicky 89
Do you ask yourself if you can make money by taking online surveys? Are you in the researching phase to see if it's for you or not?
That's great you are doing absolutely the right thing by finding out more about paid surveys before jumping right into it.
So many just dive in without having the right expectations or knowledge, thinking they will be able to quit their day job and just fill out forms online. That's not really the reality.
Is there money to be made with paid surveys?
Sure there is.
BUT
Make sure you have realistic expectations, answering the below questions, before starting with paid surveys will help you with that.
10 Things to Ask Yourself Before You Start Taking Paid Online Surveys
1. How Much Money Do You Expect to Make?
The most important thing here is to be realistic. Doing online surveys will for most people not replace a full-time income.
A realistic expectation is to make some extra money on the side.
As always the more time you put into something the more you will make. It is realistic and possible to make a few hundred dollars a month if you put some time and effort into it. In your own case, it might be more it might be less.
If you are looking to make some extra money, doing something while watching TV or just hanging out, then yes that is very possible.
2. How Much Time Are You Willing to Spend on Paid Surveys?
It is always good to have an idea of how much time you can put into something before even starting.
How much time are you willing to spend? One hour every evening? 20 hours weekly?
Whatever it is that you commit too, stick with it.
You will find surveys that will take a few minutes to complete, often being worth a few cents. There are also longer surveys or tasks that will take one hour + to complete and these will be paying more money.
3. How Much Money Will You Make / Survey?
Different programs work in different ways. Some will credit you points that can be exchanged for money or a gift card. Some will credit you the money amount to your account right away.
How much you can make per survey depends on a couple of things:
Time spent to complete the task
What type of survey or task that needs to be done
Let's use Swagbucks as an example. A daily poll question will credit you 1 Swagbucks point. Taking a 32-minute survey will credit you 187 Swagbucks.
1 Swagbucks = around $0.01.
Spending 32 minutes earning 187 Swagbucks = around $1.87
So again doing this on the side while watching TV can bring in some extra cash, but replacing your income will take a lot more.
Here's another example of possible Swaybacks earnings: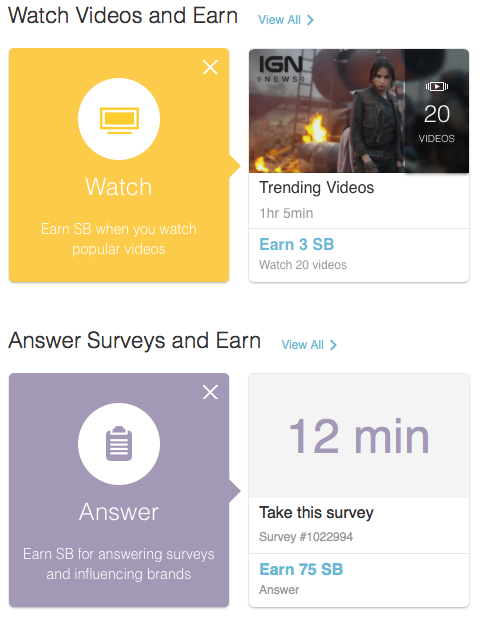 4. What Surveys or Tasks Can I Be Expected to Complete?
Depending on what program you sign up with they will have different tasks to complete. If we use Swagbucks again for our example, they offer the following tasks to complete:
Daily poll
Answer survey questions
Watch a video
Visit and explore websites
Purchase a product
Make in-game purchases
Divided into the following categories: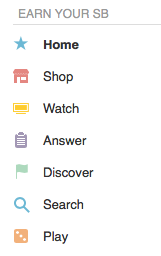 As you can see some tasks will be totally free to complete, some include purchases. Which might not be such a bad idea if you were thinking of making the purchase anyway.
There can also be special, short-term offers that are sent right to your account inbox:
5. How Much Is Your Time Worth?
If taking online paid surveys is for you or not, comes down to deciding how much your time is worth. Spending an hour making $5 – $10 might be worth it to some, while others would want to find another way to make extra money.
You can also look at it this way. Making $10 at the same time as watching TV, is $10 more than what you would have made last week watching TV.
6. How Much Time will It Take to Make $250 Monthly?
I always like including this kind of questions because it brakes things down into manageable tasks.
Say that you want to make an extra $250 monthly.
What will it take to get you there?
If you are efficient I would say making $5 / hour shouldn't be too difficult.
$250 divided by $5/hour is 50 hours.
50 hours divided by 30 days is 1.67 hours daily.
If you make $5 hourly by doing surveys, it will take you 1-2 hours daily to reach $250 monthly.
Of course, you can make more or less depending on the tasks you complete, how much they are worth and how much time you put into it.
7. How Much Will It Cost You to Get Started with Surveys?
Nothing, it should be completely free to sign up with the survey platforms. Now there might be purchasing requests for some surveys but you don't have to do those if you don't want to.
If any survey company suggest that you pay for their "service", find another company to work with.
8. Should You Sign up for More Than 1 Survey Company?
We have mentioned Swagbucks earlier in this post, but there are many other survey companies out there.
Yes, I do suggest that you sign up not only with Swagbucks but also with a few of the other survey companies. The reason being is that they offer different surveys and after a while, you might have done them all if you are only signed up with one company. Sign up with a few and you will have more options.
Just make sure you don't do the same survey more than ones if they are offered through different survey platforms.
9. What Survey Companies Are Worth Working With?
There are many different survey companies to work with. I have found Swagbucks being the best one out there. Here are a few more suggestions:
Other companies you might want to look into:
ipoll.com
opinionoutpost.com
fusioncash.net
valuedopinions.com
pandaresearch.com
i-say.com
vindale.com
10. Is Paid Online Surveys for You?
I see this being a great way to make some extra income, supplemental income. I would not quit my job to do this full-time though.
I also see this being good if you need some quick extra money, building other kinds of online businesses takes time while this will give you a return relatively quickly.
Now it's up to you to decide if paid online surveys are for you or not?
If this is what you are looking for go ahead and sign up with Swaybacks right here, a great place to start.
BONUS TIP:
Create a new email, a Gmail account will work, to manage all the survey accounts with, if you do decide to go with more options than Swagbucks. Depending on which companies you sign up with, you might get a ton of emails, suggestions of polls and surveys. (Swagbucks does not do this, but I know some of the other ones do)
If you feel like this is not really what you are looking for, if you want to make more than just a couple of hundred dollars a month, I have something else that might interest you.
Affiliate Marketing.
Let's do a quick comparison between Paid online surveys and affiliate marketing.
Surveys vs. Affiliate Marketing
Long term vs. Short term
If you are looking to make some quick money then paid surveys is the way to go.
If you are looking to build something long term for yourself then affiliate marketing could be your choice. Affiliate marketing allows you to set up your own little business that over time grows, you are building for yourself and for the future.
Required Knowledge
Taking surveys does not require any specific knowledge, you share your answers based on what you think most of the time.
If you are new to affiliate marketing there will be a learning curve. Nothing that you can't learn, but it will take time and effort to get it done.
Luckily there's a great training center, that will teach you, step-by-step to get it done. They also have a great community with like-minded people, working with affiliate marketing. You can read more about that program here and how to get started for free.
Income potential
This is where affiliate marketing is the big winner. There's a great income potential with affiliate marketing where paid surveys are limited.
Sure you can make that extra money pretty quickly with surveys but the long term income potential with affiliate marketing is so much greater.
Here are a few posts from successful affiliate marketers:
As you can see there are very different income potential between the two opportunities.
So what will it be paid surveys or affiliate marketing? After our post – 10 Questions to Answer Before You Start Taking Paid Online Surveys, you should have a better idea what will work for you.
Would love to hear from you in the comment section below,
Have a productive day,
Vicky