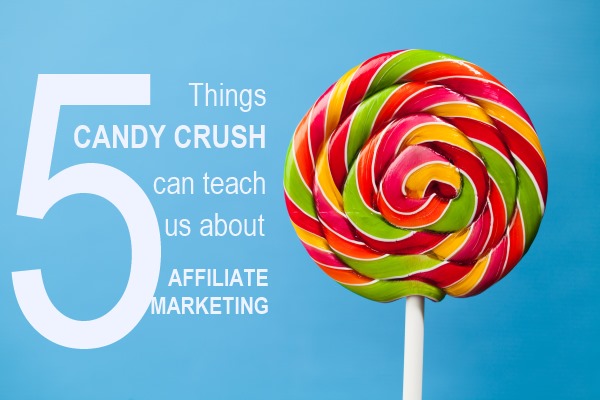 Fridays with Vicky 28
So last night after the kids where in bed I got my iPad out and started to play Candy Crush. I know not the most creative way to spend my time but its certainly away for me to relax.
Anyway, as I was looking at the main Candy Crush board, you know the one with the railway. I was kind of curious to how long the railway is. It`s looong, I scrolled and scrolled and … yeah I`m only on level 125. Let`s just say that it is a long way to the end, there is no number at the last station.
It got me thinking of different journeys we take in life.
One journey that`s been ongoing for me for the last 8 years or so, is my online business doing affiliate marketing. Building websites on topics I enjoy and monetizing them in different ways.
It`s a constant movement to get closer to my goals, kind of like the playing field on Candy Crush.
So what does Candy Crush and affiliate marketing have in common?
5 Things Candy Crush Can Teach Us About Starting Affiliate Marketing
1. No End in Sight
Just like Candy Crush there is no end in sight working on your website.That might sound a little dramatic but the truth is that there are no "done" websites. A website or a blog is a constant work in progress. If you have worked with this for a while you know that this is 100% true.
A lot of times though, when you first start out, you have this feeling of getting your website done. Over at Wealthy Affiliate, I`m often asked to check out new websites, and more times than not it will be followed by…
 – but it`s not done yet
That`s ok, your site will be work in progress for a long time. Sure after some added content it will look more complete, but it will not be "done". You do want to deliver new fresh content to your readers on a regular basis, so that they keep coming back.
2. The Road Will Not Be Straight
If you look at the road or railroad in Candy Crush it is pretty curvy. The road is turning left and right and it is not a straight shot. Affiliate marketing is the same way, it will take you on ups and downs but if you stick with it, the rewards can be amazing.
Another thing is that you need to know where you are going with your business. What is it that you want to accomplish, what`s your destination? To be able to reach your goals you have to know what they are. So think about that, what`s your goals for your business, how are you going to get there.
3. Play Candy Crush and Only Candy Crush
If you play Candy Crush and Candy Crush only, you will become really GOOD at doing that. If you play a little bit of Candy Crush a little Hay Day a little… it will take longer to advance and move forward right. This is only natural since you will be splitting your time.
That`s the same thing with affiliate marketing, if you focus on affiliate marketing only and make that your online option to succeed online, you will move forward. But if you leave the door open and say hey if I don`t make it with affiliate marketing I can always do MLM or I can do online surveys or I can… NO, focus on affiliate marketing only until you have that under control.
Same thing with websites, don`t start out with 5 different sites, focus on one. Master that and then if you want to move on to build a second one, sure, do it. I learned this the hard way. I was doing pretty good with a couple of small niche sites so I thought great, if I just create 10 more I will make 10 times as much money…
Not true
My focus was… nowhere to be found. It all changed I became more successful when I focused on one thing at the time.
4. Complete One Level and You Can Move on to the Next
You don`t have to have all the answers when you first start out. You don`t have to have all the knowledge to proceed. Take one level at the time, take action and you will move forward and deal with the issues that will come up.
The key here is to take action, if we do nothing – we will get nowhere. With both Candy Crush and affiliate marketing we can read up on rules, we can read the tactics, we can read on how to break the next level but if we don`t take ACTION and DO, we will go nowhere.
5. It Might Take 100 Tries but You Will Move On
If you have done Candy Crush for awhile you know that some levels take a long time. BUT if you stay persictant, if you keep at it, sooner or later you will break that level and move on. That is the same thing with affiliate marketing, you might get stuck, you might get things wrong but if you stick with it you will push through and you will move on
To Sum It Up…
Your website is work in progress
Affiliate marketing has its ups and downs
Focus
Take action
Stay persistent and keep at it
What`s your take on this, do you see any common factors between Candy Crush and affiliate marketing? Feel free to chim in in the comment section below,
Have a productive day and a great week!
See you next Friday,
Vicky