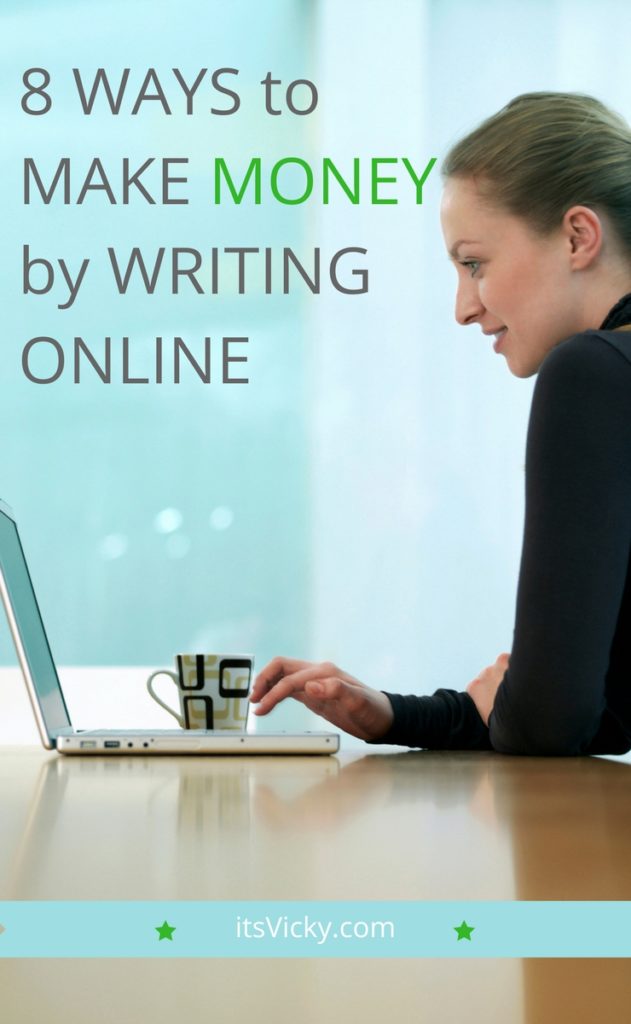 Fridays with Vicky 133
Can you tell a story?  Are you good with finessing words?  How about your ability to convey a thought or an idea; is that something you can do?
If you answered a resounding 'Yes!' …or maybe even mumbled, 'eh, yeah', then keep reading!  This post is for you!  I encourage you to consider some of the suggestions below as ways you could make money by writing online.  If you are the creative type, you might have it in you to do all of the projects listed below.  Some, however, may require more creativity than others.
If you are the creative type, you might have it in you to do all of the projects listed below.  Some, however, may require more creativity than others.
8 Ways to Make Money by Writing Online
1. Write ad copy
A few words say a lot sometimes.  If you are witty or have a knack for making words visual; being a copywriter might be the right project for you.
2. Write novels and book series
This is where your creativity can really come in handy.  If you have a great imagination, you could be the author of the next great mystery or romance novel.  Put that wild mind of yours to good use and make it earn its keep.
3. Write commercial scripts
Have you seen those commercials ads or skits that you want to watch two maybe three times because they were so good?  Well, you could be the next writer to write one.  Many times, companies (especially ad companies) are open to creative campaigns for products and services.  Do an internet search to see if you can find a company willing to work with you.
4. Self-publish an e-book
Self-publishing an ebook is something you should consider.  The ebook doesn't have to be long.  It doesn't even have to be wordy.  It only has to tell a story.
5. Write inspirational articles
If you like inspiring others, consider putting your thoughts on paper.  People like reading positive things.  There is a whole market looking for those who are able to provide positive content for their sites.
6. Become a source of information/content writer
If you like researching, writing a short synopsis of your findings and keeping it for later can help you build your database of information.  Depending what you've saved and found, you could be hired by companies to provide content for their websites and blogs.
7. Be an online columnist
Just like writing for a paper in print, you can become a columnist for a paper online as well.  Find a subject you like talking about and write about it often.  Submit samples to magazines and online papers to offer to be a columnist on their site.
8. Start a blog and write on a topic you enjoy
If you like being in charge of your own writing, if you have a topic that you are passionate about, maybe something you can write forever about, then why not start a blog. You can write about whatever you want, whenever you want to. You are in charge.
There are many ways to make money from a blog, advertising and product recommendation with Amazon are just a couple. If this sounds interesting read my get started with a blog post, to find out how to get started the right way.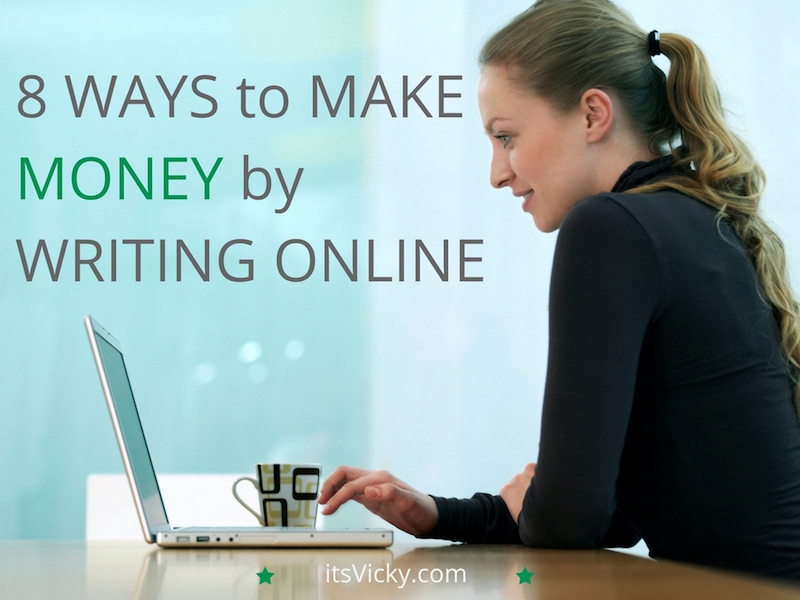 Ultimately, the more you write, the more opportunities you can possibly create for yourself.  Point being, continue to write!  There are a lot of readers out there.  You never know which one will present you with a life changing opportunity.
Note:  You can try the suggestions on your own, or look on sites like Upwork for opportunities to do some of those kinds of projects for others willing to pay you!