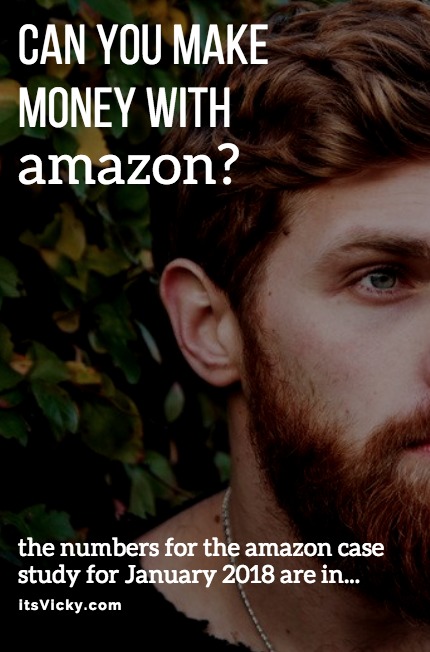 Fridays with Vicky 162
New year new beginnings. The big question is…
Is it possible to make money through Amazon in 2018?
This is the January update for our Amazon case study where we take a closer look at the search engine rankings, traffic numbers, money coming in and money going out…
A transparent case study where we share the real numbers from a WordPress site.
It's hard to believe but the site is almost 3 years old.
If you want a peek at last year's stats you can find that the case study site 2017 update here.
I've gotten the question more than once why I choose to share these numbers.
2 Main Reasons Why  I Share the Stats of the Case Study Site
1.    To give you insight into what it can look like to run a WordPress site. I share ups and downs and everything in between. These are my numbers and they might be totally different for you, but it will at least give you an idea of what it can look like.
I sure am glad that I stuck with the site and didn't throw in the towel 12 or 18 months into this project. It was kind of a slow start since most traffic comes from organic listings but it 's starting to pick up…
Looking at last year making $22,640.40 with the site, I'm very optimistic for 2018 and what it can bring.
Hard to believe that it all started with a $4 commission lol, you can read how I got started with affiliate marketing here.
2.    To keep me accountable. Each month I summarize the numbers and stats which gives me a great overlook of the performance of the site. It's easy to just go along with your site, keep doing what you're doing without taking the time to look at and analyze your stats. By doing these monthly updates I keep myself accountable, I go through my stats and numbers on a regular basis.
Before we dive into the January numbers let me give you some quick facts about the site:
The site is 2 years and 11 months old.
It's in the health niche.
Starting out I monetized with Amazon only now I have added another affiliate program.
Most content is outsourced, I want the site to be pretty hands off.
Let's look at the traffic numbers…
Traffic January 2018
As expected traffic is down some from December 2017. The holiday season really does give a bump in both traffic and earnings. It will be interesting to see going forward how the traffic numbers will hold up. Last year a lot of the sub-niches where winter month related. Lately, I've tried to introduce sub-niches that are relevant all year around. We'll see how that plans out going forward.

December
Sessions 42,386
Users 38,607
Page views 54,134
Session duration 56 sec
time on page 3.23 
January
Sessions 37,682
Users 34,402
Page views 47,196
Session duration 52 sec
time on page 3.26
I'm pleased to see that the avg. time on page is pretty consistent it means that my visitors are staying and reading the provided content.
Content creation and rankings are very important to this site since almost 90% of the traffic is coming from organic listings, posts and pages ranking naturally in Google, Yahoo and Bing.
Content
Let's look at what kind of content is ranking and bringing in the traffic for this site. These are the types of posts that generate the most traffic for the site.
Top 5
5 Best
Top 10
5 ways
5 ways
It's safe to say that lists are ranking very well for the site and bring in a lot of the traffic.
When I create these lists, there are a few things I make sure to include:
Engaging, informative content.
Clear, easy to read design.
Relevant, describing images.
Show the visitor a good place to purchase the item best suited for them if it is a product related post.
In January I had one of my writers move on but found another great writer. Going forward I will be trying to submit even more informative, longer and more in-depth content for my readers.
To be able to include product images and a great place to purchase I use EasyAzon a WordPress plugin that saves me a lot of time.
With this plugin, I can insert links, images and call to action phrases even correct prices directly from my post or page. Truly a timesaver that helps me maximize earnings. If you monetize with Amazon, take a look at the EasyAzon plugin and see if it can help you.
What can be expected if you provide good content on a consistent basis? Let's look at the rankings.
Ranking Result
Since ranking in the search engines brings in the majority of the traffic for this site I want to keep an eye on the rankings. Make sure that we are on the right track with that.
Things will go up and down, there will be changes to algorithms and rankings so what I want to see is an overall growth.
To get a quick view and overall picture of the rankings I use SemRush, a great tool for rankings, keywords and other important data for an online business.
Although traffic was down some from December, I'm still hoping that the rankings are improving.

We see a good growth but what I'm most excited about is the top 3 positions in Google that grew from 228 in December to 259 in January. Having your post show in the top 3 positions is definitely the main goal, those are the links and posts that get clicked the most.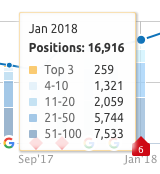 Good ranking growth for the month of January. Will that show in the income numbers?
Case Study Income Report and Sales Result from January 2018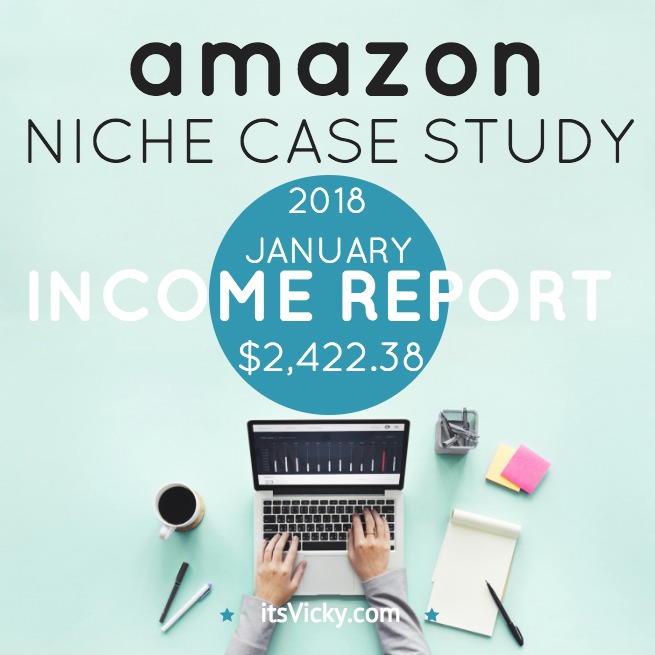 The first month of 2018 and online shopping is slowing down from the busy holiday shopping in November and December. How will that affect the numbers of this case study?
Can you make money through Amazon?
Let's look at the numbers and see.
In the past, I've added all the Amazon commission from the different countries together. It's taken some time to see sales from Canada and the UK. It's nothing that I've spent any time on, these international listings have simply happened naturally.  Going forward I will be showing the numbers for each country individually including the US, UK, and Canada.
January 2018 Earned Commission
Amazon US 898 shipped items       $1,843.21
Amazon UK GBP67.06 36 items     $94.24
Amazon CA CAD43.40 20 items     $34.65
Affiliate program #1 – 10 sales        $450.28
Total Shipped Items: 964
Total Commission:      $2,422.38
Based on that result I would say yes, you can make money through Amazon!
$ / 1000 Visitors
I like to be able to compare this project with other projects, to be able to do that I calculate $ per thousand visitors. By doing this we can get an accurate number to compare.
Let's see what we get in January.
October 2017 $85.15 / 1000 visitors
November 2017 $100.76 /1000 visitors
December 2017 $119.47 / 1000 visitors
January 2018 70.41 / 1000 visitors
This is a number that I'm not very happy with. I'm happy that we are receiving decent traffic but wondering if some of it is not targeted enough, the traffic is not converting like it used to. This is something that I need to spend some time figuring out. The traffic is growing how do I make sure it's converting…
Expenses January
Outsourcing: $132.5
10 Outsourced articles ($7 each) $70
5 Outsourced reviews, (these are longer in-depth articles 1000 words at least, $12.5 each) $62.5
Hosting: $2
This site is on shared hosting, there for the low cost.
This is the hosting I suggest if you are new.
List building: $5
Aweber list building shared cost with other sites $5
Total Expenses: $139.5
Total Result January 2018: $2,282.88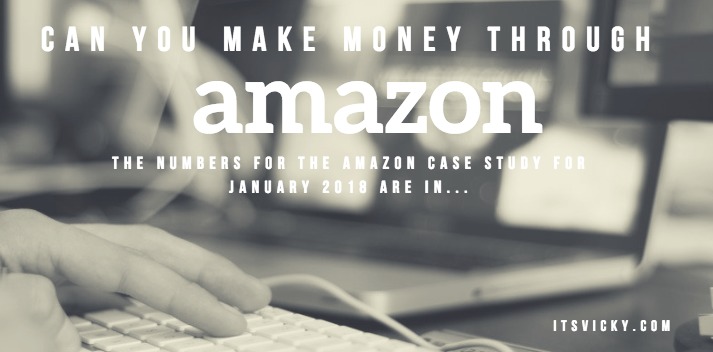 Looking in rare view mirror…
January 2016 – $221.88
January 2017 – $2,264.23
January 2018 – $2,282.88
We barely beat last year's number, a little disappointing that we didn't see more growth. Like I mentioned before traffic is growing but how do I make sure that traffic is converting into sales… definitely, something to spend some time trying to figure out.
The Amazon commission change could play a roll in this along with me promoting product's that are low-ticket items.
January 2017 I had 795 sold items this year 964, so we do see a good growth with items sold. I think it's safe to say that going forward I need to research and promote more high-ticket items.
Total Result for the Site
Result Month 1 – 6: $

–265.36

Result Month 6 – 12: $817.13
Result Year 2: $15,767.08
Result Year 3, 11M in: $20,980.83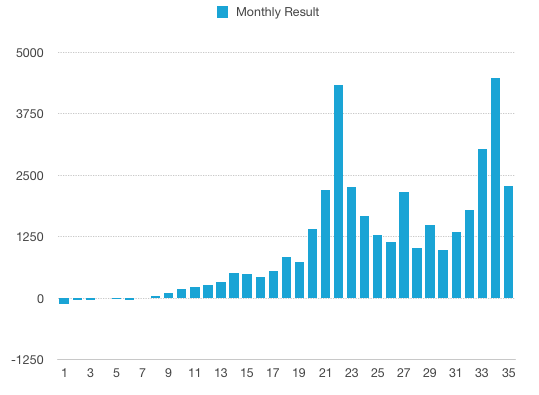 Total earnings for 2017 ended at $22,640.40. 
2018 What Can We Look Forward to?
I'm excited to have found another great writer for my writing team. So far he has delivered great content that I'm very pleased with. My goal for 2018 is to eventually submit daily content to the site.
The site is right now on HTTP, I will at some point this year move it to HTTPS, to make it SSL secure. I didn't want to mess with the site too much over the holiday months, but that is definitely something that I need to get done in 2018.
Work closer with businesses, this is an avenue that I want to explore more. Offering a service on the site for businesses that would be truly helpful for them and generate an extra income stream for the site is something that I'm looking into.
You can follow the 2018 progress here on our case study site listing.
Exciting 2018 for sure!
I could not have reached the results I do without these helpful tools…
Wealthy Affiliate for training and updates (Free and Premium membership)
BlueHost (starting from $3.95 monthly)
Jaxxy for keyword research (Free trial)
WpZoom Theme I use for the site  (Premium theme)
EasyAzon to fast and easy include Amazon links on the site (Premium plugin)
Aweber to collect emails (Premium tool)
SumoMe (Free and premium for social share)
Crowdfire for Twitter growth (Free and premium)
Google Analytics (Free)
SemRush (Free and Premium)
These tools are awesome, saves me time and help me maximize earnings.
Don't miss the exciting journey of this site, 2018 should be really good!
Are you ready to get started with your own blog or website? Check out the beginners guide here.
If you have a blog or site but are not seeing the results you want to check out this community, a great place to hang out and talk online business…
As you can see it is possible to make money through Amazon. Feel free to share your thoughts in the comment section below, I love hearing from you!
To a great 2018!
Vicky