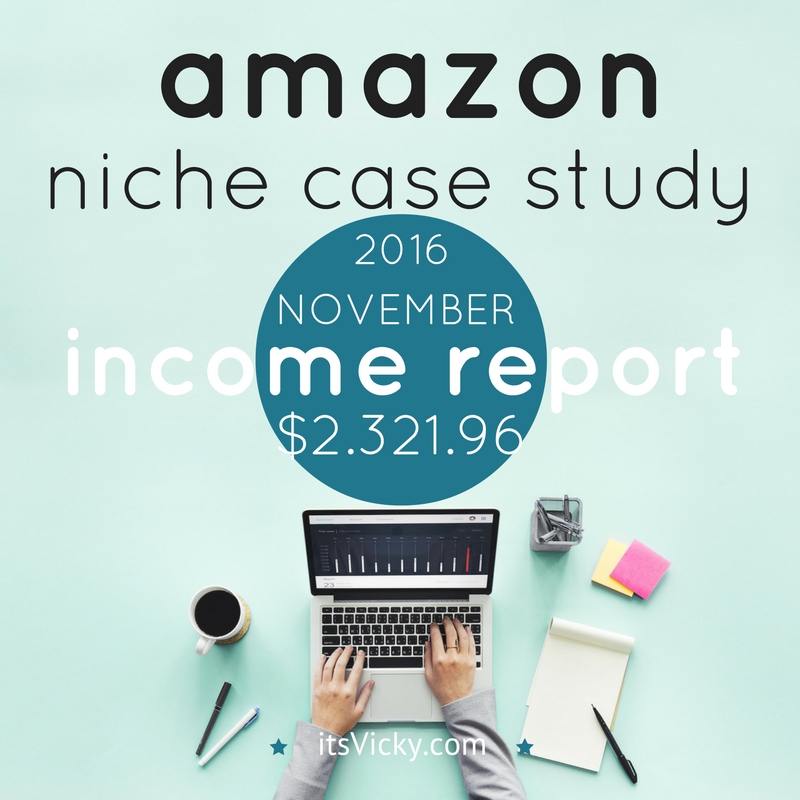 Fridays with Vicky 99
November has come to an end, Black Friday and Cyber Monday has started the busiest shopping season of the year.
I had high expectations for the month of November and it delivered. I'm excited to share the November 2016 Amazon case study numbers with you.
The best month this far for this site on all levels, we beat the visitor record, the number of sales and the income amount earned, I share all those details with you in this article.
Some may wonder why?
Why Share These Stats and  Income Numbers?
I got this question, the other day – Why do you share your stats and income numbers publicly?
There are many reasons for this, but the main one is so that you can get a realistic view of what it takes to run a site that makes money with Amazon. With this project I want to be as transparent as I can. I want to provide you with the traffic, income, all the numbers that I feel contribute to the success of a site. I want to do this so that you can see a case study, based on real numbers, so that you have realistic expectations of your own site.
I feel that this industry is so built up on hype, with crazy unrealistic statements like "Make 10K within 2 weeks" that it has many quitting before they even give it a real chance. If you think you will make 10K within 2 weeks and that doesn't come true even after 4 months… well some might throw in the towel.
With this case study I show that it takes time (especially the way I built my site, with outsourced content and organic listings) to see progress. It takes great content on a continues basis if you want your site to rank organically. It takes determination. It takes patience…
With this case study I want to show you the journey of a website. That if you work hard, put time and effort in to your site, with time it will be worth it.
These are MY numbers and results; your outcome might be completely different.
What Is this Case Study Site Based On?
When creating this site, I wanted it to be hands off. I was very skeptical to monetizing a site with Amazon, to be honest with you, due to the low commission. I'm glad I did take this project on though but I had some very specific criteria for the site…
It had to be based on an evergreen niche, I went with the health niche.
The site has to be hands-off, so most content is outsourced.
Organic rankings I don't pay for any traffic, the content submitted is helpful and slightly keyword optimized so that it ranks in Google and other search engines.
It's monetized only with Amazon.
I currently work with 5 sub-niches. Some of them are ranking very well, some of them are still "work in progress". The exciting thing is that many of the posts outrank, big box stores for specific keyword phrases. A couple of those sub-niches are focused on issues that relates to the winter months, which naturally gives the site a boost during the cold months.
With that being said let's take a closer look at the traffic numbers for November.
Traffic Progress
How do I get traffic to the site?
The main traffic source is organic traffic, mainly from Google but also from Yahoo, Bing, and aol.
October 2016 (Month 20)
Sessions 13.684
Users 12.393
Pageviews 19.636
Session duration 1.22
November 2016 (Month 21)
Sessions 17.427
Users 15.617
Pageviews 24.552
Session duration 1.18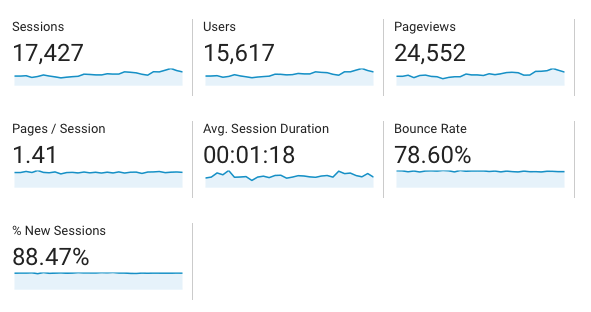 The average daily user count went from 400 in October to 520 in November, that's a great increase. It looks like the targeted "winter keywords" are starting to show results, must say that I'm very happy with the improvement.
There seem to be more daily visitors at the end of November compared to the beginning of the month so hope this trend continues through out the month of December.
The session duration is dropping a little but if I look at the top 10 Avg. time on page it's 3.11, which is good. It means that my content is engaging and people find it helpful.
Content
Most content submitted to this site is outsourced content, I talked in detail about this last month in the October Amazon Case Study. I've been through some hiring issues but think I found a solution.
Through out the month, I've worked with a few different new writers, and I finally think I found a good one that I will keep for the long haul.
A question that I get a lot is what kind of pages and posts are ranking well?
For this site, top 10/ top 5 posts seem to be doing really well. Also, in-depth reviews, along with informative content make up my most visited posts and pages.
Ranking Result
Since I depend on organic listings for this site, I like keeping an eye on the keyword ranking results. Is the amount of keywords, that I'm ranking for increasing? Do I gain or lose listings?
Keywords

It's been a positive trend for months, which I'm very happy about. November continued that trend. We are up from 4.5K to 4.7K keywords. We also see a jump in spot 1-3 Google listings, 97 compared to 93 in October. The more Google tops 3 listings we have the more traffic.
The chart looks a little funky, displaying January, when it should be November, not sure why that is, will check back in a day or so to see if they updated it.
SEMRush (where the above screenshot is taken) is my to go to tool when it comes to checking my keyword data.
New and Lost Keywords
The one thing that do concern me a little, is that I see some decline and lost keywords. In the past we've had more new and improved keywords than lost ones. Right now the number for new and lost are pretty similar. I will have to do some digging on this, to see what caused it.
When checking the rankings I always check if there is anything going on with Google, if there have been any updates that can cause changes in the rankings.
Google Updates November 2016
Very interesting, I find a major Google update for November 10 and possibly also the 18th. This is not a confirmed update by Google, but many webmasters found changes in SERPS during this time. Many seeing negative impacts on their rankings… wonder if this is a coincidence…
Case Study Income Report and Sales Result
November 2016
Ordered Items: 891
Commission Summary: $ 2.321.96
Expenses November
Outsourcing: $110.5
9 Outsourced articles $54
5 Outsourced reviews, (these are longer in depth articles 1000 words at least) $62.5
Hosting: $2
This site is on shared hosting, therefore the low cost of hosting
Listbuilding: $5
Aweber listbuilding, shared cost with other sites $5
Total Result November: $ 2.198.46
If we compare that to last years number in November, we have a pretty god increase…
November 2015: $108.94
November 2016: $2.198.46
Total Result for the Site
Result Month 1 – 6: $

–265.36

Result Month 6 – 12: $817.13
Result Month 13-21: $7.499.85
Total result after 21 months: $8.051.62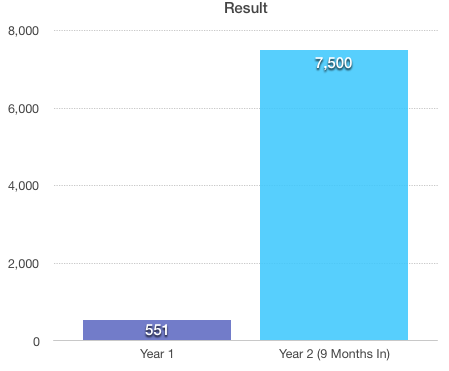 Monthly Results 2016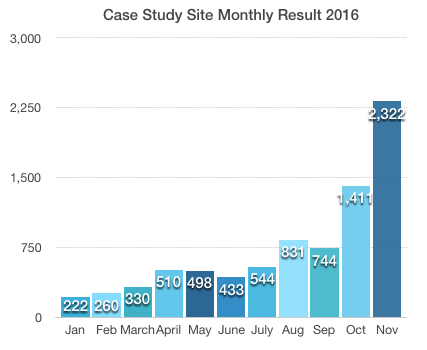 Breaking the 1K mark last month and the 2K mark this month, I'm happy with the result even though I did not double the income like I was hoping for. The end of November was great, hoping that will carry over into the Christmas month of December.
Going Forward…
Looking at the growth of the site from October last year to April this year, it has been steady monthly income growth. I'm curious to see if the site will continue that trend or if that was due to the site being new. Since we have a peek this year for October and November, will the steady growth continue into the beginning of next year or do we see a holiday peek? I'm obviously hoping for continues steady growth, due to the winter months, but the future will tell.
One thing that I will start monitoring closer now when I have more traffic is the relationship between visitor count and $.
October had 12.393 users and the site made $1529, before expenses, that's 12 cents/visitor.
November had 15.617 users and made $ 2.321.96, that's 14.9 cents/visitor.
Is the increase due to the holiday months? My guess would be yes, but we will keep an eye on this number going forward.
I take use of a lot of tools, here are a few of the ones I use.
These are Some of the Tools I Depend on
I often get the question, what kind of tools I use or recommend. I thought I would share a summary with you.
If you click the link it will take you to a more in-depth review of the tool or program.
Wealthy Affiliate for training and updates (Free and Premium membership)
BlueHost (starting from $3.95 monthly)
Jaxxy for keyword research (Free trial)
WpZoom Theme I use for the site  (Premium theme)
EasyAzon to fast and easy include amazon links on the site (Premium plugin)
Aweber to collect emails (Premium tool)
SumoMe (Free and premium for social share)
Crowdfire for Twitter growth (Free and premium)
Google Analytics (Free)
SemRush (Free and Premium)
Don't underestimate the free tools that are offered here. They are very useful!
Will this case study site break the 3K mark next month? Don't miss the update, sign up for the newsletter below…
Is this your first time reading this case study? Feel free to catch up with previous reports here!
Do you have a site that you monetize with Amazon, feel free to share your results? Maybe you have questions about this case study? I would love to hear your thoughts on both your own site and on this Amazon associate case study November 2016. Please, feel free to leave a message below,
Vicky