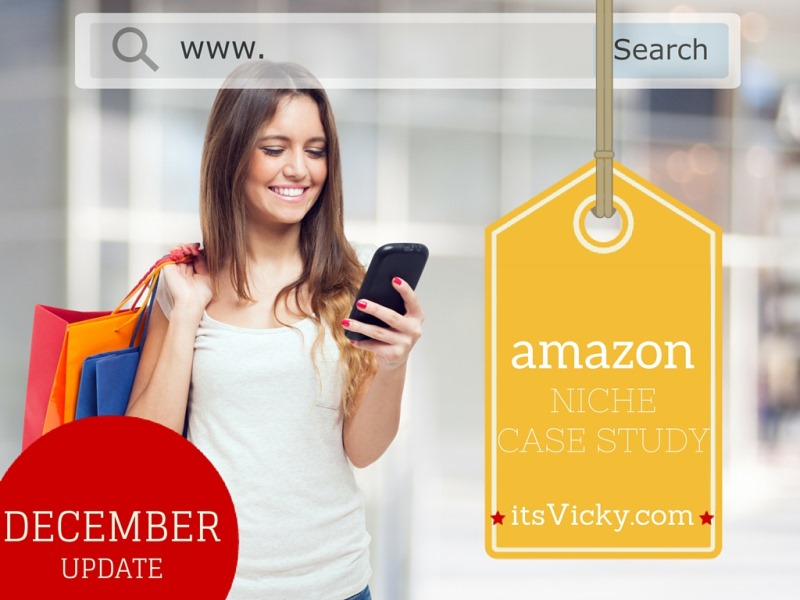 If you run an amazon niche site, then December should be a great month for you.
The online shopping is booming. Many turn to the online giant, amazon, to do their holiday shopping. Amazon ,a trusted shopping site offering any product you can think of.
Last year, I started an amazon niche site, wrapping up December it has been "live" for about 10 months.
This is a site with mostly outsourced content, a side project and a case study, to generate a little extra income.
I share the numbers here with you so that you can get a realistic view of how it is to start a niche site. With that being said, the numbers might look completely different for you. If you write your content yourself, post more often, target higher priced items and spend more time on your site, your numbers could definitely be a lot better than mine. It gives you an idea though of what it can look like, to run a niche site on the side…
Earlier posts on this amazon niche case study:
This site has not been a race. I`ve been building it slow and steady posting twice a week, submitting unique content, targeting long tail keywords.
Since I outsource my content and had some expenses in the set up phase the site has been in the red. I`m excited to see that December changed that; the site is finally profitable.
December Stats for Niche Site
98 Sales
Commission: $243.53
Expenses: $56
Result: $187.53
My goal was 125 sales for December I didn`t reach that but almost got to the 100 so I`m ok with that.
Here`s a recap of the overall numbers for this niche site:
Total Result for the Site
Result Month 1 – 3: $

-200.17

Result Month 4 – 6: $

-65.19

Result Month 6 – 9: $147.93
Result Month 10: $187.53
Total result after 10 months: $70.1
Looking at the numbers, December made more than the 3 earlier months together. This goes to show that December is a great month to be in the physical product arena online.
Going into a new year, 2016, I`m thinking I want to put a little bit more effort into this niche site. So when December 2016 comes around the commission is considerably higher than December 2015.
My New Goals for the Site
Content – I will be submitting 3-4 posts weekly. Continue to use outsourced content, but I was also thinking of creating one of those posts myself. I think I can put aside an hour or two for content creation each week for this site.
YouTube – I also want to start submitting a weekly video. Video convert great and rank well in the search engines, so will be looking to add that to my "to do" list for the site.
Social – I will be focusing on Twitter and Pinterest for the site. Have to get on a schedule for that.
By implementing the above I hope to ramp up the traffic. I did have 2690 users to this site in December which is a jump of 500+ users from November. The traffic is growing in the right direction. Hopefully the income will do the same.
Do you have an amazon niche site? If you do would love to hear how things are going. Did December go well? Please share below.
If you don`t have an amazon niche site but are thinking of starting one. Read my article on How to get started making money with amazon.
Hope you enjoyed my 10 month update of my amazon niche site case study, feel free to chim in below.
Have a productive day,
Vicky