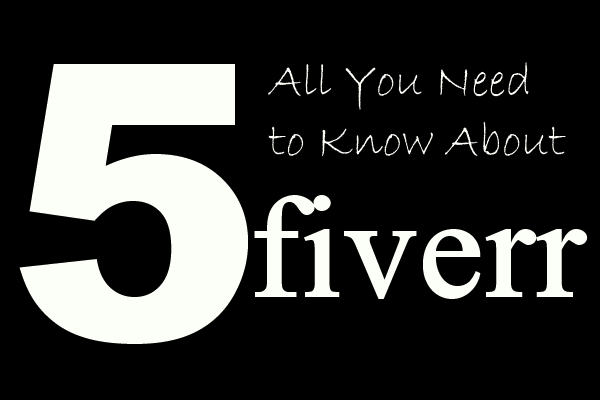 I just checked my Fiverr account and I have ordered over 150 Fiverr gigs so I thought I would give you some insight on this online service.
A great online service that can be used for work related tasks but also for fun things.
What Is Fiverr?
Fiverr is an online market place where you can order online services for a Fiverr, yes $5. As a customer you can use all kinds of services for $5. As a seller you can set up a Fiverr gig and offer your service and expertise. Common services are graphics and design work, sounds like a jingle or voice over, videos, advertising and more.
Fiverr is easy to use. You go to their website and type in what you are looking for. Let`s say we are looking for a logo. Just type in logo and you will have thousands of logo designers to choose from…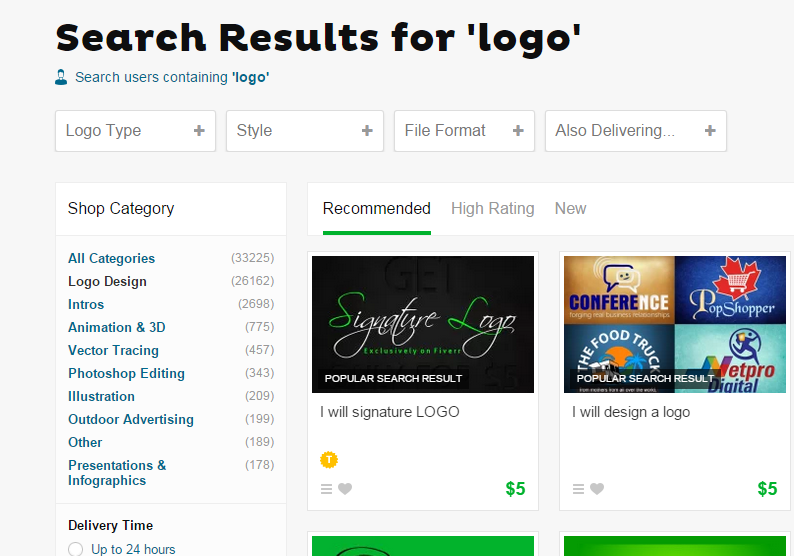 You can use the sidebar to narrow down your search by delivery time, logo type, stile, file format, seller level and more.
If you stick with the top rated sellers that offer what you are looking for,  you will most likely get a great experience.
There`s so much more on Fiverr than logos though…
What Kind of Services Does Fiverr Offer?
There are many different categories offered at Fiverr. The main ones are:
Graphics & Design – logos, illustrations, book covers, flyers, banner ads, social media and infographics.
Online Marketing – research, analytics, SEO, social marketing, traffic and reviews.
Writing and Translation – proofreading, press release and blog posts.
Video & Animation – editing, intros, commercial and testimonials.
Music & Audio – jingles, voice over, sound effects and song writers.
Programming and Tech – databases, WordPress, apps and eCommerce.
Advertising – flyers, hold signs, radio and banner.
Business – business plans, virtual assistant, branding and consulting.
Why Should You Use Fiverr?
Great price – you can`t beat $5 for these services. Get a logo for $5, get a short video or voice over for $5… I have not seen another market place like this with these prices.
Lots of value – there`s tons of value in these services. Things that might take you days to do can be done by a "professional" with ease. Great value that will not leave you broke.
Helpful staff – if you ever do run into any problems, Fiverr does have a great staff that deals with the issue. On a couple of occasions I had to contact them because the gig delivered was just not as promised. The Fiverr staff got right on it and I got my money back.
This is their service and it`s built on trust between the buyer and seller. If that trust is broken it seem like the Fiverr crew priorities to put that back in order, quickly.
Who Offers Services on Fiverr?
Pretty much anybody can offer their service on Fiverr. There are 3 main profiles.
Experts in a field – if you are a good at something you can make it on Fiverr. If you are a great logo designer or if you have a logo design company you can do pretty well on Fiverr. I was looking at one of the profiles for logo design. They have pretty good stats…
2160 – 5.0 reviews. They have 44 orders in queue.
The basic price is $5 but they also offer some add ons, some extras.
Extra fast 2 day delivery for $20. They also provide files, format and high resolutions each extra service for $20.
Starting out – Fiverr is also a good place for young entrepreneurs to get started. It`s a great place to get some experience and get some work done for their portfolio. I was working with a young designer on one project and she was excellent. My guess is that she will do Fiverr until she makes a name for herself and get her business going.
Retired – I recently worked with a retired marketing master. He had years of experience from the "real" world and was a true expert in his marketing field. He said he is retired but likes helping small businesses out with mission statements and such for their business or site.
Can You Trust the Sellers at Fiverr? Is Fiverr a Scam?
First off no Fiverr is not a scam, somebody asked that so I just wanted to make that clear.
Here`s the thing, the bad apples really weed themselves out by themselves. If people are not happy with the service they will either cancel the order or leave a bad rating and review. If the seller has a good amount of feedback, with good ratings and good reviews you can probably trust that this is a good seller.
If the seller is brand new without or with very few ratings and feedback, it is harder to tell. I have learned to stay away from sellers that are just starting out. I had a few bad experiences, with new sellers. The profile was not accurate and their service was not as described.
I have never had that kind of bad experience with an expert seller or one with high ratings and reviews though.
So my conclusion is stay with the top rated sellers.
5 Fiverr Services I Use
I have tried out a lot of different services on Fiverr but here is my top 5 things I use it for;
1. Logo Design – I`ve gotten good looking logos made at Fiverr. The key is to have a clear picture of what you want. Make sure you describe how you want your logo, give examples and color scheme for best result. The logo designers are good but they are not mind readers J.
2. Banner / Icons – I`ve had banners and icons made to make my site personal and stick out. The same thing goes for this as for the logo design, be clear and communicate what it is you want in the banner or icons.
3. Proof Reading – Since English is my second language, I`ve had lots of content proof read on Fiverr. Find a good person to work with and it can really be worth it.
4. Video – I`ve had videos and site testimonials made. Most top sellers provide great service and over deliver.
5. Illustrations – One of my favorite gigs was photos of my kids turned in to cartoons. The illustrator really did a fantastic job.
1 Fiverr Category I Stay away From
Article Writing – I have just had to many bad experiences with content writing on Fiverr so I choose to stay away from it. You can read more about my experiences regarding writers on Fiverr here
Tips When Ordering a Fiverr Gig
Go with gigs that have a lot of positive feedback
Read through the description, all of it so that you know what`s included and not
Have a clear picture of what you want done
Be specific and clear of what you want from the gig when you communicate with the seller
If you are not 100% sure contact the seller and talk to them before ordering
What do you think? Have you heard of Fiverr before? Are you using their services? Feel free to share your experiences below.