So I arrive on the website free affiliate system dot com. What catches my interest is the "free" part, let`s see it this claim is accurate.
Will the program be free or is it just another "money making" scam?
The site also claims that you can duplicate an income of 139.820.98 in 60 days.
Is this too good to be true?
I dig deeper … to find out if this free affiliate system is a keeper or a program for the sweeper.
Free Affiliate System Review 2016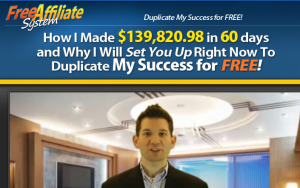 Program: Free Affiliate System
Program Owner: ??
Price: They say free but you have to purchase hosting for $29 / month to access the free affiliate system.
On the sales page there`s a video, that you might have seen. If you are doing research to see if this program is legit or not. The host of this sales video never reveals his name. No big deal.
Not to far into the video comes a claim that I saw in another review that I just did. The claim is, that if you don`t make 100 dollars within, in this case 48 hours, he will give you 100 dollars.
That other program was a hosting borderline scam product, by a guy named Bobby B. Now this is kind of important to remember… This other program called 76 seconds offered a "free" money making system. It turns out though that you had to spend a lot of money on hosting to access this "free" system.
Let`s see if this, free affiliate system, is something similar or actually a legit program.
As I continue watching the video "the guy without a name" is clearly focused on targeting affiliate marketing beginners or people with little or no experience making money online.
This program is for beginners… hmmm maybe somebody that don`t already have a website with domain and hosting…
"The guy without a name" talks about traffic to a website. Which I totally agree with you need traffic to make sales. He talks about review sites, I agree with this as well… this might not be so bad after all…
Then he shows screenshots from 2011… I have been doing this for 7+ years and a lot has happened since 2011 in the online marketing world.
He says that he drives free traffic to affiliate offers. This is actually a very legit good way to make money online.
Let`s see what`s on the inside after you leave your name and email.
This is kind of interesting, after I leave my contact information, it takes me to another site – my-affiliate-insider.com. We started on freeaffiliatesystem.com, so this is kind of strange.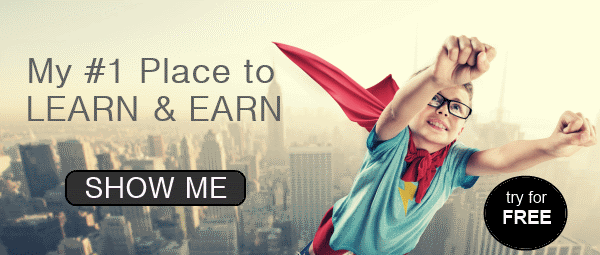 Video 2 from Free Affiliate System
So now another video is being played, with more screen shots, real or not I have no idea, but it`s the usual "make money" sales pitch.
I scroll through the page, and what do we have here…

Looks like this is the same hosting jokester as I mentioned above.
Bobby B from 76 seconds is back.
To further confirm my suspicion…
The button underneath the video says "Click Here to Activate…"
Guess where they take me…
Yes to an order form with CoolHandle, a hosting company. Charging $29 monthly for website hosting.
This turns out to be another one of the hosting "push" programs.
So to make things clear. When "the guy without a name" or Bobby B send you to a hosting offer like this one paying $29, they receive a commission. That`s how they make their money.
There`s nothing wrong with affiliate marketing, but the way these guys do it, I have a problem with and I explain why, below.
The interesting part here is that I did a third review with a company called Miley`s Money Method and they work with CoolHandle as well, doing the exact same thing.
Is there a connection between all these 3 programs, free affiliate system, 76 seconds and miley`s money method?
Why I Have a Problem With Free Affiliate System
Don`t promise something for free, if it`s not.
The amount for hosting is ridicules starting out with a website.
We still have no idea what the free affiliate system actually include.
There are simply better options.
So let`s talk about these issues that I have with the free affiliate system.
Don`t Say It`s Free If It`s Not
The first point here, is free. They even have it in the name of the website, the free affiliate system. It`s not free if you have to spend $29 a month for hosting to access the program. You can`t access it unless Bobby B and his crew get paid an affiliate commission from the hosting company. This should have been very clear from the beginning. This is misleading marketing big time.
Expensive Hosting
The price of the hosting $29 when you first start out is ridiculous. In fact you can use a well known hosting company, used by 2 million +  websites, with a good reputation for $3.95 / month if you sign up for 36 months. BlueHost is one of the leading hosting companies and great to work with.
Let`s compare what 1 year of hosting will cost you:
You can read my BlueHost review here.
Affiliate Training
You can get affiliate training through many sites online. What I suggest is that you take a look at one that has nothing to hide. A site or program that are open and honest with what they teach.
I got my affiliate training online here. This is a great place with great step by step affiliate marketing training. They will teach you how to set up your own website, free or on your own domain and hosting. They will teach you how to provide good content on the site. They will also teach you how to get traffic to the site and how to make money with it.
They have a free starter account. Yes you can check it out for free and see if it`s for you or not.
Read more about that here in my #1 free affiliate training review.
There are better options.
The reviewed program in this article, the free affiliate system or rather the hosting program they promote, is not something I would spend my money on.
This is definitely not a keeper it`s another program for the sweeper.
What do you think? Did you buy this program, would you consider it? Would love to hear what you have to say about it.
Have a productive day
Vicky