Fridays with Vicky 125
I am super excited to share the numbers for May 2017!
November, December, and January were good months, but since that, we've seen a drop in earnings each and every month. Partly because the holiday season is over (for now), partly because my main niche is winter month based.
Finally, things are turning around and it's mainly because of the independent program that I partnered up with.
Last month I had 1 sale with them, wait til you see the number of sales and commission the site generated this month, exciting!
Being an affiliate marketer is an interesting journey for sure. I've been doing it for 9+ years and are forever grateful for the freedom it has created for me and my family. Being able to stay home with the kids AND work for myself has been the perfect solution for us.
If you want to know more about how I got started with affiliate marketing you can read about that here.
Why Do I Share the Numbers and Stats of this Site?
This site started because I was curious about making money with Amazon. Some people I met had great success and some were really struggling to even make their first dollar with them. The only way to truly find out if Amazon is worth it was to set up a site monetized with Amazon and see what it can generate.
I decided to share my journey, my numbers, and stats with my readers. So that you can get a realistic view of what it takes to make money online. So that you can see the ups and downs, high and low. It has also been a great way to keep myself accountable.
I run a few different sites and I've chosen to share the numbers from this one case study site, to be honest, and real, in hope that you'll find some valuable information.
If you run an Amazon site your numbers will most likely be completely different from mine, you might earn a lot more or less. Many factors play a part in the result of your site. Feel free to share your results in the comment section below, I love hearing how others are doing with their sites.
The Case Study Site
Some of you have been with me and this case study for months, some of you might be new. I just want to share real quick what my criteria for the site were before I started it.
The site "must be" list…
Hands off (meaning not take too much time, it had to be done as a side project since I'm running a few other sites)
Based on outsourced content.
In an evergreen niche, I chose the health niche.
Monetized with Amazon.
We are now 3 months into year 3, let's see how the site is doing.
Traffic Progress May 2017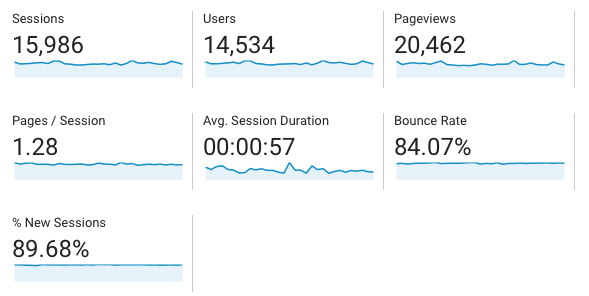 April 2017
Sessions 15.101
Users 13.703
Pageviews 36.641
Session duration 1.01
May 2017
Sessions 15.986
Users 14.534
Pageviews 20.462
Session duration 57 sec
The decrease in page views is due to a plugin I was playing around with. My only concern here is the drop in session duration. I want my readers to stay and read my content and not leave too soon. I will have to keep an eye on this.
Most visitors find my site in the search engines, let's look at content and what's ranking.
Content
Most my traffic comes from organic searches in Google, Yahoo, and other search engines. It's crucial for the site that new content is submitted on a regular basis.
During the month of May, I've been scheduling posts ahead of time making sure that the summer months are covered when it comes to content creation. Thanks to my excellent writers and the scheduling feature in WordPress I'm now well ahead of schedule.
During the summer months, I will be submitting 3 – 4 posts weekly. Two general information posts, one product review, and one miscellaneous post.
Product reviews and top lists are still ranking very well for the site.
My Top 5 Posts, Traffic Generators, Are…
Top 5… sub-niche 2 (cold month related)
5 Best… sub-niche 4
Top 10… sub-niche 1 (cold month related)
5 Ways… general article cold month related
Top 5… sub-niche 3 (cold month related)
Four out of top five traffic generating posts are cold month related posts. We'll see how this develop over the summer months.
I thought it would be interesting to take a look at what the products relevant to the above traffic generating posts bring in and compare that to the traffic.
This Is the Top 10 products/niches bringing in most commission on Amazon
1.    Product sub-niche 3 (high ticket item, 7 items shipped, cold month related)
2.    Product sub-niche 6 (medium ticket item, not cold month related)
3.    Product sub-niche 3 (high ticket item, cold month related)
4.    Product sub-niche 2 (low ticket item, 19 items shipped, cold month related)
5.    Product sub-niche 6 (medium ticket item, not cold month related)
Spot 6,7 and 10 are from sub-niche 4, not cold month related.
It's interesting to see that the highest traffic generating post from sub-niche 2 comes in on spot number 4 when it comes to earnings on Amazon. This is due to being a low ticket item.
The best earner on Amazon, sub-niche 3, due to being a high ticket item, holds spot five when it comes to traffic.
It's for sure important to promote high ticket items, but the volume with low ticket items can add up especially around the holiday season.
This spring my writers have been working on two new sub-niches that are all-year around niches. All though they are low ticket items I'm hoping they will generate good traffic to the site.
Looking at the commission from Amazon and comparing it with the affiliate program that I took on… well, they knock them out of the park, only two months in using the program.
The company offers products from sub-niche 3, which are high ticket items. Still, cold month related, but they really converted well in May. More on that in the income report section.
For my posts to generate good traffic I need good rankings, let's take a closer look at that…
Ranking Result
When looking at the "health" of the site I don't only look at traffic. Since one of the main sub-niches is focused on winter month related content and products, looking at the keyword rankings gives me a better look of the overall health of the site. Are keywords improving or declining?
Keywords

Last month the site was ranking for 9,058 keywords and had 133 top 3 rankings. Looking at the May numbers we hold 9,494 ranking positions and 146 top 3 rankings. I like the progress.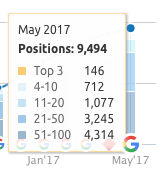 Google updates
Since I do rely on organic traffic, I want to keep an eye on Google and their updates since this will impact rankings and listings.
SemRush, one of my favorite stat tool, recorded 4 high activity occasions during the month of May, this can indicate changes. Google seem to no longer publicly announce all changes, so this can be a guessing game at times. May 17 there seem to have been a core update, targeting low-quality sites.
Looking at the keywords and traffic I can't see any big changes around that time for my site. Where I did see changes was the income, let's look at that…
Case Study Income Report and Sales Result May 2017
After the change in the Amazon commission structure, I was not opposed to taking on another affiliate program. Amazon changed their commission from volume based to basing it on the product category.
Being in the health niche, a lot of the products I recommend took a hit, earning me less than before. Going from 6 – 7 % to 4.5 % made a dent in the income.
A couple of months ago, I came in contact with an independent affiliate program, they wanted me to send traffic directly to them instead of Amazon. At first, I wasn't sure there are many benefits sending the traffic to Amazon, but when the commission change came I decided to give it a chance.
I'm glad I did!
Last month I had 1 sales from the program making me a commission of $62.91. This month, after some changes, it improved drastically!
Who would have thought month 2 with this program would generate more than Amazon does…
May 2017 Earned Commission
Amazon $914.27
Affiliate program 1  (18 sales)  $1,370.88
Total Ordered Items: 495
Total Commission: $2.285.15
I'm thrilled to see the progress with this independent affiliate program. This is still in a winter month related niche so we'll see what it can do over the summer, but I'm super excited to see what this program can generate next fall and winter.
It was sure worth trying out this new affiliate program.
Earnings / 1000 Visitors
To make a "fair" comparison I like to see earnings per 1000 visitors. That gives us a good number based on traffic and earnings, that we can compare.
Dec $217.98 / 1000 visitors
Jan $139.96 / 1000 visitors
Feb $128.6 / 1000 visitors
March $93.68 / 1000 visitors
April $92.04 / 1000 visitors
May $157.23 / 1000 visitors
$157 per thousand visitors is the best number this far for 2017. The holiday season last year was better but to get this number in May is exciting. The new affiliate program definitely contributes to the good number.
I am working on sub-niches that focus more on all year around topics and products. I see a few sales here and there, but hopefully, we can get some traction and up the sales with those products as well.
Expenses May
Outsourcing: $113
9 Outsourced articles ($7 each) $63
4 Outsourced reviews, (these are longer in-depth articles 1000 words at least, $12.5 each) $50
Hosting: $2
This case study site is on shared hosting, that's how I can keep the cost down.
Are you new? Try this hosting, easiest one out there.
List building: $5
Aweber list building shared cost with other sites $5
Total Expenses: $120
Total Result May: $2,165.15
May 2016 – $498.16
May 2017 – $2,165.15
I like the progress from last year to this year.
Total Result for the Site
Result Month 1 – 6: $

–265.36

Result Month 6 – 12: $817.13
Result Year 2: $15,767.08
Result Year 3, 3 month in: $4,588.59
We are not reaching December numbers but I'm glad to see that May 2017 is up competing with the November and January numbers.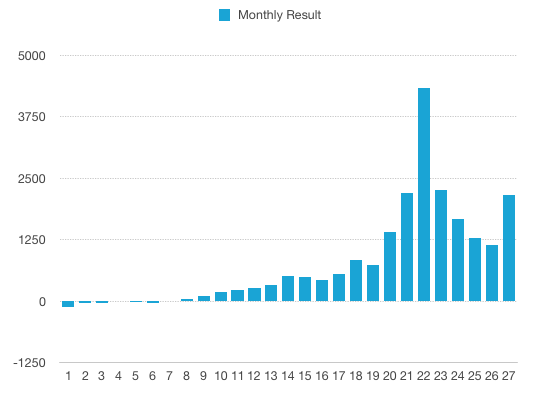 What Can We Expect Going Forward?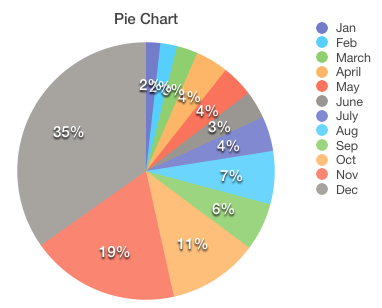 5 months into 2017 and May delivered good numbers. BUT, if you've been following this case study you know that we have high hopes for this site.
In the beginning of the year, I shared this pie chart of the 2016 income. December brought in 35% of the total income.
If we could keep the same growth this year, that would mean an income of $100.000 for the site.
5 months in, to be on track to $100K we should have earned a total of 15 K. May should have brought in 4K.
We are behind, with a total earning for 2017 of $8,892.04.
We have some catching up to do!!
$8,892 still pretty good considering the site is based on outsourced content, the time I put into this site is limited… but I couldn't do it without these tools…
These are some of the tools I depend on:
Wealthy Affiliate for training and updates (Free and Premium membership)
BlueHost (starting from $3.95 monthly)
Jaxxy for keyword research (Free trial)
WpZoom Theme I use for the site  (Premium theme)
EasyAzon to fast and easy include amazon links on the site (Premium plugin)
Aweber to collect emails (Premium tool)
SumoMe (Free and premium for social share)
Crowdfire for Twitter growth (Free and premium)
Google Analytics (Free)
SemRush (Free and Premium)
These tools are awesome, saves me time and help me maximize earnings.
Will this site be able to make $100.000 in 2017?
Follow the journey, sign up for the newsletter…
Do you want to set up your own website or blog? I would love to show you how to in my video course!
If you missed any previous posts in this case study series you can catch up here.
Now it's your turn, please share some of your blogging or affiliate marketing journey by leaving a comment below,
To a great June 2017! Have a productive day!
Vicky