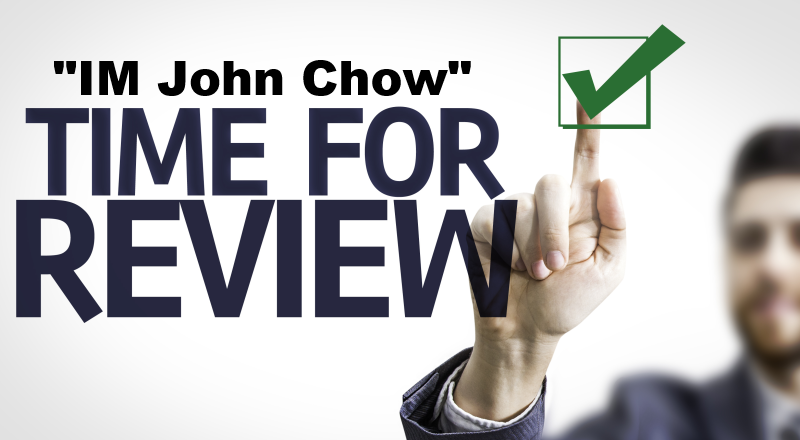 In our IM John Chow review, we'll be taking a look at whether this info product is worth your time and money, or whether it's another scam designed to run you dry of cash. We'll be taking a look at what the program does, the man behind the program, and what kind of tools and informative information you can find in this program to start earning money online.
IM John Chow Review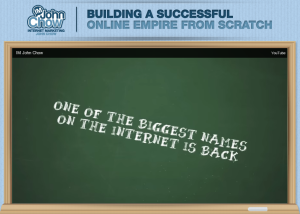 Website: www.imjohnchow.com
Price: $47 monthly but if you click away from the sales video you will get the first month for $1
Is it a scam: No, I would not say that IM John Chow is a scam at all. It has some good learning modules the downfall is that there are very little support and no community.
What Does the IM John Chow Program Do?
IM John Chow, the program provides a series of video tutorials that take you through the steps needed to learn how to start making money online.
You are given a basic set of modules to follow, and then new content each week to slowly drip feed you content. The whole basis of IM John Chow is to create an experience that isn't going to make users feel overwhelmed with information, and John Chow has done a pretty great job with that.
If this is not your first experience with affiliate marketing it can be a little frustrating that you can`t access the next step if you are ready for it.
The Person Behind the Program – John Chow
The person behind the program is called John Chow, and is a pretty well known internet marketing master. In fact, he has a website that brings in 100,000s of viewers each day, and he has a large social media presence.
He has already released some products similar to this, but John Chow has mentioned that this is the best possible experience by him for complete beginners. This program seem to be the follow up to "Blogging with John Chow".
John Chow seems to be doing pretty well for himself, and unlike in most hyped up videos, his launch page video doesn't go too deep into how wildly successful his product can make you, and instead focuses on explaining that it's nice and simple for anybody to use.
IM John Chow – The Program/Training
The main goal that John Chow would like users to achieve is creating an email list and completing other marketing tasks to start earning revenue from, and there are a variety of videos to help you reach this goal.
Day by day action plan
There are a series of different modules and these all include a collection of short videos. By watching the videos, you'll learn more about what John Chow would like you to do, and after each module you are given "homework" to complete so that you act on the new information handed to you.
This is a good set up, the "homework" make you take action.
John Chow does know what he is talking about, the training is good and well written.
Tools Included
There are a variety of tools included in IM John Chow. Firstly, you are given access to a knowledge bank that provides you with a great amount of details on how to use the different tactics John Chow will be teaching. This includes WordPress 101, SEO 101,  Listbuilding 101, How to use Clickbank, and the 4 Step Freedom Formula.
You are also given access to a variety of different WordPress websites and templates for you to do whatever you please with. Unfortunately most of these are a little outdated at this point in time.
IM John Chow Community and Help
Unfortunately there is a lack of community for IM John Chow, so you will mostly be on your own. John Chow himself does not provide any help either, which is understandable, considering he has provided the product all by himself.
This is the biggest downfall with this program, no community or support. If you are just starting out you will for sure have questions and to not get these answered from the same place you get your training is a bummer. You will have to look for other communities, forums or/and chats.
Another thing that`s important staring out with affiliate marketing is the ability to bounce ideas back and forth with others. To discuss wordpress, niche ideas, product ideas, money ideas and more is important for your progress with your website.
Price for IM John Chow
So far, IM John Chow has proven to be quite a valuable product for newcomers to internet marketing. However, one setback is the price. IM John Chow costs $47 a month, and you will need to pay for at least three months before you are given all of the information needed to truly make use of the program.
If you click away from the offer you will get a $1 trial for the first month, so this is something to take advantage off.
There are also extra modules which cost $67 each.
Our IM John Chow review has revealed that whilst this program does provide potential for making money online through internet marketing techniques, the price is a bit steep, especially considering there is no help or community available.
IM John Chow vs. Wealthy Affiliate
This is one of the better programs that I have reviewed, I was interested to see how it does against my number one recommendation Wealthy Affiliate…
Let`s look at the:
step by step training
can you try the program for free
community
IM John Chow vs. Wealthy Affiliate Training
They both have good step by step training. Wealthy Affiliate allow you to do it in your own paste (they don`t lock any training from you) IM John Chow gives you the training in portions, to complete the training you have to be there for 3 months minimum. He might have good intentions in doing this, so that beginners don`t get overwhelmed.
IM John Chow vs. Wealthy Affiliate Start for FREE?
With IM John Chow you can start for $1 which is a small sum. With Wealthy Affiliate you can start for free without any credit card needed.
IM John Chow vs. Wealthy Affiliate Community?
This is where we can see a clear winner in Wealthy Affiliate. They have a strong community, where you can get help, bounce ideas, ask questions and interact with other online marketers. You can chat with people that have done what you want to do.
Final Thoughts of IM John Chow
Website: www.imjohnchow.com
Price: $47 monthly but if you click away from the sales video you will get the first month for $1
This is a good program, no doubt about it. I still have a hard time justifying the cost when you can get similar training over at Wealthy Affiliate + the community and support.
I would love to hear your thoughts on the IM John Chow program, have you tried it? Please leave a comment below.