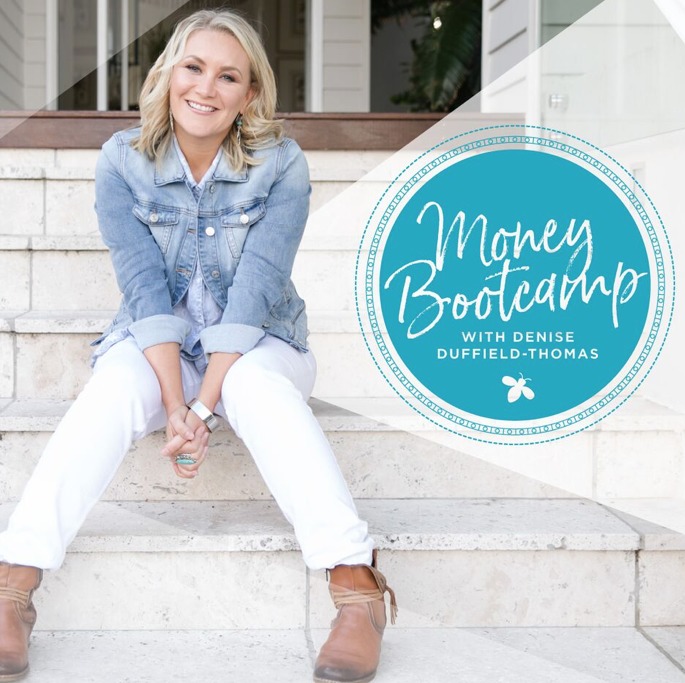 The Money Bootcamp with Denise Duffield-Thomas from Lucky Bitch has helped over 4,500 entrepreneurs with their money mindset.
What is the program all about? Is it really worth the money? Well, in this Lucky B Money Bootcamp Review we take a closer look at the 6-week program…
Money Bootcamp LIVE 2018 Is Coming Up…
 April 23, 2018 – June 1, 2018
This live event usually comes ones a year, don't miss it!!
Do you ever feel stuck? Do you ever feel lost and not sure how to reach the next level? Are you tired of just scraping by?
At the beginning of this year, I was setting my goals for the year. What I realized was that my income level had been the same for the last few years. It didn't change much at all looking back. I was starting to research online "how to get to the next level" how to get out of the stuck place I was at and improve my income and life in general.
I was tired of just scraping by when I know that my life is supposed to be so much more. We are doing ok financially, but I want to do GREAT. I want to have a business that helps a ton of people and in return generates a good income for me and my family.
* So the official affiliate disclaimer 🙂 Some of the links on this page are affiliate links. It cost you nothing to use them, but if you do purchase something from Denise, I might get a commission.
I knew that if I had not made it big on my own up until this point, I would need help from somebody.
Does it sound familiar?
A while back I had signed up for a free manifesting course with Denise Duffield-Thomas from the LuckyBitch.com. I wasn't crazy about the name, clicking down the screen when my kids walked in the room but looking beyond that Denise really made sense. In the free course, she talked about hands-on stuff that you can do to manifest things.
What she talked about "manifesting money, trips, clients…" really caught my interest. She also talked about "money blocks" memories, thoughts and feelings that we have about money that stops us from receiving it. It all made sense.
After the free course, she was promoting her Money Bootcamp Course. It sounded AMAZING, a 6-week in-depth course about attracting more money. The Bootcamp course seemed to me, pretty expensive so I let it go, I didn't sign up, I just moved on…
This was obviously not the first time I had said NO to an online offer. Usually, I say no thank you, move on and never give it another thought, but the difference this time was that Denise and the Money Bootcamp kept popping up… In my mind thinking about the methods that she had discussed, I searched things online and she popped up… I was still on her email list so I would receive those as well. Usually, I unsubscribe pretty quickly but there's something about Denise that made me actually look forward to the e-mails.
There was something about the Money Bootcamp, that really resonated with me. A few things made me decide to join Denise and the Money Bootcamp, regardless of what I then thought was a high price for the course. (Today, after going through the course, I think the price is absolutely worth it, the value is great. I also have lifetime access to Denise Lucky B material.)
WHY I Decided to Join Denise and the Lucky B Money Bootcamp
Obviously, I wanted to make more money. I see this as an investment in myself, if I grow, other areas in my life will as well. I've already made back the money I invested in the course, looking back I only wish I would've done it sooner.
I realized that the "money blocks" that Denise was talking about, I had a ton of (still do) we all do, but I had no idea how to discover them and get rid of them.
Denise that created and runs the course, is a down to earth, a blond Australian woman who is not afraid to tell it as it is. I like her straightforward approach. She helps you cut through the BS excuses and hold you accountable, something I needed.
Getting access to the private Facebook group, that includes the members. This is like having your own Mastermind group to engage with, this was also something I had been looking for.
There were a lot of factors that made me join Denise and the Lucky B Money Boot Camp Course. Another thing was that Denise is legit, she is the real deal. She takes a concept that can seem a little "woo woo" and turns it into hands-on assignments.
Knowing what I know today, after going through the course, I wanted to share my Lucky B Money Bootcamp Review to give you an insight of what you can expect…
Denise Lucky B Money Bootcamp Review
Course: Lucky B Money Bootcamp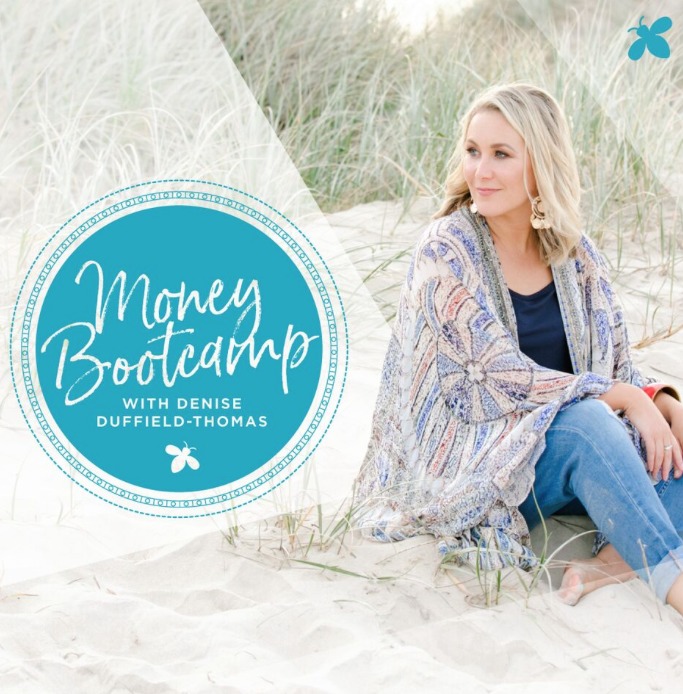 Creator: Denise Duffield-Thomas
Course Length: 6 weeks (but it can be done at your own paste)
Let's Take a Look at What You Will Actually Learn with the Money Boot Camp Course
This is a 6-week course but you can do it at your own paste. So you can go through all the videos and tasks in one sitting (although it would probably take a few days) or you can take a couple of months doing it.
I ran behind so it took me a little bit more than 6 weeks to complete the course.
So what topics are included? Denise covers a lot of things, but here are some main topics you can look forward to learning about. Very briefly put, this is what you'll learn…
Money Tracking and Money Memories
Decluttering and Your Money Sabotages
How to Upgrade Your Life
Excuses and Positive Anchors
Money Blocks from People Around You
Your Love Affair with Money
The material is delivered in short engaging videos from Denise. There will be relevant weekly assignments for you to do so that you actually take action. There will be a checklist to make sure you go through the material and actually implement what you learn.
Included in each week:
Video (usually around 10 minutes each)
Transcript
Assignments
Facebook Discussions
Going through the course I've realized that I need to change some of my habits. This is not hard but it will definitely take some effort to do. To get different results and different outcomes you have to start doing a few things differently, right.
The great thing is that I now have the proper techniques and methods to do it. Digging deep can sometimes be a little scary but the things that I discovered and realized about myself is something I will always be grateful for.
I've definitely spilled some tears when realizing things from the past. I never thought that my past money experiences and how I was affected by my surroundings would have such a strong impact on me today, but it sure does. By being aware, by bringing these things to the surface and decide if you want to hold on to that "belief" or not, I can't even explain how important that has been to me.
I know the focus with the Lucky B Money Bootcamp is on money, but I must say that my life has improved in so many different areas, I'm a happier person who can appreciate today and be excited about the future.
The truth is that we have a lot to be thankful and grateful right now, and I know I tend to forget that in the chase of a better future.
Denise Walks the Walk
Denise is a money mindset mentor and the author of "Lucky Bitch" and "Get Rich, Lucky Bitch". An Aussie, with great humor who tells it as it is. She's manifested trips, houses and is today living a life in abundance.  She's not afraid to talk about money and she has a refreshing take on it. She truly walks the walk.
A mother of two, who knows the "struggle" is real but truly did something about it and turned things around. Now she's sharing her knowledge with thousands of women around the world. Empowering others to take on their challenges and create success stories of their own.
Denise is truly an inspiration to me and many other fabulous women!
What I Love About the Lucky B Money Bootcamp
The material – This course is all "meat" content without fluff. It's easy to understand and implement.
The way the material is delivered – short videos, with relevant tasks, accessible online whenever you want to.
The Community – The Facebook Group – Mastermind group. This is a gold mine for anybody looking to network with like-minded goal oriented women. Some are highly successful making numbers I'm still dreaming of. Some are just starting out. A great group of women who are truly there to support you.
The money tracking system – this helps track your money, your income and more.
Lifetime access – The Money Bootcamp course gives you access to ALL Denise online courses… for life… I can't even set a value on this. The content that is there today has for me been worth every penny I paid for the course. Some of the other material that I really enjoy is the Manifesting Course, Live Event Bundle, The two books in Audio and the Money Meditation. I can't even imagine the future value Denise will deliver, and it's all included.
My new money mindset – The way I think about money today is very different from a few months back. Today money is a great positive thing that I can't get enough off lol. If negative thoughts like, "I don't deserve that" comes to mind, I know how to deal with it and the thought is replaced by you know what… " I do deserve that".
How I deal with money blocks – The tools I have today to deal with money blocks I'm forever grateful for. Last year I didn't even know I had money blocks. Today I can identify them and deal with them.
The result it has given me – best cash flow month since I started with affiliate marketing, this is proof enough for me that this course has helped me make some great changes in my life. I'm a lot more focused, a lot more aware. I now have the tools to deal with stressful situations not only when it comes to my business but in general.
What I'm Not Crazy About
Overwhelming – The course can at times feel overwhelming. There's a lot of things to take in. My advice is to just take one small portion at the time, focus on that, implement what you are supposed to do and then slowly move on when you are ready. One lesson might take you an hour, it might take you a day or one week, doesn't matter as long as you move forward at your own paste.
No One on One – I wish there were a live course and one-on-one training, the Facebook group is amazing but it's huge. It would be nice with individual coaching, which there were the opportunity to do so with Denise.
Live Class April 2018, What's Included?
Occasionally, Denise will do Money Bootcamp LIVE, the last version was in August – September 2017 a new one will be available in April 2018.
Don't miss this opportunity to hang out with Denise and the other women in this LIVE round.
2018 LIVE Bootcamp: April 23 – June 1
Included in the LIVE version is:
Weekly Live Calls with Denise – she goes through real-life examples and answers our questions, related to the weekly lessons and assignments.
Kick-off Facebook Live – Hang out and connect with the other women in the Facebook group.
Live Challenges and Group Activities – through the private Facebook page there will be different challenges and activities related to the course.
Worksheets and more will be available.
You will also get lifetime access and access to future LIVE rounds. This is the second time I do the LIVE Bootcamp and I'm super excited.
5 Bonuses Included
That's a lot included but Denise also has some bonuses for you if you join in on this LIVE round:
#1: Pricing Course – not sure what to charge for your service or product? This course is for you.
(Value $197)
#2: Guided Visualization – 6 of them.
(Value $197)
#3: Money Meditations – this is audio that I personally use all the time.
(Value $49)
#4: Webinar Library – this is a great place to find inspiration.
(Value $97)
#5: Live Event Recordings – these are fun, inspiring live events with Denise.
(Value $297)
All these are included for free with the money Bootcamp LIVE event!
WHY You Should Consider the Money Bootcamp
If you are tired of just making it, scraping by each and every month. If you want more from life. Not only when it comes to money but in other aspects of your life as well. If you have a goal that you are longing to reach but seem to have a hard time getting there… If you need direction, if you need help figuring out what you "truly" want. Not what you think you want, then this is for you.
If you want to design a life that you truly love, not what others think you should have, then the Money Bootcamp is for you.
If you don't charge enough for your products or services. If you don't earn what you think you are worth the Lucky B course is for you.
If you want to hang out with like-minded women. Women that are goal oriented. Women that love to talk about money. Women who are not afraid to go after what they want. Women who dream big, Women who make things happen. If this relates to you the money boot camp is absolutely for you, the support from the community is amazing.
What Kind of Results Can You Expect?
This is totally up to you. I wish I could tell you that you will get everything you want. This course is different from other business-related courses, this course is working on YOU. You have to be willing to do the tasks and put the work in, you will have to be willing, to be honest with yourself.
This is not a "quick fix" solution. The Lucky B Money BootCamp will give you all the material the tools you need to grow YOU in the direction you want.
You will get out what you put into it…
For me, this meant that I got the best cash flow income month so far in my affiliate marketing career. I can't wait to see what else will come from this.
I know I need to work hard but I want the outcome. I see what the changes I've done so far have led to and I know I want to grow in that same direction.
Let me know if you have tried any of Denise courses if the Money Bootcamp is for you? Maybe you are part of the Lucky B community already… Feel free to share your experience with us below.
Have a productive day,
Vicky