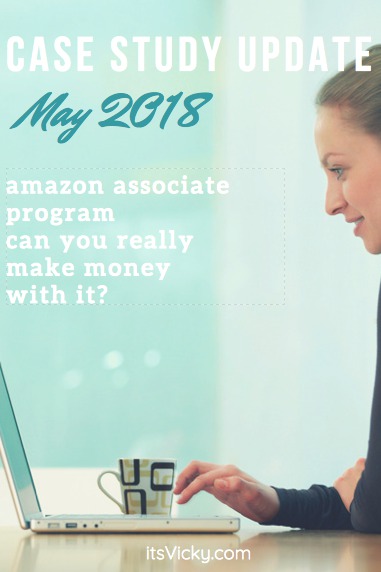 Better late than never… the May 2018 amazon case study update is live! May means warmer weather, it will be interesting to see how the case study site, which main categories are focused on winter month related items, performed.
I've been doing this case study site for a while now and it sure has been an interesting journey with ups and downs. It all started out with me being curious about the Amazon affiliate program, I wanted to find out for myself if it was possible to make money with the program. Turns out it is possible.
If you are new to this case study let me give you a quick update about the site.
When I first started the site I had a few things in mind:
1. It had to be in an evergreen niche, I chose health.
2. It was going to be based on content marketing, content that could be outsourced so that it was pretty hands off for me.
3. It had to be monetized with Amazon.
A couple of years later the site is adding helpful health-related mostly outsourced content on a consistent basis, being monetized with Amazon.
Why do I choose to share this case study?
There are two main reasons why I have chosen to share this case study with you:
1. It's a great way to keep myself accountable, to each and every month tally up the numbers to get a good overview of the site.
2. For you to get insight on how it can be to run an affiliate marketing site. I share the good and the bad and everything in between.
Let's dive right in and look at the traffic numbers, let's see if the May traffic numbers are better than the April ones.
May 2018 Traffic
As you can see there was a dip in the stats, not in traffic but the Google Analytics was acting up. The stats for May 7-9 is not really accurate so let's keep that in mind.
April 2018
• Sessions 38,327
• Users 34,987
• Page views 46,456
• Session duration 44 sec
• Avg. time on page 3.28 min
May 2018
• Sessions 34,974
• Users 31,980
• Page views 42,581
• Session duration 45 sec
• Avg. time on page 3.28
I'm not too concerned with the traffic drop, some of the traffic was not recorded during the mentioned period. I'm also expecting a little drop during the summer months coming up.
So how does the site get 30K+ visitors?
The site is based on content marketing, driving traffic that ranks naturally in Google, Yahoo, Bing, and other search engines.
Important for the site is well-written content that ranks well in these search engines. Let's look at what kind of content rank well and drive traffic to the site.
Content that Ranks
For May the following kinds of content ranked well and attracted the most traffic to the site:
• 5 ways
• Top 5
• 5 best
• 10 different types of
• Informational post
As you can see for this site, lists ranks very well.
Ranking Result May 2018
We've had a pretty good keyword growth:

According to SemRush, the site had the following rankings in May 2018.
May 2018:
• Keywords ranked: 19,769
• Top 3 positions in Google: 334
April 2018:
• Keywords ranked: 19.1 K
• Top 3 positions in Google: 301
We gained some keyword rankings so that's a step in the right direction. I also like that the top 3 positions are improving to 334. That's exactly where we want our content to rank in the top 3 positions in Google.
May 2018 Sales and Income Numbers for the Case Study Online Marketing Site
The warmer summer months are usually a little slower than the winter months. This site has numerous categories focusing on winter month related items but I've been working on targeting more all year around categories as well. We'll see how that turns out in May.
Let's look at the numbers…
May 2018 Earned Commission
• Amazon US 735 shipped items $1,305.92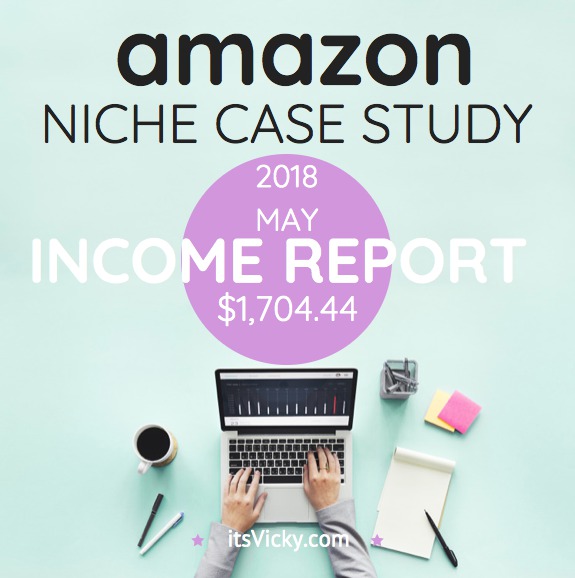 • Amazon UK GBP 17.59 $23.38
• Amazon CA CAD 10.16 $7.88
• Affiliate program #1 –sales 7 $367.26
• Total Commission: $1,704.44
Not a great number for May, much due to the low sales from the independent affiliate program.
Let's see how it compares to other months…
$ / 1000 Visitors
To be able to compare the number to other months and other projects I like the $ amount per 1000 visitors. This number allows us to compare an accurate number with other projects.
• December 2017 $119.47 / 1000 visitors
• January 2018 $70.41 / 1000 visitors
• February 2018 $67.12 / 1000 visitors
• March 2018 $74.57 / 1000 visitors
• April 2018 $65.9 / 1000 visitors
• May 2018 $53.29 / 1000 visitors
Like I suspected a low number. Not very happy with that, can't wait for the colder months to come around and improve that number.
Expenses May 2018
Outsourcing: $132.5
• 10 Outsourced articles ($7 each) $70
• 5 Outsourced reviews, (these are longer in-depth articles 1000 words at least, $12.5 each) $62.5
Hosting:
A one-time fee paid in April 2018 $186.78 for 24 months
If you are new to websites, this is the hosting I would recommend for you.
List building: $5
Aweber list building shared the cost with other sites $5
Total Expenses: $137.5
Total Result May 2018: $1,566.94
• May 2016 – $498.16
• May 2017 – $2,165.15
• May 2018 – $1,566.94
The reason for the big difference and loss compared to last year is the independent affiliate program. 2017 the independent program had 18 sales with a commission income of $1370 compared to $367 this year, that's almost a 1K difference. Still, I'm a little disappointed in the low commission number. The summer is always slower but $1566 is not a good number for the site.
Will have to figure out if we are targeting items generating too low of a commission. Rankings and traffic, in general, are improving so have to take a closer look at the keywords we are targeting and items related to that.
Total Result for the Site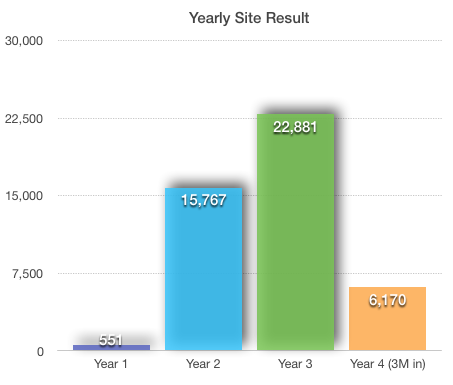 • Result Month 1 – 6: $–265.36
• Result Month 6 – 12: $817.13
• Result Year 2: $15,767.08
• Result Year 3: $22,880.61
• Result Year 4, 3M in: $6169.75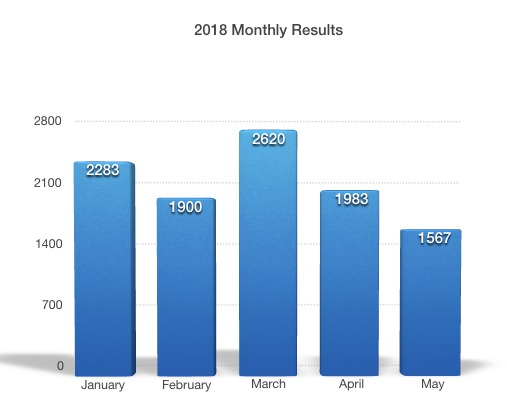 All though numbers are down for the case study site for May, I'm still incredibly happy being able to work from home, set my own hours and being in charge of my own time.
I couldn't have done this by myself, I use some pretty nifty tools and programs to make this happen…
Wealthy Affiliate for training and updates (Free and Premium membership)
BlueHost (starting from $3.95 monthly)
Jaxxy for keyword research (Free trial)
WpZoom Theme I use for the site (Premium theme)
EasyAzon to fast and easy include Amazon links on the site (Premium plugin)
Aweber to collect emails (Premium tool)
SumoMe (Free and premium for social share)
Crowdfire for Twitter growth (Free and premium)
Google Analytics (Free)
SemRush (Free and Premium)
Great tools that can make things a lot easier for a site.
Don't miss the next case study update! Sign up for the newsletter!
If you are new to online marketing and affiliate marketing but feel that this is something you want to know more about take a look at my get started guide…
I love hearing from you so if you have any comments or questions feel free to leave them below, how's your site going?
Have a productive day,
Vicky