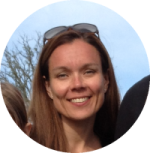 Today we`ll talk about money. I`ll tell you a little story about my first commission, we`ll talk about the earning potential, affiliate networks and more…
Can you really create an income building affiliate websites?
The answer is YES 
I did it, and I am sure that if you put in the work, so can you.
I want to share with you, my little story, making my first commission. I`ll never forget it, I was sitting at the kitchen table working on my site. I went over to the affiliate network that I was promoting to see if I had gotten any commission…
I was kind of expecting a big $0 like so many times before.
But not this time!
There it was…
I was doing the happy dance, my family came running in…
My husband asked – What`s going on?
-I did it, I did it, I yelled at the same time as I was dancing away in the kitchen.
By the look on my face my husband probably thought that I made a million bucks.
Want to know my commission?
$4
Yes, that was it $4.
But to me that $4 was the beginning to something much greater.
To me that $4 meant that this actually worked, it meant that I was on the right track, that I was building my own business and I got the confirmation that I was doing something right.
That $4 has now grown into a full time income.
I will forever be grateful and thankful for that special $4.
Anyway, on to the training…
Yesterday we went through the basics. Today we`ll talk about money and affiliate marketing.
What`s The Earning Potential?
This totally depends on how much you are working, what niche you are in (in day 3 we`ll talk about niches), what program you are affiliated with…
Let me give you an example. But first let me explain what an affiliate network is.
What`s an Affiliate Network?
Affiliate networks work as an intermediary between you the affiliate and the merchants. It helps you find suitable merchants/affiliate programs for your website.
You sign up with the affiliate network, one example is Amazon.
Amazon has partnered with hundreds of merchants that you can promote. Amazon helps you connect with these merchants.
I`ll show you how this works, this is nothing that you have to sign up with now. Let me just explain how it works…
It goes hand in hand with what we talked about yesterday when I explained how affiliate marketing works…
Sign up with an affiliate network, Amazon in this example.
Find a suitable merchant/product for your site.
Add the affiliate link that you create over at Amazon, to your site.
If the visitor uses your link, clicks through to Amazon and purchases something you earn a commission.
You then receive payment from the affiliate network in this case Amazon.
The great thing with using an affiliate network is that you can promote products from multiple merchants but get paid from one place.
There are many affiliate networks that you can sign up with. These are some of the Affiliate Networks that I use:
Clickbank (they offer digital products like e-books with high commission)
Amazon (offer a lot of physical products)
SareASale
Google Affiliate Network
The key is to pick highly relevant products to your website.
The Potential…
There`re great potential with affiliate marketing, it`s impossible to predict what you can earn but here is an example for you.
Clickbank offers high commission products often up to 75%. Commissions of $25 / sale is not uncommon.
Say you make an average of $25 / sale.
If you get 1 sale daily that is $750 monthly…
That is one product, one daily sale…
Are you starting to see the potential here?
Affiliate marketing is a numbers game, the more helpful content you have out there the more potential to make money…
It comes down to solving problems and helping people!
Who Pays You?
The affiliate network will pay you. So if you`re affiliated with Amazon, then they`ll send you the checks…
Depending on the affiliate network you`ll get paid once or twice a month.
You can get paid through paypal, check or bank deposit.
Day 2 – To Do List:
Read Lesson 2 at Wealthy Affiliate – It`s all about money and setting financial goals.
I created a training over at Wealthy Affiliate  6 Ways to make money with your wordpress blog, feel free to check that out as well.
Now after two days you have an understanding of what affiliate marketing is and how you can make money with it.
Tomorrow will be very exciting we will start building our site!!
Don`t miss it!
See you tomorrow,
Vicky