Fridays with Vicky 114
Have you ever felt like you are stuck? This could mean different things for all of us. For me, I felt like I was stuck at my income level doing affiliate marketing. For the longest time, I would feel stuck making around the same amount of money each month, this went on for a couple of years.
You feel like you put the work in but you don't seem to be able to reach that next level.
This doesn't have to be related to just money this could be anything we want but are not getting, achieving or receiving…
I started to do some research on the topic and ran into The Lucky Bitch website. First I must say I wasn't sure about the site, I wasn't crazy about the name of it but I watched a few of the videos that the owner Denise Duffield-Thomas put out and they were great. She talks a lot about manifesting different things, "money blocks" and how to deal with them.
Although the concept of manifesting might be a little fuzzy, there actually are things that you can do to "work" the law of attraction.
You can consciously attract and manifest things, both good and bad.
Denise made total sense and I quickly realized I wanted to learn more about manifesting, I joined her Manifesting Course and I'm so glad I did.
Right NOW, Denise is doing a 5 Day Manifesting Challenge for FREE.
If manifesting is something you want to learn more about go join for free!
Want to know more?
* So the official affiliate disclaimer 🙂 Some of the links on this page are affiliate links. It cost you nothing to use them, but if you do purchase something from Denise, I might get a commission.
Lucky Bitch Manifesting Course Review
Creator: Denise Duffield-Thomas
Course: Manifesting Course
Maybe you have tried to manifest things in the past without much success. Most likely though you have manifested some pretty great things in your life without even thinking about it.
What Denise does is streamlining the manifesting process and making it clearer. With her course, she helps you get aware of your thoughts around money. Some thoughts which benefit you and help you, but if you have not received what you want you most likely have thoughts and beliefs around money who blocks you from receiving. This is something most of us deal with, but being AWARE helps you declutter and move past those thoughts.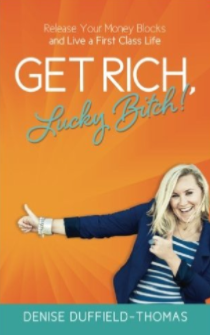 If you haven't heard of Denise Duffield-Thomas before, she's the author of the popular book, get rich lucky bitch.
In fact, before doing Denise exercises, I had no idea I kept all these false thoughts and beliefs inside of me. Some of them don't make sense at all lol, but bringing them to the surface and getting rid of them is an amazing feeling.
After getting rid of the "old stuff" it's time to bring in the new. Denise gives the tools and methods, to manifest the things you want in life.
When I first started watching her videos I was a little skeptical, ok VERY skeptical, but it all makes sense. It's all about discovering what you want, what stops you from getting it (your blocks), manifest and get ready to receive.
Have You Tried Goal Setting?
Let me ask you this, have you ever been super excited about setting a goal for yourself or maybe for a project?
You set a clear goal, you write it down and add a date to when it's supposed to happen.
But what happens?
Usually… nothing or even worse… something goes wrong with your project, let's say it's a website, the affiliate program you rely on change their policy, traffic drops, it's almost that somebody is sabotaging things…
You are just as far away from the goal as you were before setting it.
The good thing with manifesting is that it can be taught, there are methods that work. No secrets or hocus pocus but step by step instructions to take to get things done.
Denise Does Not Just Talk the Talk…
In this 5 day challenge Denise shares how she manifested a few things herself:
like the 6 months, all expenses paid travel she attracted
how she manifested her dream house by the water
how she has gotten award and competition wins
manifesting a million dollar business
and a family life she is very happy with, who doesn't want freedom
Denise uses these techniques herself to create the life of her dreams. Our dreams are all different, and it's up to each one of us to make our own dreams a reality. Having the right guidance, tools and techniques to make your dreams reality could be life-changing.
What Is Included in the Manifesting Course?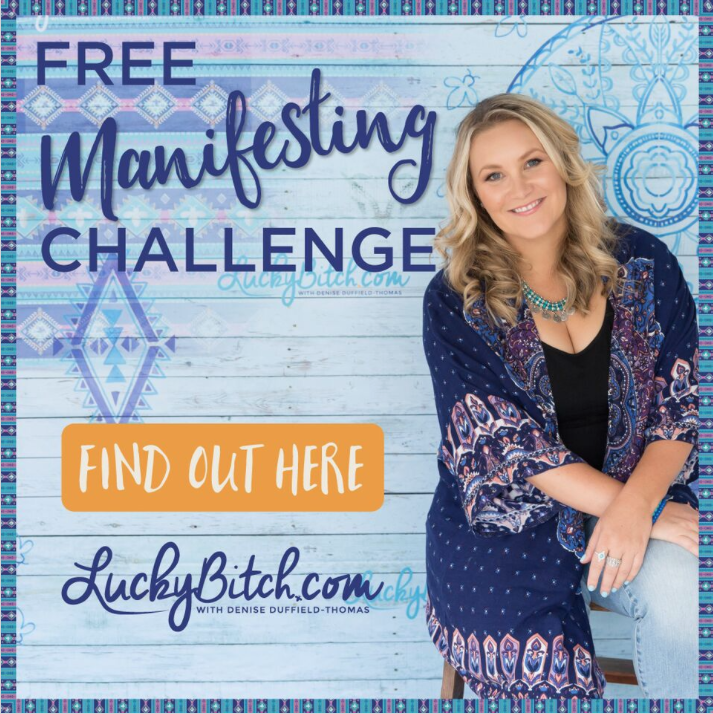 With Denise's Free Manifesting Challenge you'll go through the following steps,
Step 1 –  Clear your money blocks
Step 2 –  Get clear with what you want
Step 3 – Stay positive and create good vibes
Step 4 – Get stuff done
Step 5 – Use these "magic words"
So if you are ready to move on to the next level, give Denise a shot.
So If This Is You…
Setting goals but not reaching them
Ready for the next step, the next level but are not sure how to get there
You want to manifest something but are not really sure how to
You like step by step instructions on how to get things done
… do something different this time:
Try the free 5-day manifesting challenge. You have nothing to lose.
Can It Only Be Applied to Money Goals?
Not at all. You saw the list above of things that Denise manifested, travel, dream house, and competitions. I've also seen it be applied to manifest all kinds of things in the Facebook group that I'm a part of. TV jobs, relationships, upgrade to business class when flying, attracting customers… the list goes on.
All I know is that I'm very happy that I joined Denise. It has changed my life. I'm happier, more focused and clear on what I want, I am truly a Lucky Bee.
What I Love About the Manifesting Course
The way that Denise presents the topic and tasks are fun, engaging and very easy to relate to. My favorite thing though is that Denise helps you discover things about yourself that you have no idea about, this is fascinating to me. The different techniques to help with these feelings and blocks that come up has also been very helpful.
What About Financial Results?
Well, the first month I joined Denise money Bootcamp course (one of her other master course), I had one of my best income months, ever. I'm in my second month and I'm super excited to see what it can bring…
The Lucky B team is gearing up for a 5-day manifesting challenge, I'm in… how about you?