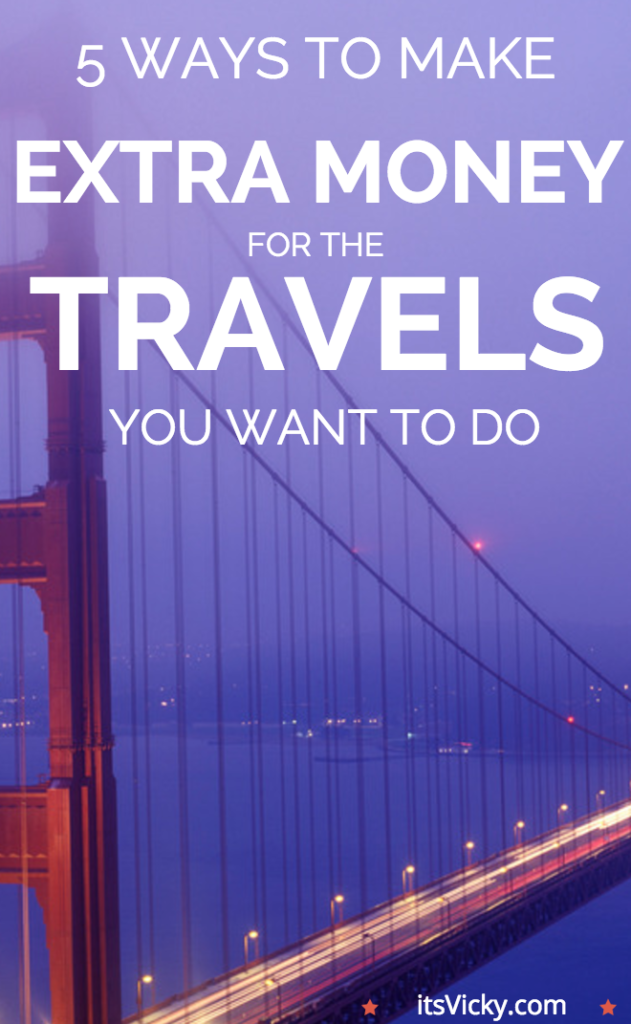 Fridays with Vicky 136
Flexi-job or Flex-job.  That's the hybrid term we'll focus on in this post.  Having a flexible job (flex-job) is an excellent way to earn extra money to fund the travel you want to do.
Many of the flex jobs are part-time but some full-time positions are also flexible.   You normally get to have a say in the hours and times you work and can normally be scheduled around other activities you have going on in your active
You normally get to have a say in the hours and times you work and can normally be scheduled around other activities you have going on in your active life-style.  We'll talk about five of those ways to make money below.
5 Ways to Make Extra Money for the Travels You Want to Do
1. Working as a Customer Support/Help Desk Agent
Customer support and Help Desk are two growing areas that have a quick turnover but can still be great sources of income.  The key is finding the right job that fits you, your schedule and your lifestyle.  Not everyone can be a customer support agent for a major telecom company.  Not everyone can be an account manager for an electronics store or tax company.  But those who can find their niche will discover it is one of the best jobs they've ever had.
You can assist customers with making purchases, or to get a refund or even with getting into an account that they've forgotten a password for.  For some, providing this kind of help and support brings a lot of joy.  And providing it when it fits your schedule makes it even better.
2. Writing to Your Heart's Content
If you are a writer and you love it, I say focus on finding part time work that will allow you to do this—and this alone.  Find people to work with that understands who you are and what you are trying to do.  Tell them you want to write…and travel.  Find out how your needs along with theirs can be met.
I've found job postings that request writers for all kinds of purposes from writing ads to writing e-books.  Honestly, with time and opportunity, you could do them all. But what you want is to write to support your travel.   That being the case find jobs that will allow you to do that.
3. Working in the Health Care Industry
Working in the health-care industry can be a bit more stringent than other jobs.  But, if you are good at it, you can curtail these positions to work to you benefit as you can with any part time position.  Do you know about medicines?  Provide phone help for clients wanting to know more about a particular drug.
Are you good at medical billing?  Demonstrate your skills to your Employer-client.  Let them know you can be a valuable asset to their company even though you are planning to work part time.  Anything you bring to the table can be turned into an asset for you and the people you intend to support.
4. Driving as a Transport Contractor
Driving on call is one of the best ways to have your money and freedom too.  Uber, Lyft, Post Mates, Door Dash, Grub Hub, Uber Eats are all contractor type positions that will allow you to work when and as often as you want.   Normally, all you have to do is download a phone app, get a little training, complete a few documents and you are on your way.
When you're ready to work, you turn on the app and wait for the call.  You either pick up the food, item or people; deliver them and wait for the next call.   When you are ready to stop, you turn off the app.  Nobody to report to.  No unnecessary hassles.  And you get paid normally within two or three days of your completed work.
As in everything, communications is the key.  In any job or position, keep your employer or client informed of your plans.  It goes a long way in helping you reach your goals.  As well as help the client reach his/her goals.  Win-win situations are always the best.
5. Be Your Own Boss
What about doing something flexible that you can bring with you on your travels? Something that you are the boss of, something that you control WHERE you work from and WHEN you work. Yes, you still have to work but it's on your own terms… I'm talking about blogging and affiliate marketing.
As a blogger, doesn't have to be travel blogger even though that would certainly be a good option, you can work from anywhere bringing your work your blog with you. All it needs is a computer and internet connection and you are good to go.
This option can bring in a great income down the road as well, it will take some time to get it started but the sky is the limit!
If you want to know more about blogging and how to get started read this – get started with blogging.
If you want to know more about affiliate marketing and what it is – read what is affiliate marketing.
How will you be making some more money for your travels? Please share in the comment section below,
Have a productive day!