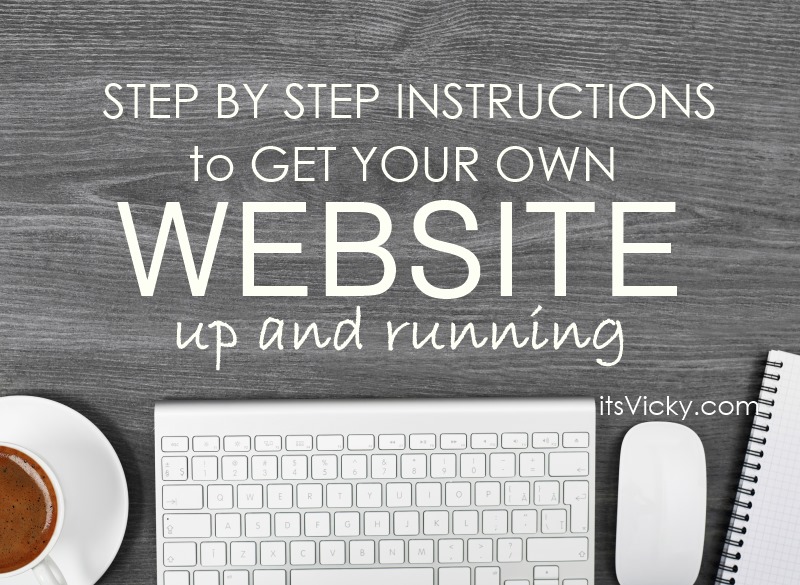 In this article I will walk you through how to set up a website. This will be step-by-step instructions, that are easy to follow along.
This is what you will need:
Time – if you are new to this give your self around 30 minutes, to get it all set up.
Cost – to be able to run a website on your own domain, (a url like in my case itsvicky.com), you will have to purchase;
a domain
hosting, a place to host your website
This is what we will do in this article:
Pick a domain
Get your hosting set up
Install WordPress (the platform you will build your website on)
To make things easier for you, I have picked domain and hosting from the same company.
Here are 5 Reasons to Use This Hosting Company
One stop solution for both domain and hosting
They make the WordPress installation easy
They are extremely affordable, starting at $3.95 a month
They provide help if needed 24/7
Sign up through a link below and get the domain for FREE, when paying for hosting
If you want more information on this company before starting read our BlueHost Review Here.
Let`s dive in but first…
BlueHost is a program I will happily recommend to you. If you decide to buy through my affiliate link, I may get a commission. This will not impact the price for you in any way, but it will help me continue running this site. Thank you!!
Step-by-Step Instructions to Get Your Own Website Up and Running
We will be using BlueHost for our website. The reason for this is that they have the domain and hosting under the same roof. They are a reliable company and make things easy for you.
1.  Click Here to go to BlueHost. A new separate window will open so that you can, follow along, read and implement at the same time.
2. Click the green "get started now" button in the picture, to get the special intro offer.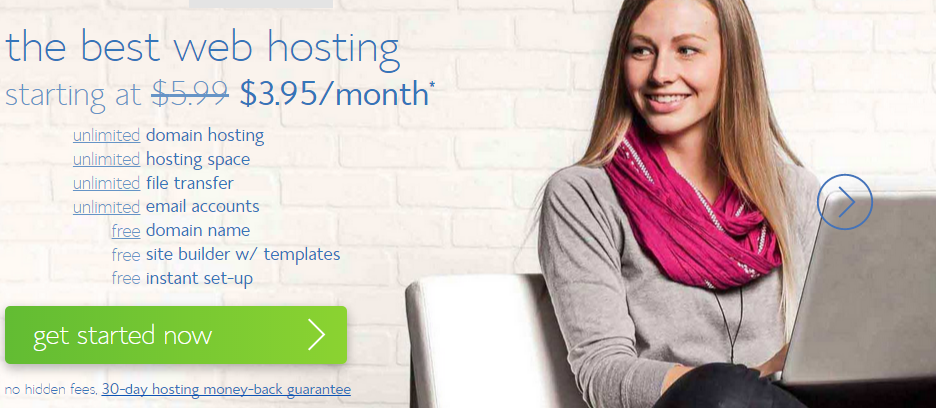 3. Select your hosting plan – On the next page, you will be given 3 options, starter, plus and business pro. If you are currently just working with one website and have no plans on building more I would go for the starter option. You can always upgrade later on, if necessary.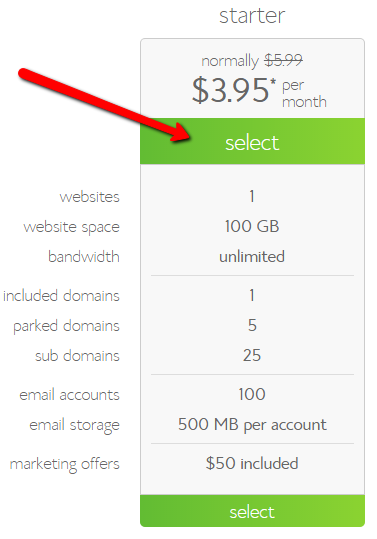 4. Pick your new domain name. What do you want the name of your site to be? On this site I use itsvicky.com. If .com is available for your site to choose that. — Get the domain for FREE if you sign up for the hosting —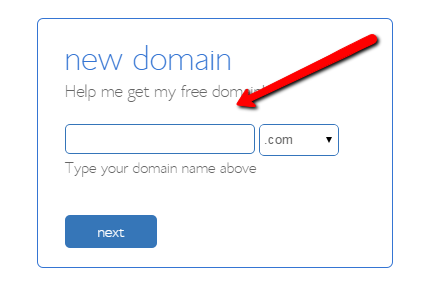 5. Fill out your account information. They ask for your name, address and phone number.
6. Select package information. These are the preset selections. For your account plan, it will be up to you how long you want to sign up for. The starter package has three options, 12, 24 or 36 months, the 36 months option will be your best deal. FYI – you pay it all upfront.
What about the extras, do you need them? Read below what I choose to get.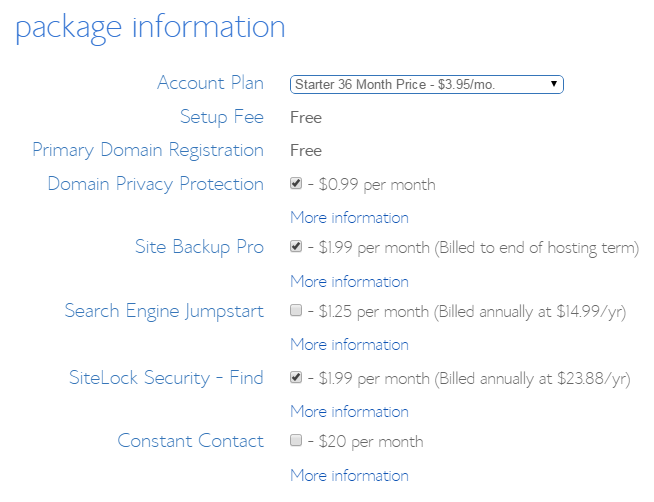 Domain privacy protection – I do get the domain privacy protection, this will keep your personal information private. This is the only addition I get.
Site backup pro – just want to mention the backup pro. You do want to back up your site for sure.,but there are many different free ways to do that though. I will show you how when you have your site installed.
The rest of the options I don`t get.
7. Choose your billing information.
You can pay using a credit card or PayPal.

8. Confirm the information, click submit.
9. You will get access to your account with your username and login details that you receive via email.
Log in to your BlueHost account.
Congratulations you did it!
You now have your domain and hosting!
Next step will be to install WordPress.
For your website platform, we will use WordPress. This is a great platform to use, it`s easy to install, it has an easy interface to work with and it`s reliable.
How to Install WordPress on Your BlueHost Account
Now don`t be overwhelmed with BlueHost many options when you log in. We will walk you through the process of installing WordPress. 
You can follow along with this video created by BlueHost or go through the steps below.

If you are not logged in to your Bluehost account, go ahead and do that.
At the second section when logged in, you will see "website builder".
Underneath, you will see the WordPress icon. Click "install WordPress".
It will take you to the Mojo marketplace. Click the green button for WordPress installation.
Select domain. Just click the domain that you just picked. Leave the directory box blank, (because you want to install WordPress in the root domain).
Click "check domain".
Click "Show advanced options". This will allow you to fill in the site name, admin username and admin password. The site name can be changed. The admin username and password will be used to log into your website.
Check "automatically create a new database". Check "I have read the terms and conditions" and then click "install now".
That`s it, WordPress will be installed on your domain.
You can now click view credentials. By doing that you can view your URL, admin URL (this is where you log into your site), username and password.
Go to admin URL and use your username and password to log in to your website.
That`s it you are now logged in to your own website! Congratulations!
If you have any issues or questions feel free to leave them below and I will get back with you as soon as possible.
Would love to hear what you think of this, Step-by-Step Instructions to Get Your Own Website Up and Running?
Also, want to let you know that the links above are affiliate links. Does not change the outcome or price for you one bit though.
Have a productive day,
Vicky