BlueHost is one of the "seniors" when it comes to website hosting and has been around since 1996. Matt Heaton is the founder and he also started FastDomain. 2010 the companies were sold to the Endurance International Group (EIG). Later in 2011, Matt Heaton resigned.
Today, BlueHost is one of the biggest hosting providers, powering over 2 million websites all over the globe.
In this article, we take a closer look at this hosting provider so that you can decide if BlueHost is for you or not.
If you are in a hurry and want to join the crowd, click here for your discount price.
I will happily recommend BlueHost to you, but I want to let you know that If you decide to buy through my affiliate link, I may get a commission. This will not impact the price for you in any way, but it will help me continue running this site. Thank you!!
BlueHost is recommended by "WordPress" one of the most used blogging platforms on the internet today. If you are looking to start a blog or website, you will probably be building it on the WordPress platform. They are easy to create, they are easy to use and easy to maintain.
For your site to be able to show up on the internet you need a domain and hosting. The great thing about BlueHost is that they provide both domain and hosting under one roof. No need for DNS and name server changes.
BlueHost makes it easy.
BlueHost Shared Hosting Products
BlueHost offers a few different shared hosting products:
Starter
Plus
Business Pro
With the starter account, you get 1 domain, 1 website, with 100GB and unlimited bandwidth. 100 email accounts with 500 MB / account
This is a great starter option if you are getting ready to set up your first site.
BlueHost also offers more advanced products for websites with tons of traffic. They offer specific WordPress blogger hosting, VPS hosting, Dedicated hosting. These more advanced options might be great down the road but nothing that you need today if this is your first site.
Cost for the BlueHost Starter Product
The longer you sign up for, the better monthly offer. Right now they have an offer of $3.95 / month. This offer is good if you sign up for 36 months. You can also sign up for 24 months for $4.95 / month or 12 months for $5.95 / month. You can go here to make sure they are still running this offer.
There`s a 30-day money back guarantee on your hosting service.
How to Get Started with BlueHost
1 Click the Green "get started" button in the picture.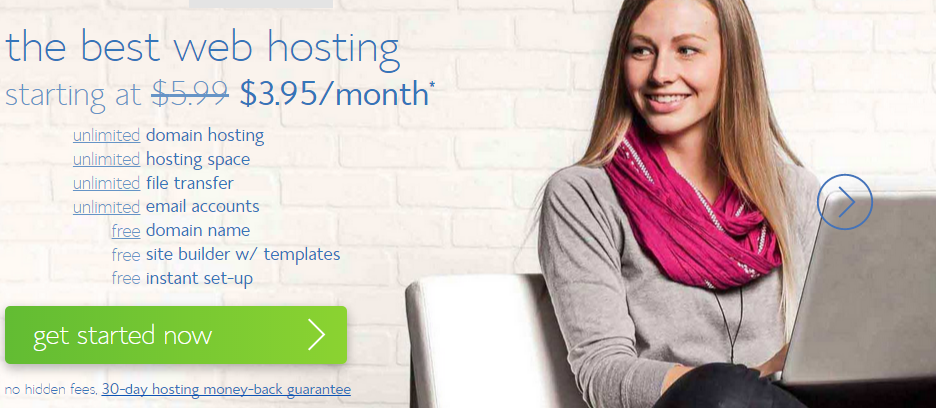 2. Choose Your Hosting Plan the Starter one is perfect to start with you can always upgrade later on.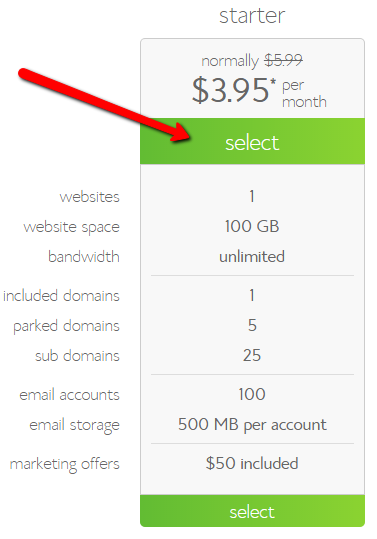 3. Pick your domain name. This is whatever you want your site URL to be. This sites domain name is itsvicky.com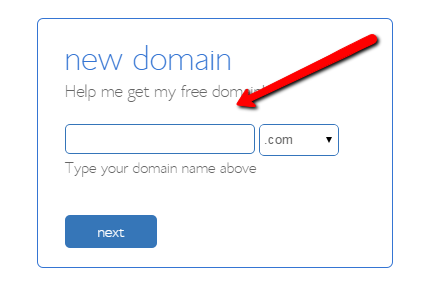 4. Fill out your account information. Name, address and phone number.
5. Choose your package Information – you choose your account plan.
So what are the other options and do you need them?
Domain privacy protection – this is to keep your personal information private. I personally use this feature, but this is the only addition I use.
Site backup pro – there are many different ways to backup your site, many freeways. I don`t use this feature. Search engine jumpstart – not really sure how this benefit, but it`s not something I use. I don`t use the last two options either.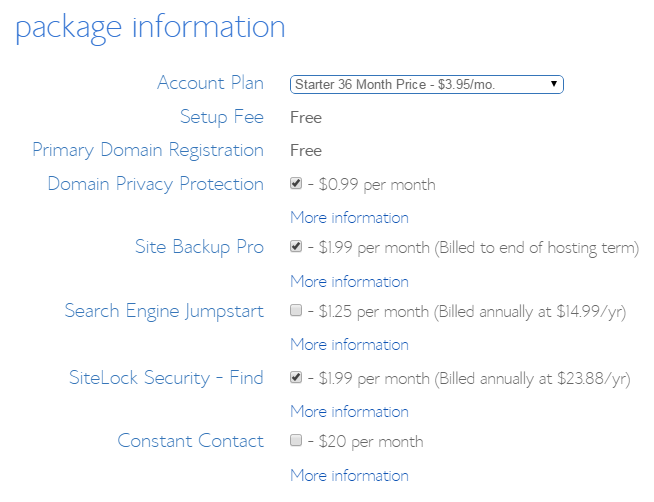 6. Choose your billing information.
7. Confirm the information and get access to your account with your username and login details that you receive via email.
8. Log in to your BlueHost account.
Congratulations you are all set up!!
Don`t get overwhelmed! There will be a lot of new terms and information and it is easy to get overwhelmed. You will not need all these features. What you will need right now, to get your site live, is WordPress. That`s the platform we will use for your site.
How to Install WordPress on Your BlueHost Account
So make sure you are logged into your Bluehost account.
1. You go to Website at the top bar.
2. You Click use WordPress.
3. You click "install".
You select the domain that you just picked. Leave the other box blank, (because you want to install WordPress in the root domain).
4. Click "check domain".
5. Set up your WordPress login and password.
That`s it, WordPress will be installed on your domain.
Here`s a follow along video from BlueHost;

Still not convinced…
BlueHost Starter Features
Free first domain included
Unlimited data transfer
100GB storage capacity
cPanel as control panel
Email hosting included with 100 email accounts
Webmail is supported
Cube Shopping Cart included
Dashboard – BlueHost has an easy to navigate dashboard. It runs on a standard cPanel that makes it user-friendly. It is easy to set up your domain and website.
Support – BlueHost has a great support. You quickly get help with any issues you might have. Support is patient and very helpful. There are no "dumb" questions. If you are new to creating websites than BlueHost has your back with a great support and help system.
They also have a very helpful YouTube channel where you can get help with issues.
Complains – All though BlueHost get raving reviews from most users there will always be people with a not so good experience. I read about one guy that had issues with the WHM support and sub cPanel. One user ran into MySQL issues and was recommended to use a VPS.
But with more than 2 million websites hosted some will have issues.
So will you join this popular hosting brand?
I see many reasons to why this is a good choice.
3 Reasons to Use BlueHost
Both domain and hosting under the same roof makes it simple to use.
Good price, starting at $3.99 / month.
Easy WordPress installation.
Still, feel confused about how it all works? Check out this BlueHost video on How Websites Works
If you have any questions at all feel free to leave a comment in the comment section below.