Welcome!
You are here for one reason, you have a dream or a vision of accomplishing something, to create an online income, am I right?
It could be making some extra money. It could be to create an income to be able to stay home with the kids. It could be to build an online business with a full-time income.
You might not know exactly HOW that`s going to happen or WHAT you will do, but you are looking for an opportunity to work from home. I have been exactly where you are right now… but what I found, changed my life. That might sound "cliche" but it's been true for me and my family.
This is why…
I used to work a full-time job for somebody else – Today I run my own online business.
I used to work set hours for somebody else – Today I work flexible hours for myself.
I used to have to ask for time off – Today I rearrange my schedule, plan ahead so that I can take time off.
The list goes on with benefits of running your own online business.
I have been working online since 2007. My reason to work from home was that I wanted to stay home with my kids AND bring in some money. The combination of staying home with my kids and having my own online business has been an amazing experience.
Don`t get me wrong it takes hard work and determination but I can set my own hours and work on my own terms.
What you will NOT find on this site is fancy cars, big houses, and empty promises. There will be NO quick fixes and push-button systems.
BUT if you choose to stick around, I will be happy to show you how I have through hard work, trial, and errors, and determination created a full-time income working from the kitchen table.
I only recommend programs and products that I enjoy. If you click one of the links below it might be an affiliate link, which means I may get a commission if you purchase something. This will not impact the price for you in any way, but it will help me continue running this site. Thank you!!
Create Websites on Topics You Enjoy
What I do is creating websites on topics I enjoy. These websites can easily be created with today`s technology. You can even create a website for FREE. When you have your website up, you can put ads or products on there to make money.
Simply put this is what I do:
Create a website on a topic I enjoy
I create content for my site
I monetize the site by recommending products or posting ads
People visit my site
If the visitor clicks an ad or purchase a product through my link (I don`t have any products myself) I get paid a commission
It's a great way to create your own little business online. You work with a topic (also called niche) that you really enjoy, you are your own boss, working on your own terms.
Many people I run into start by setting this up as a side business, with the hope of going full time down the road. I've seen many succeed reaching that goal.
To be successful with your website you will need realistic expectations. Let's talk briefly about what it will take to make this work. Let's see if this is for you…
What Will It Take? Is This For You?
There are a few things that you will need:
TIME – If what I`m about to show you, is new to you, it will take time to learn the basics. It is not rocket science but it will take time to learn the ins and outs.
PATIENCE – An online business will not be built overnight, it will take time. You will have to be patient with the whole process. This is NOT a get rich quick scheme.
DETERMINATION – Decide that you will make this work, leave no other options on the table. We all felt some kind of doubt starting out, I know I did, "will this really work?", "can you really make money doing this?". That's ok, totally natural, but if you put your hard work into it, it will be worth it! Decide right now that you will be one of the ones succeeding!
TAKE ACTION – For you to turn your website into an online business, with a good income you need to take action on what`s being taught. Just learning and not implementing is not a good strategy. Learn but most importantly take action on what you learn, you can always adjust along the way.
If you can commit to the above, you have what it takes to be successful. I can show you the tools to make it happen, I can show you the tools to help you build a website, to help you get traffic to your site and monetize it in an effective way BUT it will be up to you to make success happen! Good thing you don't have to do it alone!
Are you ready for a change? Are you ready to take charge of your future? To create that extra income on the side that could potentially grow into something a lot bigger?
Start creating your new future today!
This Is What You Need to Learn
What your website should be about (it's ok if you have no clue at this point)
How to set up a website
How to get visitors to your site
How to make money with your site
You might feel a little overwhelmed, that's ok, you don't have to figure all this out by yourself.  There are places where you can learn all this, with easy to follow along step by step lessons.
Let's look at some alternatives…
3 Places to Learn How to Create a Website
AND How to Make Money with It
1. Free Video Course, Step by Step, How to Create a Website or Blog
Sign up for my free Video Course – Step by Step How to Create a Website. This will walk you through all the steps needed for you to get your first site up. You will learn everything you need to know to get started with your website and online business.
Watch this intro video that explains, more in detail what you will learn.
2. Join a FREE Online Training Program
There are many programs online that will teach how to set up a website, make sure you go with a legit option. Unfortunately, there are so many scams out there, it can be hard knowing what's legit and what's a scam.
I've been a member of a community for 10 years, this is a legit program that will teach you exactly what we've been talking about today. In fact, that's how I got started, that's the program I learned how to make my first $ online.
This program has been around since 2005. They have step by step training and a great community that offers all the help you need. It is truly one of the leading communities when it comes to website creation and affiliate marketing and I'm proud to be a part of it. If you want to join me, totally free, click here to find out more.
3. DIY
The third option is to do this all by yourself. You can search the internet and try to figure it all out, I don`t recommend that though when you can get it all the information and support that you need in one place.
Just want to leave you with one last thing…
Are you ready to take action? Are you ready to make a change?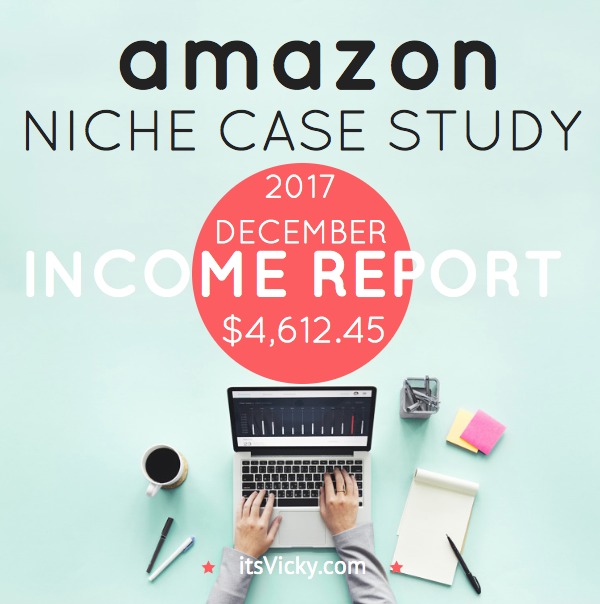 Does this really work, can you really make money with websites?
If you are still doubting that this works, feel free to visit my Amazon case study. Every month I do an update on traffic numbers, income, expenses and more.
I go into details of what I do to generate traffic, how I monetize and what I spend money on. You can follow the progress of the site over time.
It's great to see how this case study site is growing and how it made $22.640.40 in 2017. The site is still young and has a lot of growth left. Can't wait to see how it growths in 2018!
Above I provided you some helpful information on how to get started creating a website, here are a few more resources:
Can't wait to hear about your success! Make sure you share it with me!
If you have any questions please feel free to leave them below in the comment section, I will be happy to help with your website in any way I can.
To Your Online Success,
Vicky