Swagbucks is a well known online survey provider that claims to offer all sorts of rewards in the form of gift cards and cash. Many of the rewarded gift cards can be used on places like PayPal and Amazon, the website landing page mentions that the company has paid out over $90,000,000 to it's users since it's launch.
It sounds like a sweet deal, but can you really make money from this program, and is it worth your time? We have taken a look into the service and have given our feedback below.
Swagbucks Review
Website: swagbucks
Price: Free
Earning Potential: With this program you can earn some extra cash. It will not replace a full time income, but you can make some extra cash for sure.
To give a fair review of the Swagbucks program I just signed up.
After my signup and answering a few questions I earned 67 swagbucks, not too bad.
Here is a screen of the "inside".

What Does Swagbucks Do
This program allows users to earn virtual currency, swagbucks, by completing surveys, playing promoted games, watch videos and by searching content on the internet.
Whilst it doesn't claim to offer methods for users online to get rich quick, it does offer a small supplemental income that can be used for your own personal piggy bank.
Once you have earned enough of the virtual currency you are allowed to cash out into cash or gift cards. An example would be 500 swagbucks for $5 at Amazon, Walmart, Target or iTunes.
Because of the variety of different ways to earn currency on this platform, there is usually plenty of potential to earn small bits of virtual currency each day.
The People Behind Swagbucks
This program is run by a Los Angeles owned online company called Prodege LLC. This is a company that is well known for providing online reward portals like this one, and thanks to it's global popularity it has managed to make strong partnerships with various well known businesses.
The program itself has over 4 million users, so there's no doubt that a lot of people have tried to earn money off of it. Many have claimed that the money earned is great, whilst others have stated it's a waste of time. So what do you actually get in this program, and how can you earn money with it?
How Does Swagbucks Work?
There isn't really any program or training provided with this program, but the tools available do have basic instructions for use. Fortunately everything is fairly straight forward to use, and most of the tools act similarly to many basic browsing tools you use everyday.
Below, we've given a quick overview of the different ways you can earn. All of these tools can be used to earn more currency each day.
Games – Get paid to play various promoted online flash games.
Sweepstakes – Risk some of your currency for a chance to win the sweepstakes lottery.
Shopping – Shop online and use discounts/coupons to earn more currency.
SB TV – Watching 10 videos on this Youtube-like platform rewards 3 currency.
Surveys – A small selection of surveys, although they aren't great.
Toolbar – Search via the toolbar to earn more currency.
Tasks – Complete human-only tasks to earn extra currency.
Trade In – You can trade in your old games, electronics and other items for currency.
Referral Program – Refer new users and earn around 100 for every user that is active.
Lets take a closer look at a few of them.
6 Ways to Make Money with Swagbucks
1. Online Shopping with Swagbucks
If you do a lot of online shopping it will be worth signing up with Swagbucks. If you do your shopping through them you will earn at least 1 swagbuck from the programs that they have partnered with. They also have special deals. Right now the follwoing deals are going on, they might change though.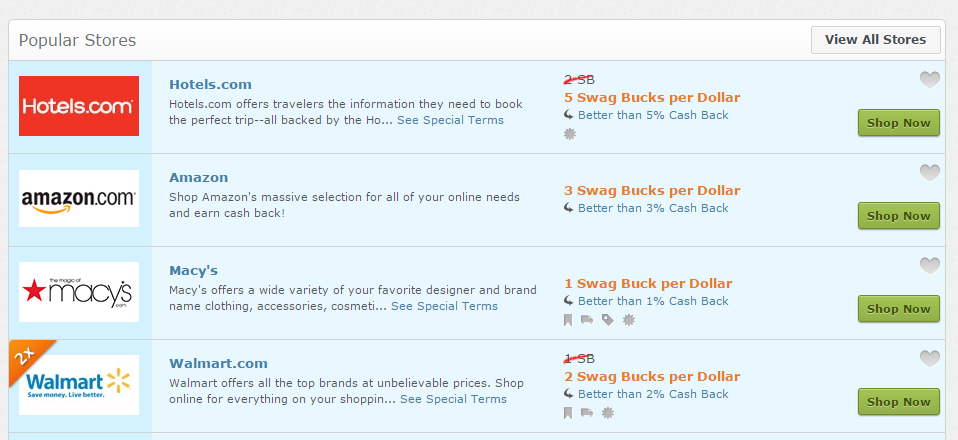 As you can see some of them offer as much as 5 swagbucks per dollar. Some of the offers offered upto 10 swagbucks per dollar.
If you purchase high ticket items online, it will be worth going through swagbucks and getting some of the money back.
2. Daily Poll – Surveys
Another quick way to earn a swagbuck is to answer the daily poll. This is 1 poll question for you to answer in exchange for 1 swagbuck. Maybe not much but it`s quick.
They also have longer surveys with more questions that will take more of your time but you will have the chans to make more swagbucks.
3. Search with Swagbucks
You can also use the search and do your daily online searches through the program.

As you can see it`s powered by Yahoo. Personally I prefer Google so I will stay with that. By using this search you can earn some more swagbucks.
4. Use Coupons – Win Win
If you use coupons then this will be another great way to not only save money through the coupons but also earn some swagbucks. This is really a win win.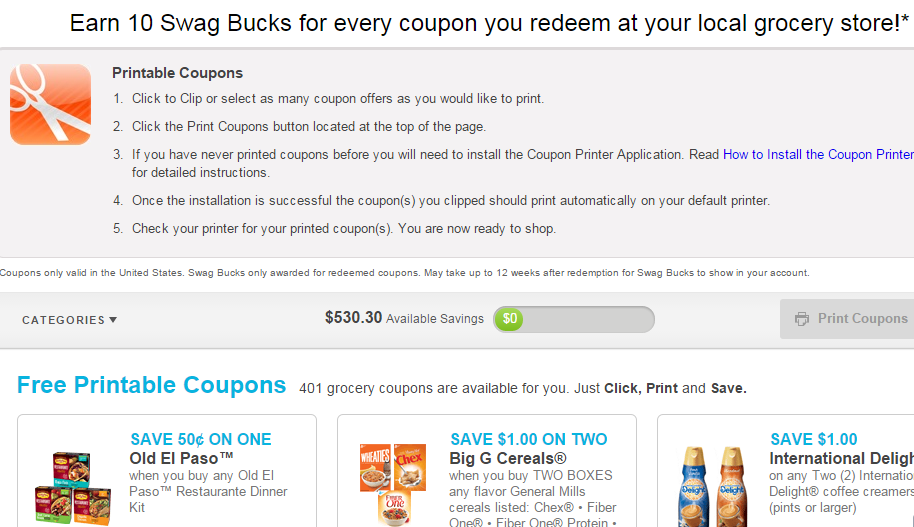 5. Watch Videos with Swagbucks
One of the sections you can earn money on is the watch video section. You have to watch 10 videos to earn 3 bucks. I find this being a time hog and unless it`s something you were planning on watching anyway you want to think twice about if it`s worth your time.
6. Play Games
Yes, you can even earn bucks by playing online games. If you enjoy "Deal or No Deal" you can earn while you play. This will not make you a bunch of money, but if you are doing it anyway you might as well get paid to do it.
Community and Help
Considering there is an entire company dedicated to this service, the community service is pretty on point. You'll easily find plenty of information about how to use the service, and the contact and help center will get you in touch with the right people quickly.
The 4 million strong user base can be found online and across social media. Whilst there isn't a dedicated community, it isn't hard to find other users online that have used the service.
Price
This service is free, and anybody can sign up to start earning. The thing to understand though is that it's impossible to make a living through this system. Whilst you can earn a few extra dollars here or there, you won't be able to put food on the table or pay the rent. There are plenty of opportunities to earn a little extra cash though.
If you go ahead and start using Swagbucks with the right attitude, you'll be able to come away from the program just a bit more money in your pocket. Who knows, if you use the service long enough, you might just be able to buy new electronics a gadget or a video game.
I Want to Make More than a Few Extra Dollars…
Swagbuck is a great way to make some extra money doing what you are already doing. If you are looking to make some "real" money online, there are different ways to do that.
My personal favorite way is to build websites on topics I enjoy. I am not tech savvy, but with today`s technology it is easy to set up a website, you can even set up a website for free.
After adding some helpful content to the site, I put up an offer or ad to make money with the site. The reason Swagbucks can give away swagbucks to their users is because they get a kickback from companies like Walmart and Amazon, you can get that too.
Say you found a product on Amazon that would work well with your site, you would then sign up with their program and if somebody click through your link (just like you would do with swagbucks) you make a commission.
The truth is that it will take a while to get the site going, it will not happen over night, but the earning potential is great when you get things going. The key is to have a place to learn the basics and a community to support you. I have found a free place that offers that, feel free to check out my number 1 free online community.
Do Both
There is nothing stopping you from doing both Swagbucks and setting up your own website, in fact that might be a good way to do it if you have the time for both.
I hope you enjoyed this Swagbucks review. I would love to hear your thoughts on the Swagbucks program have you tried it?