Wealthy Affiliate Review
Free Trial: Yes
Price: $0 for Unlimited Free Trial
Price Premium Service: $47 per month / $359 per year
Owners: Kyle and Carson
Did I Personally Try It: Yes
Website: www.wealthyaffiliate.com
Does Wealthy Affiliate Really Work? Can they really help you build an online business and help you start making money? After reading my review you will be able to make a decision for yourself.
Wealthy Affiliate has been around since 2005 and has since evolved into one of the best training programs for online marketers. This is what the site used to look like back then:
Wealthy Affiliate 2005: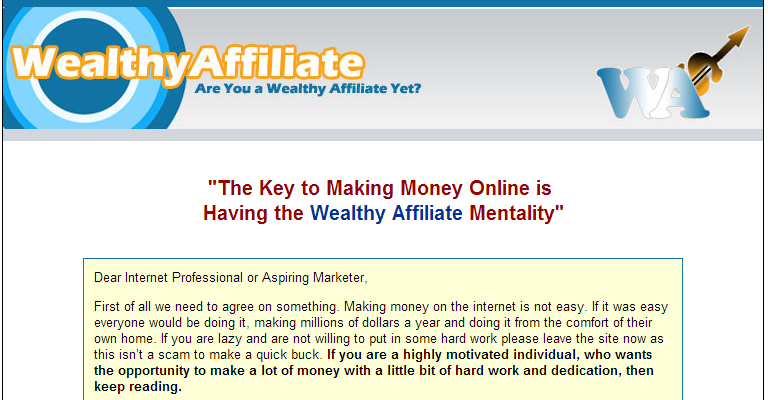 Wealthy Affiliate 2015: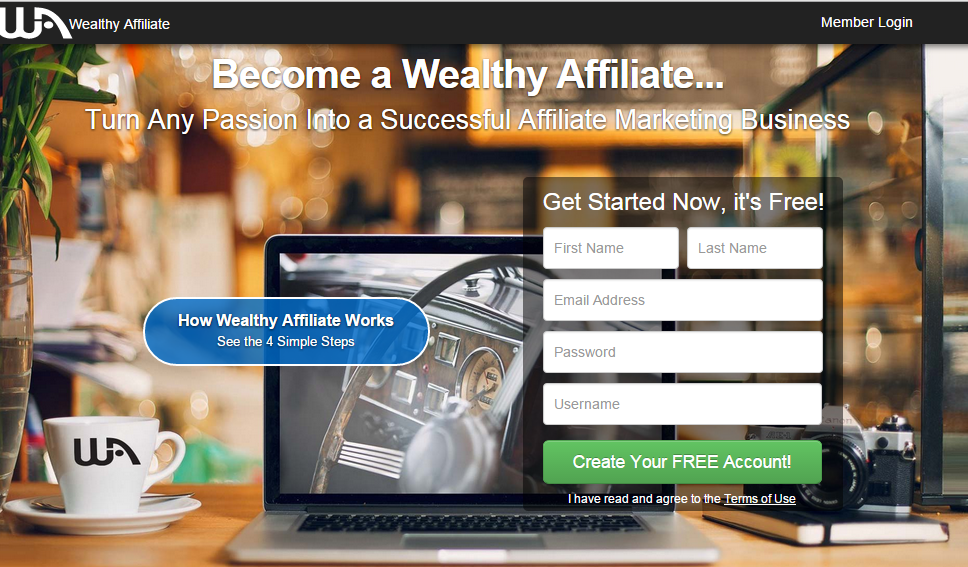 A lot of things has certainly changed since 2005 :).
This is not some e-book that the owners try to make a few bucks off. This program has turned in to one of the best communities for affiliate marketers, bloggers and other people working online.
In this review I will talk about the FREE option Wealthy Affiliate offer. They do have a premium membership that I also review, but I would suggest you read through this review first.
The way I look at it is if you love their FREE option then you will love the paid one and might upgrade along the way. If the FREE option is not for you well then the paid one is not either. Try the free membership and go from there.
What Gives Me the Right To Write This Review?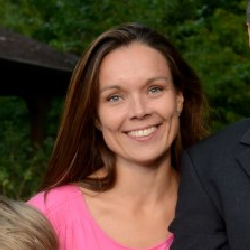 7+ years ago I was doing my research online, just like you are now. I was looking for a place where I could learn the basics of affiliate marketing and I kept coming back to wealthy affiliate.
7 years ago they did not have the free trial so I had to invest $29 back then to become a member. I remember it was a really big deal, I was worried that it was a scam, that I would spend the money and get nothing in return… you know the feeling.
I told myself:
"I will sign up for 1 month and then I will cancel…"

Today it is 7+ years later and I am still a member.

 
You can read my 7 Years with WA post here.
Wealthy Affiliate helped me create my business that I make a full time income of today.
Product Overview:
Wealthy Affiliate is not an e-book, it is not a 7 day program…
It is a community where you can interact and talk online business with like minded people.
Don`t get me wrong they have all the training that you will need to be successful with online marketing.
The training is not what makes them different from everybody else offering online marketing programs, the community is.
Think Facebook, think a smaller Facebook that talk websites, affiliate marketing, content writing, PPC, website traffic, how to make money online… all day long. The chat is open 24 / 7.
Pros & Cons
Pros
The community, people from all over the world with different backgrounds
There is always somebody to ask for help
The live chat
The training tutorials and videos
Classrooms to interact
Step by step instructions to get started
Build 2 free websites with siterubix.com
Free hosting for your 2 siterubix.com sites
Spam free environment – spam is not tolerated
Free trial for as long as you need
Cons
There is a forum but it is not very active anymore, the chat and classrooms has kind of taken the focus away from the forum
Lots and lots of information which might be overwhelming when you start
Who Is Wealthy Affiliate For?
If you want to create an online business OR if you have an online business and want to scale it to make it more profitable, get more traffic, get better conversions… then Wealthy Affiliate is for you.
Do you belong to one of the following groups:
Stay at home mom
Stay at home dad
College student
Teenager
Retired
Un employed
You want to make extra money on the side
You want to create an online business for yourself
You want to learn how to build a website
You are a website owner that want to perfect the skills and meet like minded people
If you do belong to one of the groups above then give Wealthy Affiliate a chance.
What Kind of Training Do They Offer
Wealthy Affiliate offers hundreds of training pieces, from beginner to advanced marketers
Classroom discussions – join in on a specific topic
Certification courses
Part of the Certification Courses are "Getting Started Level 1", this is what`s included:
Getting rolling
Understanding how to make money online
Choose a niche
Building your own website
Accessing your website
Plugins
Getting your site ready for SEO
Content creating
Keywords
They cover all the basics to get started.
What Kind of Services Do Wealthy Affiliate Offer
2 Free Websites with free Hosting (this is unlimited for paid members)
You get your own profile area where you get your own blog
Live Chat
Keyword lists
What Kind of Tools Do They Offer
Keyword Research Tool
Rapid Writer – Content Writing Help
Link Tracking
Don`t Try to Do It All By Yourself
If you are already running an online business then you know the issues and problems you can run into. If you are just getting started, then you will need lots of help. No matter what stage of the game you are in you will always need help and support.
This is where Wealthy Affiliate is so powerful, they offer:
Live Chat 24/7
Classroom discussions
1 on 1 support with the owners or other experienced experts
Private message (for paid members)
I will be happy to help with any questions you might have, you can catch me in the chat or feel free to leave me a message on my profile page.
What Will It Take for Me To Become a Free Member? 
When you get to Wealthy Affiliate there are 3 things that you have to do in order to set up your free account.
Sign up, easy and quick to do.
Adding a profile image (can be anything you want).
Adding a personal description (Hello, my name is… I am here because…).
Easy steps that will only take you a minute.
Why Have I Been a Member of Wealthy Affiliate for 7 Years?
Wealthy Affiliate helped me create my own online business. A business that allows me to stay home with my two kids and make a good living for myself.
I look at this as my opportunity to pay back, to help somebody just like me 5 years ago when I first started out. I do that by creating training and by helping other members 1 on 1. Just got this in my inbox:
Thankyouthankyouthankyouthankyou, you are so sweet!   I really value and appreciate your genuine support and caring!
The internet is constantly changing being part of Wealthy Affiliate helps me stay on top of things and discuss these changes with other members.
Wealthy Affiliate is also a great place to network with online experts in many fields.
The Final Verdict
I have bought my fair share of "quick fix get rich products" believe me. The truth is though that there are no quick fixes. You can build a legit online business and you can take advantage of the training and support at Wealthy Affiliate doing it.
The cost is $0 to be honest I have not even seen a paid product that will give you what Wealthy Affiliate offers for free.
You have nothing to lose…
$0 – Try It Today!
Overview
Free Trial: Yes
Price: $0 for Unlimited Free Trial
Price Premium Service: $47 per month / $359 per year
Did I Personally Try It: Yes
Website: www.wealthyaffiliate.com
Want to Know What Others Think: Read These Wealthy Affiliate Reviews
The Final Question
Would I Recommend This to a Friend: Yes
Have you tried Wealthy Affiliate? Do you have any questions at all about the program? If you do feel free to leave them below in the comment section.
I would love to hear from you,
-Vicky