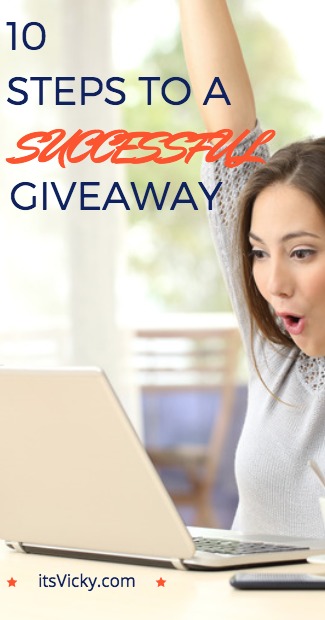 Fridays with Vicky 151
Have you thought of doing a giveaway? A giveaway can be a great way to get your visitors to interact on your site. To sign up for a newsletter and share your site with others via social media. It's a great way to get your site, brand and name some exposure.
Hosting a giveaway is a lot of fun but a lot goes into it. Having an overall plan before you start your giveaway is a good idea.
In this post we'll go through the steps I took to run a successful giveaway.
10 Steps to a Successful Giveaway
1. What's Your Goal for the Giveaway
The first thing to think of is your goal for the giveaway? What is it you want to accomplish with the giveaway?
Are you looking to get more subscribers to your list, are you looking to drive more traffic to your site, do you want to create awareness around a specific topic? Maybe get more social media followers… There can be many reasons for running a giveaway, be clear about your goal.
2. What Will Your Prize Be?
Make sure you give away something that is relevant to your audience. You want something that promotes your brand, something that attracts your typical visitor.
If you have a site about gardening, make sure your prize is related to that. Stay relevant to the topics on your site.
Maybe you team up with another company in the industry to run the giveaway? Maybe you get somebody to sponsor a product? You can also purchase the giveaway prize yourself. Figure out what your prize is or if you want multiple items, prizes, will be for the giveaway.
3. Duration of Giveaway
How long should your giveaway be? It can be anywhere from a few days to months. My last giveaway was two weeks. Some say it depends on the value of the giveaway, the more expensive the longer the giveaway should be. Decide how long you want your contest to be.
4. Create Your Giveaway
There are many different software, programs or plugins that can be used to set up and create your giveaway. When I did my research, I wanted something that was easy to integrate with WordPress, something that was easy to customize and use. At this point, I was looking for free options.
The best solution that I found that I decided to try out was the WordPress plugin, Simple Giveaways. 
It's a free plugin that can be downloaded from the WP plugin store.
The plugin had all the things I was looking for plus the sign-up/giveaway page looked really nice and professional. It displayed all the information that I wanted with an image and countdown clock.
On the back end, it was really easy to work with. A lot of things can be customized including:
Description of the giveaway
Start and end time and date of the giveaway
Prize info
Official rules
Include your own logo
Images for different social media
Winner email
I found the plugin very easy to use and really came to like it throughout the process of running the giveaway.
5. Include Official Rules
Make sure you include all the important elements of the competition in the official rules. There are laws, rules and regulations depending on what state or part of the world you are running your giveaway in. Make sure you know them and follow them…
6. Make It Easy to Enter
This is important, you want it to be easy to enter the giveaway. You don't want visitors to come and find it too complicated to enter and then just leave. Give your visitors options.
The plugin I use you'll have to leave your email to enter the giveaway. For additional entries, you can share the giveaway on social media. So if you decide to share it on Facebook you would get an additional entry. Twitter, Google+ This allow the visitor flexibility to share as much as they want for more entries.
7. Spread the Word – Promotion Schedule
When you have your giveaway listing up, there are many things you can do to create buzz. Here are a few things I did to get exposure for my competition.
Pop up window on my website.
Share on social media. Twitter, Facebook, Google+, Pinterest…
Send out emails to your list that you already have and encourage them to participate.
Sign up with relevant giveaway/sweepstake websites.
Encourage the signups that you do get via the giveaway to spread the word via social media for more entries.
This is a process throughout the whole competition. I found that signing up and entering the giveaway to different sweepstake listing sites was working pretty well.
8. Select Your Winner and Send Out the Prize
With the plugin I used there's a push-button solution to select the winner. Very easy to use, push a button and the plugin will select a random winner.
When you have a winner, contact the lucky person with the conditions of claiming the prize. When you have all the details sorted out, send out the prize.
9. Winners list
You can include the winner in a winners list that you post on your website. That's a fun way to display the winner and show competitions and giveaways that you've done in the past. That will give some extra trust.
10. Email Offer
You also want to reach out to all the people that participated in the contest. So download all the emails that you have collected throughout the giveaway. This is easily done through the WP-plugin and upload them to your preferred email provider. In my case, I've been using Aweber for years and really like them.
When the list is integrated send them a great offer. I sent my list a 10% off + free shipping coupon for the giveaway item.
Do you run giveaways on your site? I would love to hear your thoughts around hosting giveaways. What are some giveaway tips and ideas you could give us?