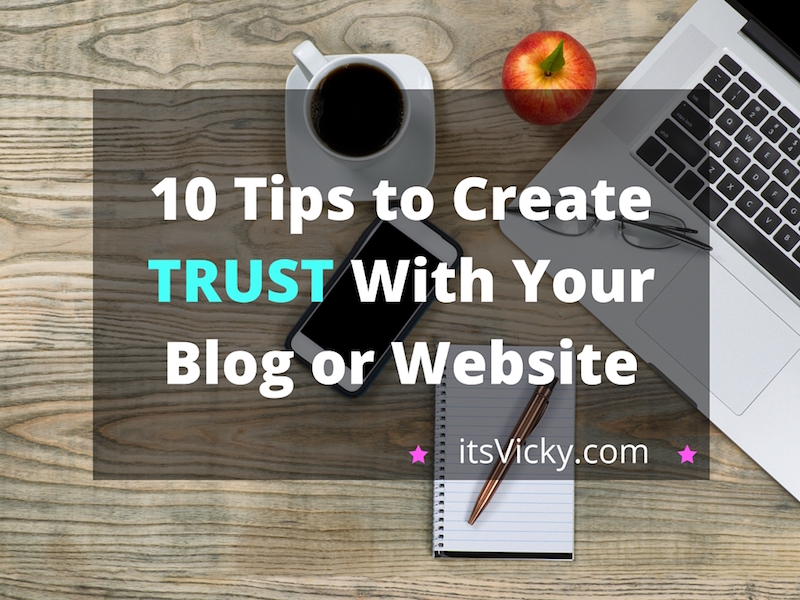 Fridays with Vicky 55.
A very important aspect of today`s online world is trust.
When somebody lands on your blog or website you have a few seconds to capture the interest of that visitor, convince them that they are in the right place and make them trust you.
There are so many options online today, that if you don`t make your visitor trust you, they will move on to another site that they DO trust.
WHY Is Trust Important?
Visitors that trust you are more responsive to you. They will take your advice, read something, click something, leave an email address, buy something… what ever you want them to do, if they trust you, they are more likely to do it.
10 Tips to Create Trust With Your Blog or Website
Here are a few things you can do to build trust with your website visitors. Make your visitors feel like they are in the right place.
1. Show That You Are a Real Person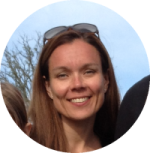 Show a picture of yourself. Seeing from the get-go that there`s a real person behind the site will create instant trust.
Say you have a personal parent blog, if I see no picture of you or something related to you, I'm not sure if I can trust the site. Not sure if I would take your advice on things if I can't relate to or get a picture of whom is giving me that advice.
Doesn't have to be fancy but it will make a difference.
2. Brand Yourself
To build a brand around your site, can go a long way. Create a logo that you can use on not only your own site but across different platforms. The brand can not only be used online but also off line with different products. Online you can use your logo on pictures, on social media, forums anywhere you have an online presence.
Use your logo or picture of yourself as a gravatar.
Gravatar is the image that shows when you comment on other people's blogs. It's easy to set up, go to gravatar.com and sign up your site and image and your picture will show if you leave a comment on somebody else`s blog. This will create trust and authority over time. People in your niche will start recognizing you not only on you own site but on others as well if you are active and leave helpful comments elsewhere.
Use a Favicon. Favicon is the little image that can be seen in the top of the search bar. This is a tiny little image but it can make a big difference. In my case I use a V for Vicky, of a favicon.
3. About Page
Your about page should be telling your visitors a little bit about who you are and why you are doing what you are doing. Here you have the ability to create an online bond with your visitors. They get to know who you are and they can hopefully relate to some of that. Make sure you include a picture of yourself here, as well. Feel free to read my about page here.
4. Helpful Information
By providing helpful information that your visitors find useful, they can see that you know what you are talking about. Helpful, correct information helps build trust. When you have the other basic trust factors in place this is what will make your visitors come back. Provide great content that help your visitors in some way and they will be back for more.
5. Blog Comments
When visitors see that you have engagement on your site, that others have already commented on your content, that means that your site has been and can be trusted. Important is that you answer your comments, engage with your readers that take time to comment on your content. By doing that your new visitors see that you are a real person engaging and caring about your readers.
6. Testimonials
If you can get a real testimonial from a follower, subscriber or visitor that can really create a trust factor. Somebody that enjoy what you are doing, confirm that you are helping and creating values for others.
Here are a couple comments I received…
I'm burning mid night oil going through this, very helpful indeed. Thanks a lot,Veronica

Hot holy damn, this is a glorious guide! I'm gonna bookmark this, a lot of useful guidelines to go back to when I get further into the rabbithole! Thank you for your time, Veronica!
Thought these were a little different, so wanted to share. Yes Vicky is a nickname for Veronica.
7. Client Logo
Are you working with brands? Include them on your site. By adding logos from other trustworthy sites you can benefit from that.
8. If You Are Social Share That
Do you have a large social following? Maybe on Facebook, Twitter or Pinterest? Share it, if your visitors see that you have thousands of followers then that create another trust factor.
Here's a screenshot from my WA followers…

9. Mentions on Other Blogs or Websites
Have you been mentioned on another larger website? Have you been featured with a magazin? If you have add it to your site to create trust.
10. Award Badge
Badges can be another way to get trust. If you have gotten any awards or mentions, share that with your audience. If there are badges provided by these websites that give out awards or mentions, add them to your site people notice it.
I know I still need to implement a few of these on some of my blogs. It really does make a difference if you do.
There you have it 10 ways to create trust on your website or blog. Hope you found the tips helpful. As always I would love to hear what you have to say about this, so please leave a comment below,
Have a productive day,
Vicky