Fridays with Vicky 27
I love summer. I love spending quality time with my kids and husband.
There`s nothing better than to put the alarm clock away for a few months. Although my kids get up pretty early it`s a sign of taking time off, a sign of freedom.
There`s nothing better than to enjoy the day at the beach, to build a sandcastle with my daughter or through the football around with my son.
The other day we took the kite out and had a great time flying it on the beach.
We also love to travel and when we do I don`t want to have to worry about work.
In fact when this post goes live, I`m enjoying time off in Sweden…
I can go on and on, why I enjoy the summer with my family. I know you have your reasons to why you want a flexible schedule.
It might be that you want to spend more time with your family.
Your reason for a flexible schedule and freedom can be totally different. Your WHY will bring you closer to your goals.
If one of your goals is to spend more time with your loved ones and have a more flexible schedule than these tips will help you get there.
In this article I will talk about 3 powerful things that allow me to take most of my summer off so that I can spend it with my kids.
3 Powerful Things That Allow Me to Take Most of My Summer Off
The number one thing that I focus on is to provide helpful, unique content on my websites. By doing that I create good content for my visitors but it also rank well in the search engines.
At this point I have 3 websites that I work with actively. I submit content to them on a regular basis. 3 times weekly works for me and my schedule. This means that even though I take most my summer off I still submit that content 3 times a week.
12 weeks of summer break is 108 articles for 3 websites.
So how can this be done?
1. Plan a Head
The most important part is planning a head. At an early stage plan out what you need to do and accomplish to get your mission done. Figure out how many articles you will need and how long it will take to get those done.
I like to be a few weeks a head with content submission for my websites anyway, you never know what comes up.
Early spring I start planning for summer. I figure out how many articles will be needed. What I will do and what I will have somebody else do. This brings us to the next thing.
2. Outsource
If you want to outsource is of course totally up to you. This is something I do on a regular basis to free up my time. I outsource mostly content writing and design work for my websites. It allows me to focus on other parts of my business through out the year.
For this site, itsVicky.com, I write most the content myself. For my other sites I outsource a lot of the content.
If you have over 100 articles that needs to be created to take the summer off it`s nice to get some help.
I hire most my writers on a weekly basis, 5 articles weekly, this allows me to be a head of the game. If you want to know more about outsourcing, read – 5 Tips to Find a Great Writer
3. Use the Schedule Feature in WordPress
So you plan a head, you get the content created now what.
There`s a schedule feature in WordPress that I could not run my business without. When my content is created I submit it and schedule it for when I want it to be published.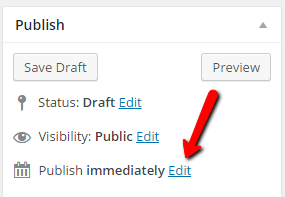 Click the Edit button and set the date you want to publish your content.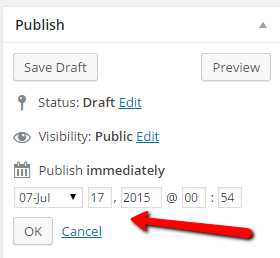 Click OK and Schedule, that`s it. You`re done.
This allowed me to publish this article July 17th although I`m enjoying time off with my family in Sweden.
It is possible to take time off, to enjoy time with family and friends. You do need to plan a head and schedule your content and also possibly hire some help.
What`s your tips to take time off, how do you prepare for it? Would love to hear what you have to say in the comment section below,
Have a productive day and a great week!
See you next Friday,
Vicky