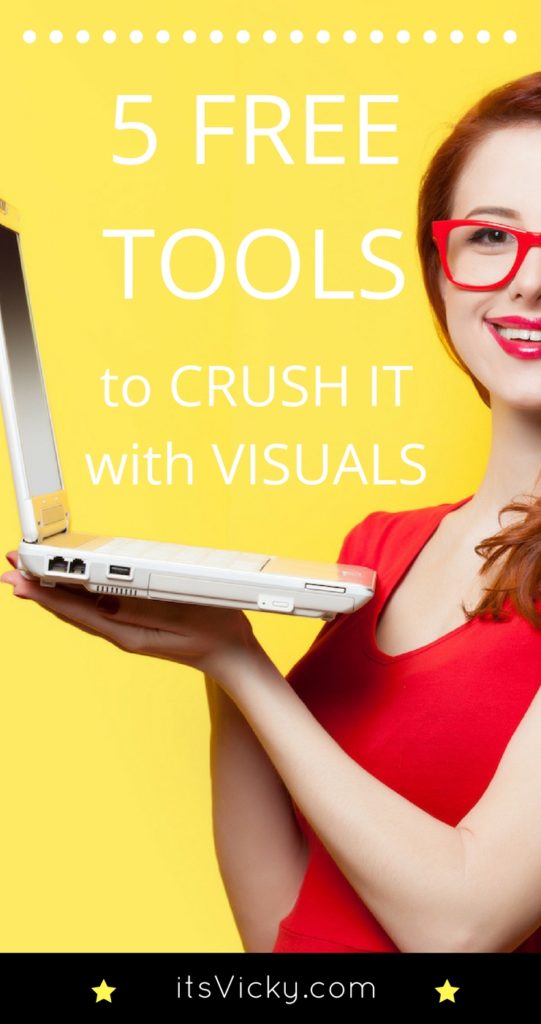 Fridays with Vicky 103
Do you see these awesome images on social media and blogs, wondering "how the heck" do they create them?
I would say that most of them are "cheaters", or maybe not cheaters lol they are just smart, using great helpful tools. Tools that makes creating visuals a breeze.
Use these tools and your images and visuals will look fabulous. Another great thing with the tools listed, they are all free to use.
5 Free Tools to Crush It with Visuals
1. Canva
Canva is a free tool to use to edit, either your own images or take use of the ones they provide. They have both free and paid image choices.
They have a ton of options when it comes to shape and sizes for your images. Social media, presentation, poster, blog graphics and cards are just a few.
Canva is easy to use. You choose a size for your project, you will then get a ton of layout options to choose between. These makes it easy and fast to create professional looking images. After you choose your design you adjust and edit to your own liking. When done you can download the project to your own computer and from there distribute.
This is one of my favorite tools to work with when it comes to images. It is easy to use and the result is fabulous looking images, fast.
The main blog image and the image below is made with Canva.
Read more:
How to Create Great Looking Blog Post Images with a Clear Message
2. Easel
Easel is a great free tool for infographics. Infographics can be a great help to explain or outline something. The Easel tool comes with the choice of many templates, the templates make it easy to get going, since it can feel kind of overwhelming, in the beginning, creating an infographic. If you have created infographics before or if you are up for the challenge you have the choice to start from scratch.
I did find the tool having a little bit of a learning curve to it, but it does create great looking infographics for sure.
Here's an image I made with Easel a while back, to quickly explain the road to success with a website or blog.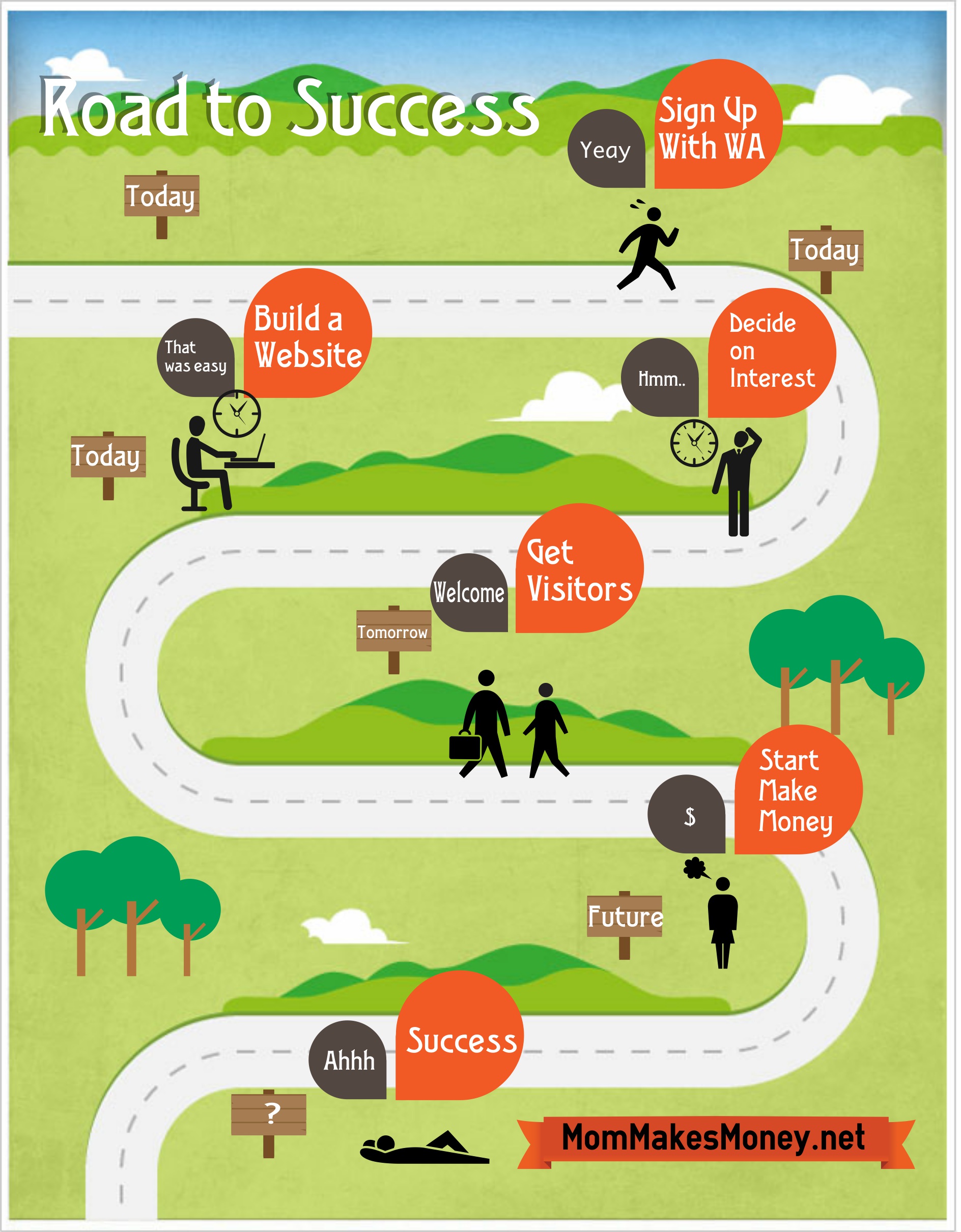 Infographics is a fun way to explain things, using Easel, makes the whole process of creating one a little bit easier.
3. Quotes Cover
Quotes are very appreciated on social media. They are often liked and shared. But what's a good way to create quote images?
There's a site dedicated to this called, Quotes Cover.
It's free, easy and quick, to create quote images, all though they might not be completely unique and used by many others, they can still be very effective.
So how do the quotes cover website work? You start by selecting the quote you want to use. Then you choose image dimension, depending on where you plan to use the quote. When that is done, you design it to your liking. You can change font, colors, upload your own background image. Just a side note you do need the Adobe flash player for this to work.
Here's an image I made with Quotes Cover, it took me under a couple of minutes to create it.
This is good in the way that the quotes are offered in the program. It makes it easy and fast to create quote images. On the other hand, you can find quotes online and just use whatever preferred image editor you are used to.
4. Online Chart Tool
With online charts tool, you can create nice looking charts for your website. Display pie chart, bubble, bar line, columns and other charts easily.
This tool is easy to use and you can customize a lot of the features to your own liking. Using charts can clearly show different aspects of your business. Maybe you show an income report, using a bar line chart can allow you to show the monthly progress.
Here's a chart I threw together in just a couple of minutes, just to try out the tool. I usually use the Mac software numbers, but I do like the online chart tool as well. It's easy to use and allow you to customize most of the settings.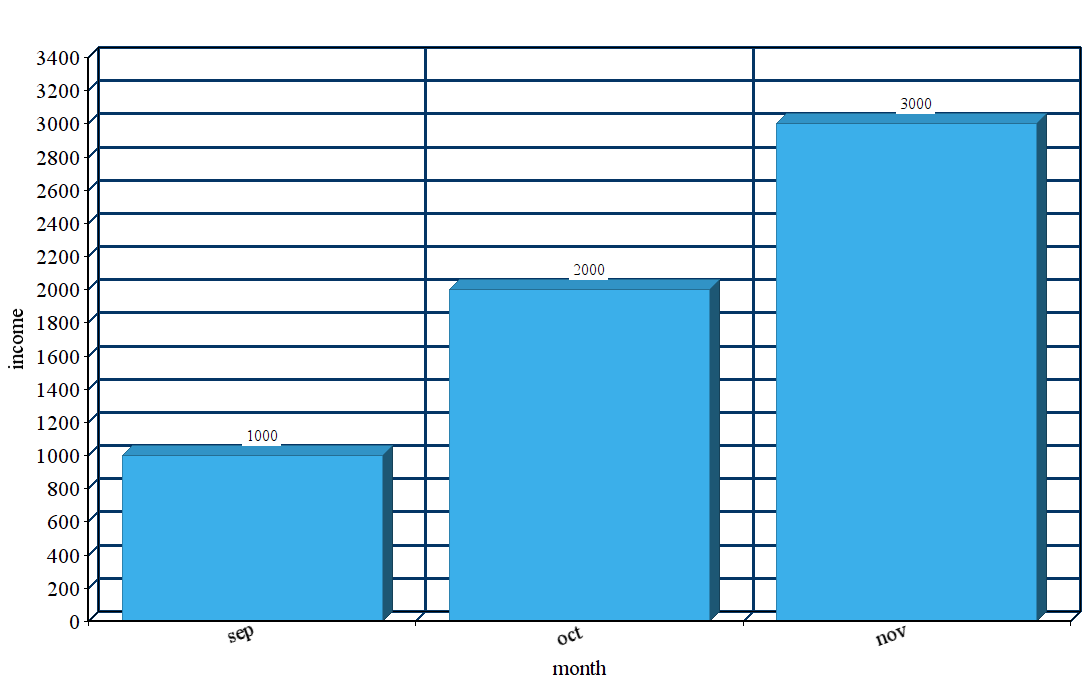 5. Image and Photo Editing Programs
Many of these you download to your own computer. These will allow you to edit your own images, find a software that works with your computer operating system. Here's a list of free software to use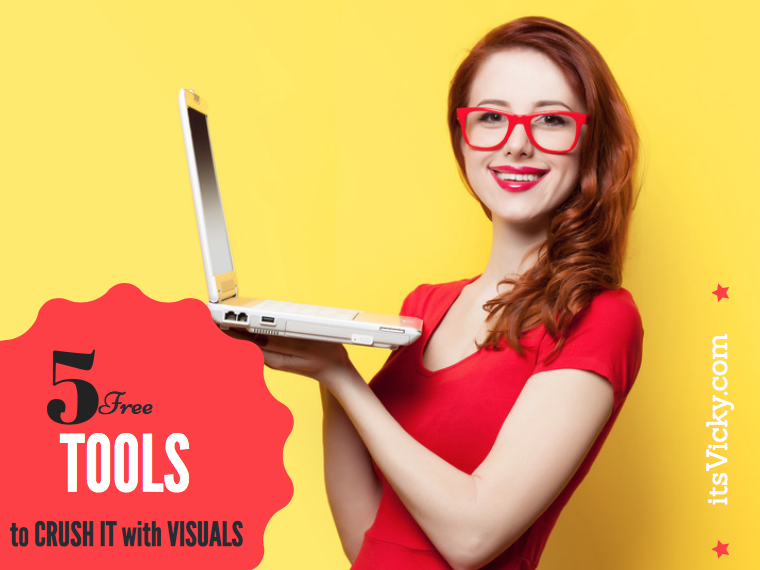 That was 5 Free Tools to Crush It with Visuals
What is your favorite image tool to use?
Have a productive day,
Vicky