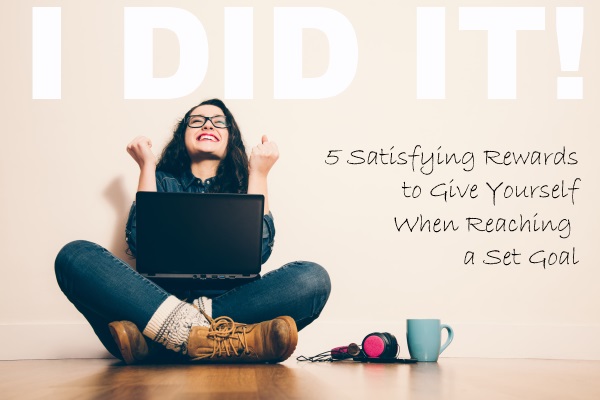 Working from home with your own online business, means that you will have to reward yourself.
There will be no boss giving you a pat on the back or giving you a bonus. You reward yourself.
The great thing with being in control is that you know what you value and like.
You know what`s important to you and you can give yourself just that as a reward.
This can be anything from a lunch out to a fun vacation, depending on the level of goal reached. If you are longing for a massage but don`t take the time to get one, make it one of your rewards after reaching a goal.
There are all kinds of different rewards. The ones below are a few that I have used and found being very rewarding for myself.
5 Satisfying Rewards to Give Yourself When Reaching a Set Goal
1. Thank You Note
One of the best rewards I have ever given myself, was to write a thank you note to a friend that gave me the courage to start my own online business. She introduced me to a writer and a seminar I attended years ago. This seminar gave me the inspiration and courage to start my own online business.
When I reached one of my financial goals, when I was making the same amount working for myself as I was working for somebody else, I sent her a thank you note. It was the most exciting, most rewarding, thank you note I have ever written. It allowed me to not only thank her, but to share with her how she had impacted my career choice.
I will forever be grateful for the seed she planted, that today has turned into a blossoming online business.
2. Sponsor a Child
Early on, one of my goals was to sponsor a child. When I reached one of my goals I signed up with WorldVision. WorldVision will help you connect with a child so that you can financially sponsor that child.
We have sponsored Wilson for about 7 years now. He is born the same day my son is, right now they are both about to turn 11 years old. They both like soccer and school and it has been a great experience for the whole family .
3. Seminar or Course
Treat yourself to a course or seminar that will give your business a bust. Fun and beneficial. Here are some upcoming events that are highly relevant to affiliate marketing:
Affiliate Summit in New York August 2015
I will be at the Bloggy Conference at Cedar Point, if you are going let me know!
4. Make a Donation
Is there something, a cause or an organization that you feel very strongly about and would like to contribute financially to? It could be anything, save the tigers in the jungle, help a needing child, give to a local women`s shelter…
Maybe a local school or food pantry are in need of a donation, what ever you feel strongly about contribute to it.
An alternative could be to donate your time to help out with an important cause localy.
5. Time Off
Working for yourself is very rewarding but it takes a lot of time. It is important to take a break here and there. Sit back relax and enjoy.
How does a day off sound? Taking time off can be a great way to reward yourself and recharge your batteries.
Take the day off to do whatever you feel like. Without guilt, go for that extra long lunch, spend the day shopping, go watch a movie or take a long walk… whatever it is that you enjoy take the day off and do it.
I hope you found this article helpful – 5 Satisfying Rewards to Give Yourself When Reaching a Set Goal.
I would love to hear what kind of rewards you enjoy, please share them in the comment section below.
Vicky