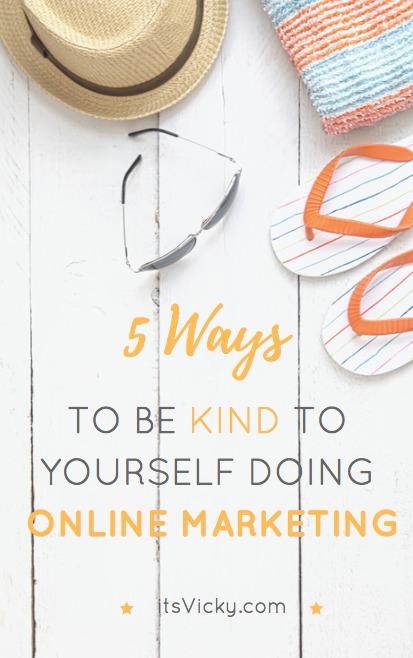 Fridays with Vicky 144
The hardest and toughest judge when doing something is often ourselves. Doing online marketing is no exception, we are often expecting results a lot faster than they might happen, especially in the beginning when we start out.
We on occasion have that little voice in our head feeding us negative thoughts… Are you really sure this will work? Are you really sure you're not wasting your time?
It doesn't matter how excited and positive we are, doubt will show up at times. When this happens we just need to be a little kind to ourselves. Feed our mind those positive thoughts that will build us up and create the positive momentum.
This is especially important if you get negative comments from your surroundings. This can be your spouse or a friend that are not really supportive of what you are trying to achieve. Why are you spending so much time on the computer? Will you ever make money doing what you are doing? These might be questions they are asking you.
Sometimes the people around us don't get what we are doing, they don't see that it will take time to reach results. It can be hard and you start doubting what you are doing.
In this post I want to share a few things you can do to be kind to yourself, to help stay positive and motivated. This can not only be applied to online marketing but to other things you do, as well.
5 Ways to Be Kind to Yourself Doing Online Marketing
1. Don't be too Hard on Yourself
Honestly, give yourself a break, if you are just starting out there will be a learning curve. Have realistic expectations and give you some time to learn the basics. Don't expect overnight success. Look at your project long term.
Remember where you started out? Be thankful for how far you've come.
2. See Things as Lessons NOT Failures
We all make mistakes. It's how we look at these mistakes that will determine the outcome. Will you see it as a lesson OR will you see it as a failure? Will you keep going or will you give up?
Remember when you were a kid and learned something new, it could be to ride a bike or learn how to swim. Today you'll get on that bike not thinking twice about it. But that didn't just happen. There were training wheels, maybe even a few falls and band-aids before you mastered it. Did you give up? Did you see the falls as a failure? No, you brushed yourself off, got back up, learned how to balance that bike and mastered it.
See the things that do not turn out as you want them to as lessons and not failures, it will make all the difference to you.
See the lessons as a step in the right direction something that had to be learned to reach the larger goals that you have.
3. Reward Yourself When Reaching Milestones
Set up goals and milestones that you want to reach and reward yourself when you reach them. Say that you want to set up a website, drive traffic to it and earn commission from affiliate marketing.
What will be your reward when you have gotten your website up? Maybe you'll have lunch at your favorite restaurant, maybe take some time off to go for a walk on your favorite trail, maybe you'll go and get a massage or set up your own spa at home…
Set goals and reward yourself when you reach them.
4. It's OK to Take Breaks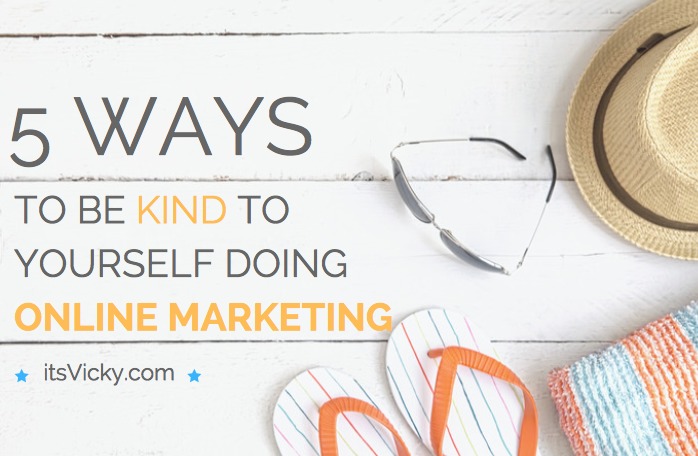 Sitting in front of the computer it's easy to get carried away. I know my lunch often gets pushed back because "I only have to finish one more thing on my to-do list…"
It's ok to take breaks a few minutes here and there, step away from the computer, we all need it.
It's also ok to take a day off from your online business to enjoy something different. You can actually come up with great ideas for your online business being away from it. Personally, I like to get a good walk in and think of new article ideas.
5. 20 Minutes "Me Time"
Something that has helped my business is taking some "me time". I do active goal meditation or listen to business related audiobooks and relax for about 20 minutes. It seems to recharge my batteries and help me keep an eye on my long-term goals.
This might not be what you need, but figure out what 20 minutes "me time" would be beneficial to you.
Be kind to yourself, it will definitely benefit your online business as well.
What do you do to be kind to yourself doing online marketing? I would love to hear your thoughts and ideas around this, feel free to share in the comment section below,