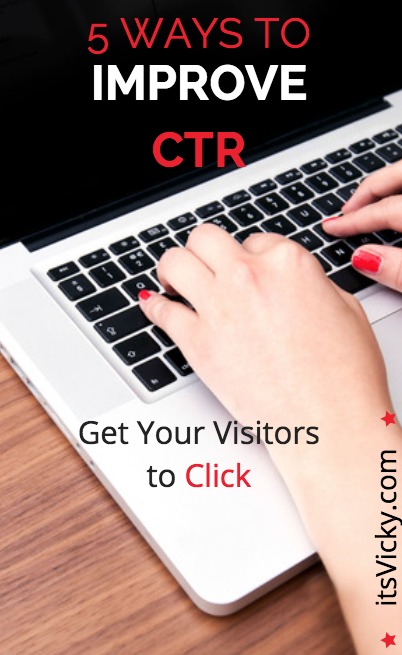 Fridays with Vicky 153
Do you want to improve CTR, click through rate on your website? Are you looking for ways to grab the attention of your visitors and give them a CTA, call to action?
This is something that we all should work on consistently for better engagement on our sites. In this post we will be talking about two main concepts:
CTA – call to action
CTR – click-through rate
The main purpose is to improve CTR on the CTA that we have.
What is CTA, call to action?
Every blog post on your site has a purpose. The purpose might change from post to post, but every single blog post is meant to provide the reader with something and have them take some kind of action.
The action you want your reader to take can be different depending on the post. Your in-depth review posts you want the reader to click through to the merchant and purchase something.
If you have an informational post you might want your reader to get the information needed to click through to the in-depth review.
Some posts you might want your reader to sign up for a newsletter.
CTA is the action you want your reader to take.
What is CTR, click through rate?
CTR is the number of clicks that your wanted action gets, divided by the time the action is shown. So say that your CTA is shown 100 times and you get 10 clicks then your CTR is 10/100= 10%.
The higher CTR the better.
What's the best placement for your CTA?
You can place CTAs pretty much anywhere on your website. They seem to convert pretty well though at the end of a page or blog post. If somebody reads through your content to the end then they are obviously interested in what you have to say. Therefore placing CTAs at the end of your content can convert really well.
That doesn't mean that you can't include a link or action phrase earlier, I usually do if I have long in-depth content.
It all comes down to engagement you want your reader to engage in your content, comment, share and take action on the things you want them to do.
WHY do people take action and click?
Why do you click, take action or engage on a website? Personally, I find this very interesting, I'm sure there's a lot of psychology behind it. Here are a few reasons to WHY somebody takes action on your site.
Emotion – they emotionally connect with what you are sharing in your content and want to take the next step.
Curiosity – you are making your reader curious about something, and they can't wait to see what's coming.
Value – you are providing value, giving your reader what they are looking for.
Convinced – Your reader is convinced, that whatever you want them to do they are ready to take the next step.
How do you do that? How do you create an emotionally connected piece of content that gives your reader value makes them curious and convinced to take the action you want them to take?
Here are 5 things to help you,
5 Ways to Improve CTR – Get Your Visitors to Click
1. Connect with Your Reader Emotionally
Identify the problem and provide the solution in a way, preferably in a story, that connects with the reader. If you can connect emotionally with the reader, if they can identify with what you are sharing they are more likely to take action.
Back in the day, I had a site that helped mother's deal with their colic baby. At the time, I had young kids myself and could relate to the pain the mother was going through not being able to sooth the baby and make the stomach pain go away. I connected really well with those mothers cause I knew their pain, I knew what they went through. That site converted extremely well!
This goes hand in hand with knowing your targeted audience. So who is the ultimate visitor to your site?
For the colic site, it was a woman, a mother in her late 20's and 30's who desperately wanted to help her baby. She was active and wanted to take her baby places. Big gatherings like family events and parties without having an upset baby… I had a full "profile" of my ultimate visitor and it really worked well.
How do you connect emotionally with your readers, can they relate to your content and your story?
2. Make It Clear – What Do You Want Your Visitor to Do?
Are you being clear with your reader, asking them what you want them to do? If you want them to engage on your site, ask them to leave a comment or share your content on social media.
If you want them to sign up for your newsletter, ask them to do so and tell them WHY it will benefit them.
If you want them to click through to an affiliate program, provide them with all the details of the product and if it's the right product for them, ask them to "click here… " " find out more…"
People need directions and will a lot of times follow them, all you need to do is provide value and ask them. If you connect, provide great value and give your reader what they are looking for, a lot of times they want to return the favor and will do what you ask them to.
3. Make Your Visitor Curious
It's our nature, we are curious. We want to see what's next, what's behind the closed door. You want to trigger your visitor in some way and make them curious, make them click a link for example or sign up for a newsletter.
Price can be such trigger. If you have somebody read through an in-depth review all the way to the end, you know that they are interested in possibly purchasing it, right? So how do you get them to click through to the merchant site?
Make the reader curious…
The product is great but can you afford it? Click Here to See the Price!
Click Here to See the Best Price I Have Found Online!
These are just two examples to make your visitor curious and have then click through. Be creative and have fun with it.
4. Use Action Phrases 
Using action phrases seem to work really well. I don't like hype but a good action phrase I'll use for sure.
Here are few examples of action phrases: 
Call us now!
Click Here!
Visit our store today!
Sign Up for Our Newsletter!
Share the content
Leave a comment
Find out more
As you can see different action phrases works in different areas of your site. What are some of the action phrases you use?
5. Make the CTA Stick Out
You want to make the CTA stick out in a tasteful way.
You can use color for a text link, use buttons, buttons with icons, and images.
Let me show you a few examples from my own sites.
Text link:
My #1 Recommendation to learn affiliate marketing
Button link:
Button with an icon:

Image: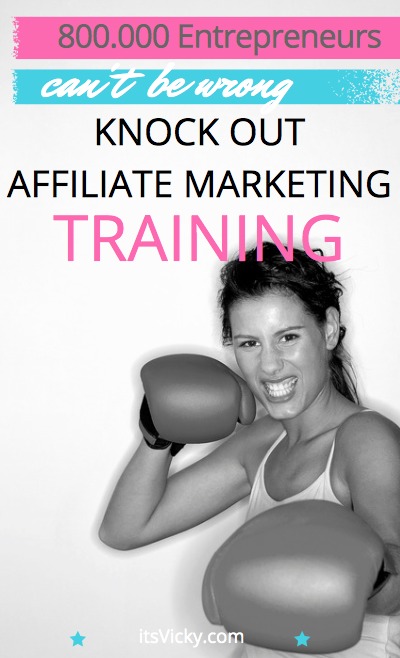 There you have it 5 Ways to improve CTR.
I would love to hear your thoughts on this, what do you do on your site to make sure that your visitors take action?
Please share a comment below.
If you want to see real numbers, traffic, income and more, stop by my case study site. The October numbers were pretty good, November and December should be even better…
Have a productive day,
Vicky