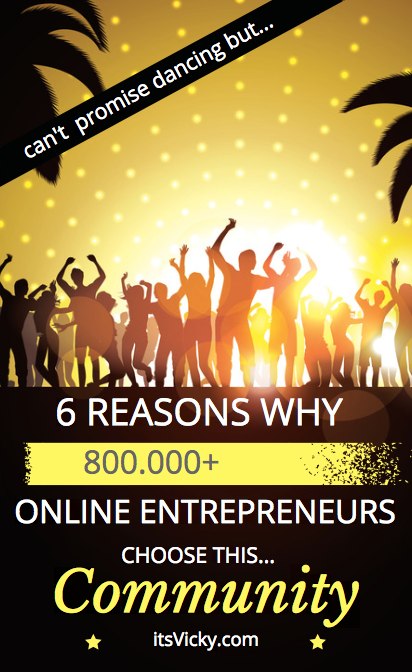 Fridays with Vicky 115 
Are you a part of an online marketing community? A place where you can chat with like-minded entrepreneurs? You might be a beginner blogger or marketer or been at it for years.
We all need continuous training, the only thing for sure in this business is that things are constantly changing. We all need to network with like-minded, we all need support and somebody to bounce ideas with…
In this article, I will talk about a community that I've been a part of for the last 9 years. The main point is not to join this community (although your welcome to) it's to find a place where you feel you belong. A place where you can go with your questions, to elaborate ideas and to get support.
Networking is the one thing that many affiliate marketers don't talk about, but it's a crucial part of success. Don't try to do it all by yourself…
When viewing a community to join make sure they have at least these 3 things:
A good number of members. Nothing worse to need help and wait days for an answer.
Great ways to communicate with the other members.
Safe zone with out spammers, haters and annoying offers.
6 Reasons Why 800.000+ Online Entrepreneurs Choose This Community
1. Excellent Training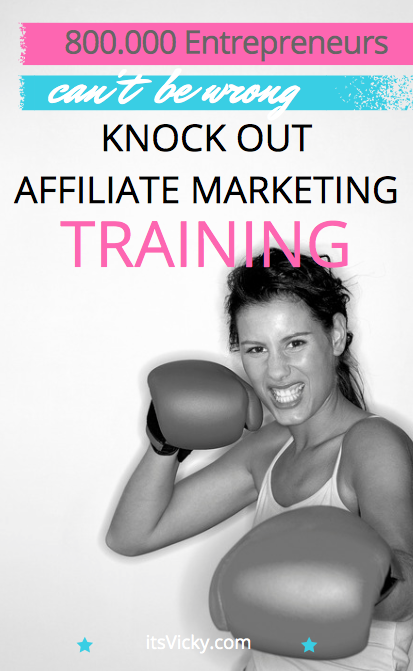 This community was based on teaching affiliate marketing. For the last 10+ years or so they've been improving, adding and updated training to be able to deliver one of the largest libraries of affiliate marketing information on the internet.
If you are looking for affiliate marketing related information there will most likely be a training, post or course on it.
One thing that set them a part is the beginner step by step affiliate marketing training. This free course walks you through how to set up a website, get traffic, make money, content creation and social media in an easy to understand way.
Yes, a free course to get you going. If you are new to affiliate marketing this is a great way to learn the basics. If you are tight on money, they even offer free websites through their own siterubix platform.
If you've been at it for awhile they do have more advanced training as well.
2. 800.000 People Can't be Wrong…
The unique aspect of this community is not the training, it's the people.
With thousands of members from all over the world, I'm sure you'll find a few people to get a long with. You might want to network with somebody from your own country… with members from most countries in the world, this will not be too difficult.
You might want to network with somebody in the same niche… with webmasters in almost any niche you can think of, this will be an easy thing to do. You might want new social media friends… this community is a great place to connect with others.
What Do the Members Really Think?


3. Get Your Questions Answered
Doesn't matter if you've been doing affiliate marketing for 10 years or if you are just starting out. There will always be questions and things you will want to discuss and elaborate with others.
Within the community, there are many ways to reach out to others and get help. Don't want to get personal, post something and let the ones who can help come to you.
You can use the following places to get help:
The chat
Post a blog post from your own page
Send a private message to somebody
Write on somebody's wall
Ask a question in the "classroom"
The community is filled with experts in different areas, people are very willing to share their expertise and experiences.
4. Get Comments on Your Site
When you have your site or blog up and running, you will want some engagement. One great way to do that is to encourage comments. This is not only good for interaction on the site but also for SEO purpose.
How to get engagement and comments are taught in the training but they also have a system where you can give and receive comments to get that extra boost in the beginning. A great way to help each other out, and create engagement on your own blog.
5. Encouragement and Support in a Safe Environment
Haters and spammers are not welcome. This is another great thing about the community, it's a safe place to hang out. You are not allowed to push offers or sell anything on the site.
Even the owners follow this practice, there are two membership levels, free and premium and that's it, no upsells at all. I know not very common in the industry, so it's kind of refreshing.
This is also a very positive, encouraging and supportive community. Having a rough day? Pop in and read some encouraging posts, reach out and get help or just a friendly word.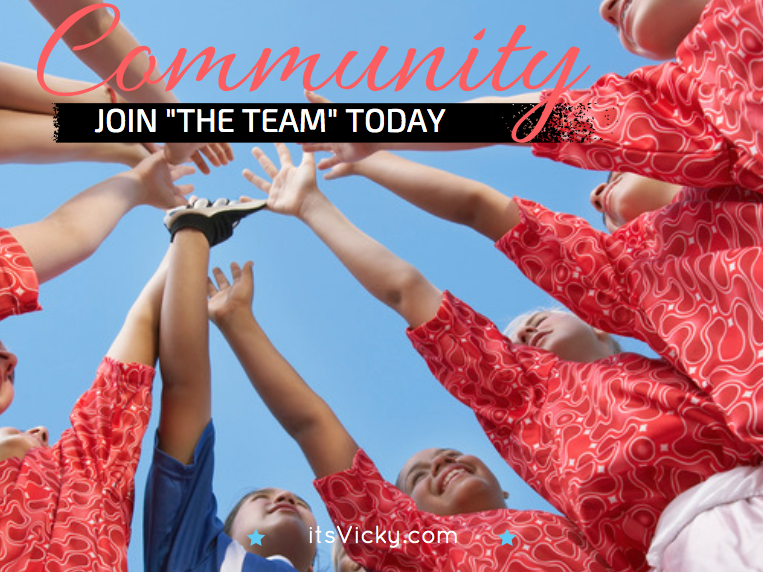 6. Join the Fun for Free
I've talked about this through out the post but just want to make it clear… They want everybody to be able to take advantage of this opportunity of free training and engagement with others. They offer a free membership for life, no credit card needed.
With so many scam offers online, you don't know who to trust.
Most of them are just out for a quick buck.
This community is different.
The owners are so confident that you'll like it that they don't have to use any "sales tricks". They open up the community for everybody. Now if you want to take it to the next level you can with the premium membership, but I wouldn't even worry about that at this point.
See if you like the free option and go from there… you've got nothing to loose.
BONUS REASON: IT WORKS – PEOPLE HAVE SUCCESS
Here are just a few success stories from the community: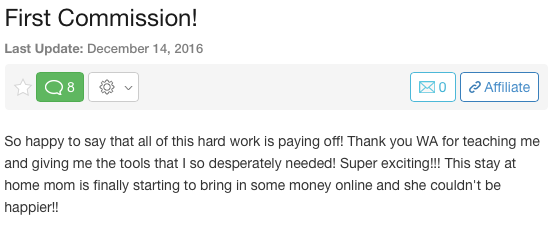 I share some of my own success in this post – 9 Years with WA
This is one of my favorite success stories – From 0 to $10K in 3 Years
Will you be sharing your success story in this community?