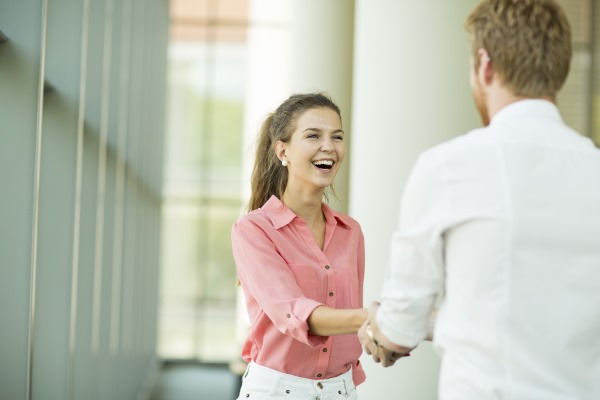 How many times have you been asked as an affiliate marketer what it is that you do? Were you prepared for it?
I know I`ve gotten the question numerous times and tried to explain, leaving the person more confused than ever. Getting questions like…
-You don`t sell anything?
-You don`t have any products in stock?
-You don`t have to deal with support or returns?
-But you still make a full-time income?
With me answering: Yes, all the above is correct.
Since I started, itsVicky.com, I just give them an elevator pitch on my website.
Having an elevator pitch up your sleeve can help get your message across. This is something you can be using in the coffee shop, at parties, business get to gathers, on the playground… where ever you get the question, "what do you do".
If you are going to a specific event, tailor your elevator pitch to suit that audience. For example I`m going to a bloggers event for moms next month. I will make sure the elevator pitch create some curiosity for my site targeting mom bloggers.
Here are a few things to think about, when creating your website elevator pitch.
6 Tips To Get People Listening to Your Website Elevator Pitch
1. Keep it Short
You only have a few seconds to capture the attention of your listener, keep your elevator pitch short and to the point. There is a reason why it`s called an elevator pitch, you should have it done in a short period of time, preferably less than a minute.
Hopefully the website elevator pitch will spark a longer conversation.
2. Make It Clear
Be very clear with your message. Know what you want to say and say it with confidence. Practice your website elevator pitch so that you feel comfortable with it. Look the other person in their eyes and have a positive tone.
3. What Problem Does Your Website Solve?
Make sure you include what problem your website solves. In my case I help people get started with websites, how to get traffic to that site and how to make money with it.
4. How Can Your Site Help the Person in Front of You?
If you are at a specific event like the bloggers events for moms that I mentioned in the beginning of the article, then I know that most people that are there will already have a website set up. What they are there for is to connect with other bloggers. The same reason I`m there.
I will also mention that my website teach website monetization, something that will create curiosity as well.
5. Ask Them What You Want Them to Do
At the end of your website elevator pitch tell them what you want them to do. Do you want them to call you? Do you want them to buy something? Do you want them to visit your website? Whatever it is that you want them to do, ask them to do so.
6. Hand Them Your Card
Ask them if you can give them your card, hopefully you have made them curious enough to accept. Don`t be afraid to ask for theirs in return.
Practice your website elevator pitch in different settings. The more you use it the better you will get.
Hope you found these tips helpful, 6 Tips To Get People Listening to Your Website Elevator Pitch.
I would love to hear from you. What`s your tip for website elevator pitches? Feel free to leave a comment below,