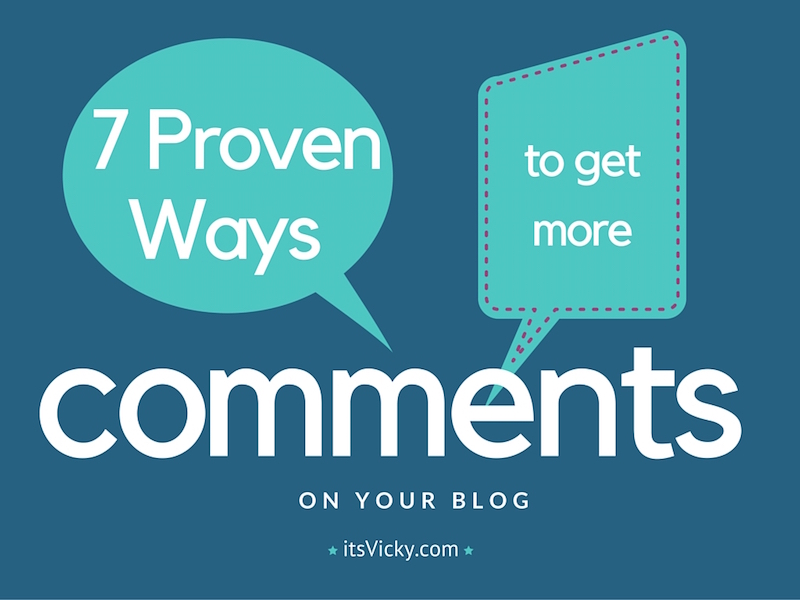 Fridays with Vicky 83
Getting comments on your content can sometimes be a little tricky. We all know that they are important, comments create a trust factor that's hard to get with just the content.
If you have comments on your site that means that others have found it important, it means that you are worth paying attention to.
If there are no comments on a blog post, people are more likely to just leave without commenting.
If there are comments, your visitor is more likely to wanting to chime in as well and give their point of view.
It's a little bit of a catch 22, so how do you get those first comments? How do you get your visitors to engage?
In this post I give you…
7 Proven Ways to Get More Comments on Your Blog
1. Deliver Great Content that Engage
The first thing might be obvious but many fail to deliver. Your content has to be great and it has to engage. Here are a few tips:
Make the text easy to read.
Include relevant images.
Use plenty of space, never submit a blog post in one text block.
Use bullet points when suitable.
Stay on topic and dig deep.
Use a personal style when writing.
2. Ask a Question at the End of Your Post
At the end of your post or page ask a question, that relates to the content that makes the reader want to share their answer. It does not have to be very complicated, at the end of this post I can add something like…
What's your trick to get more comments on your posts or pages?
3. Ask People to Leave a Comment
You can also ask visitors to leave a comment. After the question above I would add something like…
Please feel free to share below in the comment section.
Together it will look like this:
What's your trick to get more comments on your posts or pages? Please feel free to share below in the comment section.
4. Controversy – Stir the Pot a Little Bit
If people are very passionate about something they want to share. If people don't agree with you they want to share. Stir the pot a little bit…
Challenging comments are great, comments from people that don't agree with you are great. They will give you an opportunity to explain yourself again. They will give you an opportunity to get your point across from a different angle than what you outlined in the content.
Let me give you an example:
If we look at "starting a business" for example, the MLM (multi level marketing) topic is something that a lot of people have a strong opinion about. People either love it or they don't like it at all.
You will get people that do real well with it, or just started, that will defend their company or brand until the end. Then you will get people that has been "burned" by it. Either way many people has a very strong opinion about it, and are very eager to share it.
5. Make It Easy to Comment
Now when you have great content in place and a call to action for your reader to leave a comment you want to make commenting easy.
First of all make sure you have comments available. I see sites all the time where there's no comment form available, the site owner has not yet adjusted the setting to show the form.
Use a comment friendly form to make it easy for your readers to leave a comment. Don't make people sign into blogger or WordPress or whatever it might be to leave a comment. You will miss out on comments.
People will not usually go through the extra "hassle" to log in, to leave a comment. Make it as easy as possible to leave a comment on your site.
6. Reply to the Comments You Get
Answering comments is a great way to engage with your readers. Make sure that you answer every comment that you get. (At least until you have others engaging and interacting, answering each others comments.)
This will show the person that commented that you care. It will also give you an opportunity to answer questions and to explain things further.
Answering the comments will show others that you are active and care about your readers. That if they take time out to write a comment, they will get an answer in return.
Take every chance you can to engage with your reader!
7. Engage with Communities that Encourage Comments
Even though you do all of the above it can be tricky to get comments in the beginning. Taking use of a community that offers comments exchange can be a great way to get started.
This is nothing automated or black hat. It is simply a place to get comments to your own site, in return you will have to give comments on a couple of other sites.
The community that I've been a part of for 8+ years, offers a comment give and take thread.
The rules are simple:
Comment on 3 websites in the thread.
Post your link to your post or page that needs comments.
A great way to get started with comments. You can read all the details here!
If you want to know more about the community, read my review here!
That was 7 Proven Ways to Get More Comments on Your Blog…
What's your best tips to get more comments on your site? How do you get your readers to engage? Would love to hear from you, please leave a comment below,
Have a productive day,
Vicky