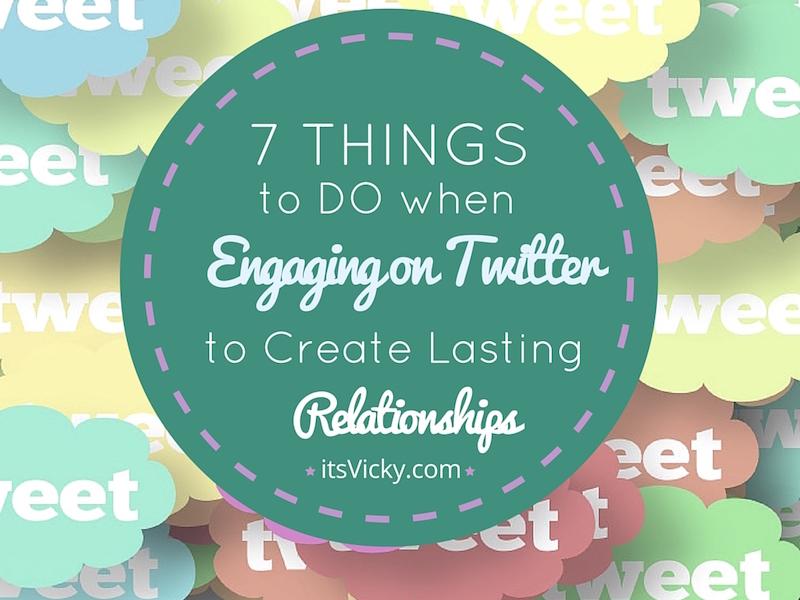 Just like in the "real" world it will take time to build lasting relationships on social media. There's a lot of "noise" and a lot of people. How do you stick out from the crowd? How do you actually interact and engage with others to create lasting relationships?
How do you get people to respond and interact with you?
In this post I will give you a few tips on how to engage on Twitter and other social media platforms.
These are things I implement myself to engage with my Twitter followers and most days I wake up to 20+ messages in my inbox.
More relationships, more fun and better business if that's your goal.
7 Things to Do When Engaging on Twitter, to Create Lasting Relationships
1. Make It About Them Not You
I'm not sure how many first contact messages I have gotten that says… follow ME…, get MY…, click MY… re-tweet MY…
It just doesn't make me want to do those things if there has been no previous engagement. How about you, can you relate to that? If somebody asks you to do something without any previous engagement do you do it?
A much better approach is to try to start a conversation, ask a question, comment on a tweet or on something from their profile. If you make it about them, how you can help or offer something of value you are in a much better place for a lasting relationship.
Also when you have some kind of relationship, you can ask for a retweet or to connect on another platform and you are much more likely to receive it.
2. Be Personal and Care
Ask how your followers are doing. You will be surprised how honest people actually are. Don't drop it there though, care, listen and engage.
I was having a conversation with this one man. We have similar interest and I was asking him some questions about his business. After a couple of questions he actually asked me.
-Why are you asking me all this?
My respons was,
-I just enjoy the social in social media.
Some people might not be used to this kind of "friendliness" but I can guarantee that they appreciate it. We had a really good conversation and has since stayed in touch.
Care about the people that follows you.
3. Reach out to People in Your  Niche That Needs Help
You can find people that needs help by typing in phrases in the twitter search bar, related to questions in your niche. Let me give you an example. Say that you have a recipe website. If you type in "how do I recipe" for example in the search bar, questions that people have about recipes will start showing up. I find that using "how do I" eliminates some of the sales content and goes directly to questions people  have within a specific topic.
Help people by answering their questions. If somebody asks "how do I make a cheesecake" and you have a recipe on your site, point them to it… People will thank you for it!
4. Thank Your Followers that Re-Tweet Your Content
If somebody re-tweets your content do you thank them for it? It's a very effective way to stay in touch and it often encourage more re-tweets.
The most effective way I've seen this done is by video. Just a short brief thank you message, that personal interaction with video is very effective.
5. Re-Tweet Quality Content
If you find relevant content to your niche that your followers find helpful, fun, entertaining or useful in someway, re-tweet it. The person that submitted that content will appreciate it!
6. Connect with Pictures
Use pictures in your tweets. The saying "a picture says more than a 1000 words" I find true. It comes in handy when you can only use 140 characters in your tweet. Many of us are visual, a picture can describe and connect in a way that 140 characters can't.
Also we connect with people. You have your profile, your profile picture, your header, your tweets and private messages to communicate who you are and what your message is. Take use of that. I tend to follow people that display a picture of them selves rather than a "egg head" or company logo…
7. Private Message
The private message function is a great tool to build relationships, get to know people and share things. Get a conversation going, help people and you will see those relationships start to blossom.
Just by reaching out and say welcome or hello to a new follower, can mean a  lot and be the beginning of a great relationship.
Some will ignore it some will take you up on a conversation. Focus on the ones that wants to be social.
Implement the Social in Social Marketing 
Have fun with it, ignore the negative, focus on the positive and find like minded people to interact with.
How do you engage with people on Twitter and other social media platforms? If you have any other tips or tricks feel free to share them below in the comment section. As always I want to hear from you!
Have a productive day,
Vicky