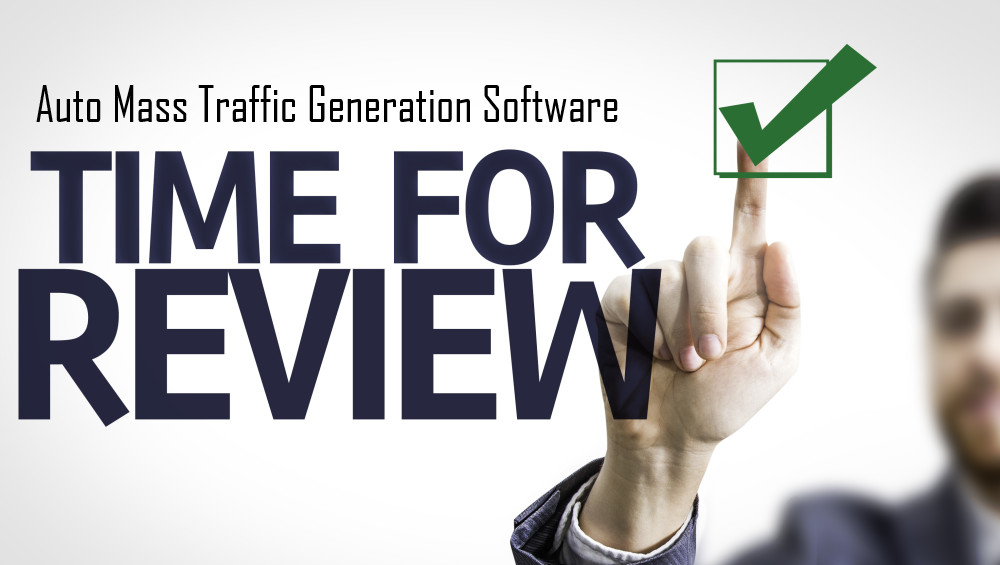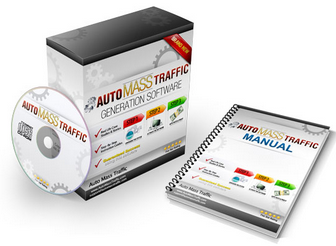 Name: Auto Mass Traffic Generation Software
Website: www.automasstrffic.com
Price:  $37
Owner: ?
In this article, we will be reviewing the auto mass traffic generation software. We will be explaining what the program offers, and giving you advice on whether it is worth your time and money.
Before we dive into the review let`s just talk about website traffic…
It`s better to have 10 visitors that convert into sales than 200.000 that click away within seconds and are not interested at all in your site. When you drive traffic to your site is about quality of the traffic not quantity, if you want it to convert into sales, you need targeted quality traffic.
There is NO push button solution for targeted website traffic. If there was, everybody would be using it and it would sell for a lot more than $37.
It will take work to get any kind of traffic, even if you use paid traffic, PPC. You will have to find out what keywords convert and you need a website to send the traffic to. Whatever rout you go to get website traffic, you will have to put some work into it.
Auto Mass Traffic Generation Software Review – What Does the Program Do?
As the name suggests, the whole point of this software is to provide users with a more automated way of bringing traffic to your website. The way the program does this is providing tools and tutorials to help you set up online ads, PPC, that are going to bring you results with ease.
The ads used in this program are pay per view ads – these guarantee viewers will land on your page, and the costs are linked directly to the amount of views you receive.
Unfortunately, pay per view ads are not perfect, and you need to create an advert that is designed and targeted well to bring in viewers from it. The tools provided in this program will supposedly help you to do this.
The Person Behind the Program
Oddly, there seems to be no details online about who created this program, and it seems the creators wanted it to stay this way. By being anonymous, it ensures the creators don't tarnish their reputation with this program. It is very clear that the product has been designed to get as much cash pulled from it as possible.
Auto Mass Traffic Generation Software  Program / Training
The various training in this video basically takes you through the steps needed to purchase pay per view traffic. There are comprehensive videos, eBooks and text tutorials taking you through every step you need to know.
From understanding the type of adverts being used, to bidding for and spending your own marketing budget on the advertisements best suited for you.
Whilst this program is advertised as some kind of traffic creating software, the truth is that it will only provide you with tips on how to purchase traffic via advertisements. If you are looking for this kind of knowledge, you may find value here, but it's false advertising has already left many individuals very disappointed.
Tools Included with Auto Mass Traffic Generation Software
Besides from the training content listed above, you will only find one tool in this program. The tool provided allows you to enter keywords or keyphrases into a system, and it will generate various websites that you can pay for advertisements on.
The websites are related to the keywords you provide, so this allows you to easily reach an audience you are looking for.
Once you have found a website you would like to advertise on, you will need to purchase the adverts, so your costs will start to go up depending on how much you spend on advertising.
Community and Help
The support for this product is pretty poor. Trying to get a reply from the company is almost impossible, and the amount of false advertising is clearly very closely on the edge of being illegal. Some customers have mentioned that they have managed to get a refund, but it took a lot of sweat and effort to even get the creators of the program to respond.
If you are expecting swift courteous help from this company, you will be surprised to find that there is none of this to be found.
Price
You can purchase this software for $37, and whilst you are provided with a lot of information, most of useful information related to using pay per view ads can be found online for free.
If you spend the time to research and study, you'll be better off. The auto mass traffic generation software will certainly not help you to make money before you've spent it on the product and spent it on $50 worth of advertisements too.
Pros / Cons
Pros
Some of the training seem decent.
Cons
False claims of Fact 1 and Fact 2:

You will need funds to put this program to use.
There is very little help if any.
No community to get help or network with.
The Auto Mass Traffic Generation Software is NOT a program I would recommend. There is better ways to learn how to drive traffic! 
What Now?
If you want to learn the ins and outs of paid advertisement then there are a few things you need to master first,
1. Keyword research
2. Page conversion
You need to know what keywords to target, and make sure that the page you send your visitors too convert. Personally I like finding all this out with free traffic. When I know what keywords will work well and that my page is converting into sales, THEN I will start using paid advertisement.
Now if you have money that you can play around with and are not afraid to loose then by all means go ahead and dive right in.
I suggest you taking a look at Bing, they are a little cheaper than Google, and you get good traffic with the right keywords.
Do You Want to Learn How to Drive FREE Traffic?
If you are looking for ways to start getting traffic for FREE, with NO paid advertisement then I would suggest looking into using these methods:
Learn how to rank your website content so it shows in Google and other search engines.
Learn how to use social media to drive traffic.
Learn how your website will convert into sales.
This and much more are taught for FREE, over at my #1 favorite place to learn how to make money online.
Yes, you can get a free account started today and learn how to setup your own online business, how to drive traffic to the site and how to make money with it.
I would love to hear from you please let us know what you think of this Auto Mass Traffic Generation Software Review and if there is anything I can help you with. Feel free to leave a comment below.