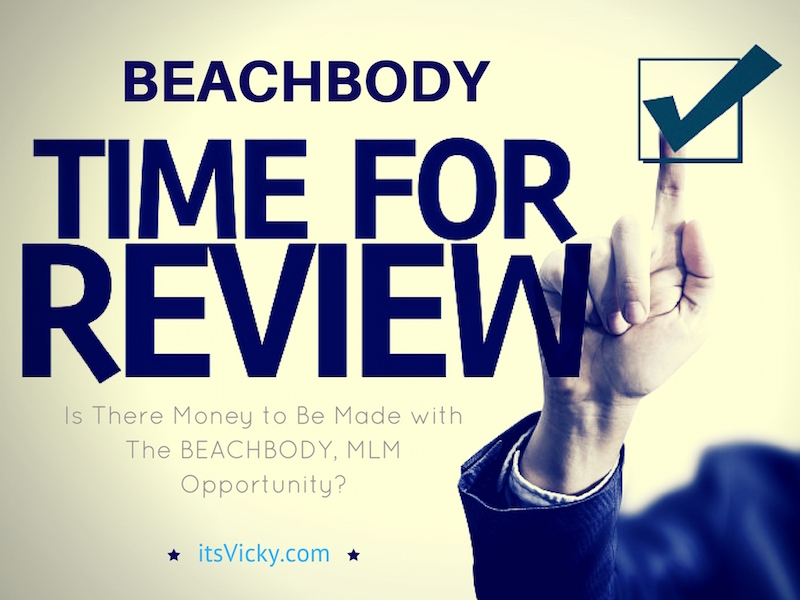 Like me, many people may have first been introduced to the Beachbody Team through commercials about "P90X®".  When I saw them, those many years ago, I got totally pumped.  Even though it was late-night TV watching, it motivated me to get up off the couch, for a minute or two, and join in.
Then, I began to see other products offered by the company like, INSANITY®, 10-Minute Trainer® and the Brazil Butt Lift®…. Yes, that's a program too.  I didn't realize it, until I went to their website; but Beachbody is quite the established health and fitness company and has been for a while.
They seemed to have good products. They also talked about a business opportunity, to become a "coach" and promote the program, making some money doing so as well. It got me curious…
In this Beachbody review, we will dig deeper and find out if there's a financial opportunity behind the work out programs, vitamins and supplements.
Beachbody Review
Company: BeachBody
Founders: Carl Daikeler and Jon Congdon
The Company
It was co-founded in 1998 by Carl Daikeler and Jon Congdon with the idea of helping its customers live a healthy and fulfilling life.  It has grown into an organization that offers several products and services that literally promote 'healthy living'.  From videos, to exercise equipment, to nutritional supplements, to trainers and coaches, Beachbody attempts to provide you with everything you need to get fit and stay healthy.
What I found most impressive was the amount of quality and care the Beachbody Team put into its products.  The variety was absolutely phenomenal.  Every video I watched was like a well-produced movie.  The catalogs and materials were professionally done and the web site was very intuitive.  Even the names of the products made sense in how they fit with the overall philosophy of the company.  And although pretty much everything is 'virtual', you feel like you are part of a greater community which motivates and makes you want to be healthy.
I've also noticed that the online marketing isn't too pushy either.  They give you the information; encourage you to try it and leave the ultimate decision to 'PRESS THAT BUTTON' up to you …without making you feel like a louse if you don't. Now the approach might be a lot different if you are talking directly to a "coach" or other Beachbody representative.
The Products
Beachbody is for the person who likes to be active and doesn't mind exercising.  Half of the health & fitness system is built around workout routines that work in conjunction with the other half of the program—healthy eating.  Most of the supplements with Beachbody comes in the form of a shake from their 'Shakeology' series.  But, the meal plans, cookbook and guides seem good too.
Choose from the foods you like and put together your own cuisine that is designed to help you lose weight.  It seems to be a well-rounded and inclusive approach to health and fitness at an affordable price.
Their exercise videos are based on Hip Hop, Country and Rock and they have a variety of instructors and trainers that will show you the exercise moves and teach them to you—all in the comfort of your own home.
Along with their video products, they have nutritional products like shakes and supplements that will help maximize your results.  Using the available cookbooks, guides and meal trackers, you will have the tools to help manage and document your progress.
A few of the main product categories that Beachbody represent are:
Nutrition – Daily Nutritions, Weight loss, Recipes, Wellness and Overall Health
Fitness – Weight loss, Abs, Core, Dance, Cardio and Fatburning
Gear – Bands, Balls, Weights, P90X Gear, Core Yoga Gear
Apparel – Women and Mens
Some of the best sellers in each category are:
Nutrition – Beachbody performance line, Shakeology, FIXATE cookbook, 3-day refresh
Fitness – Country Heat, Focus T25, P90, Beachbody on Demand, 22 Minute Hard Corps
Gear – Beachbody Sandbag, Premium Stability Ball, P90X Chin Up Bar
Apparel – Top, Bottoms and Accessory
The Business Opportunity – How Do You Make Money with Beachbody?
Another aspect of the Beachbody Team program is the potential to make money.  The whole system you use to get yourself in shape, you can use to help others get in shape AND potentially get paid while doing it by becoming a 'Coach'.
You can make money several ways.  The amount you make depends on your drive and creativity.  Simply broken down you will make commission on products you sell and the people you recruit to the program. With that I mean if you build a network of coaches working under you that will add to your earnings.
BUT, make sure you know what you get yourself into. KNOW the compensation plan before you get started.
To be honest when I took a quick look at it, I got kind of overwhelmed. It is NOT a simple system. It's NOT sell one product and earn 25% commission. Like any other MLM system you will have to know the legs, cycles, PV and more. Here are two examples from the compensation plan.
Know the compensation plan and what it takes to make money with it!
Are "the Beachbody Coaches" Making Any Money?
So this image is taken directly from BeachBody's own site.
Statement of Independent Coach Earnings December 25, 2014 – December 30, 2015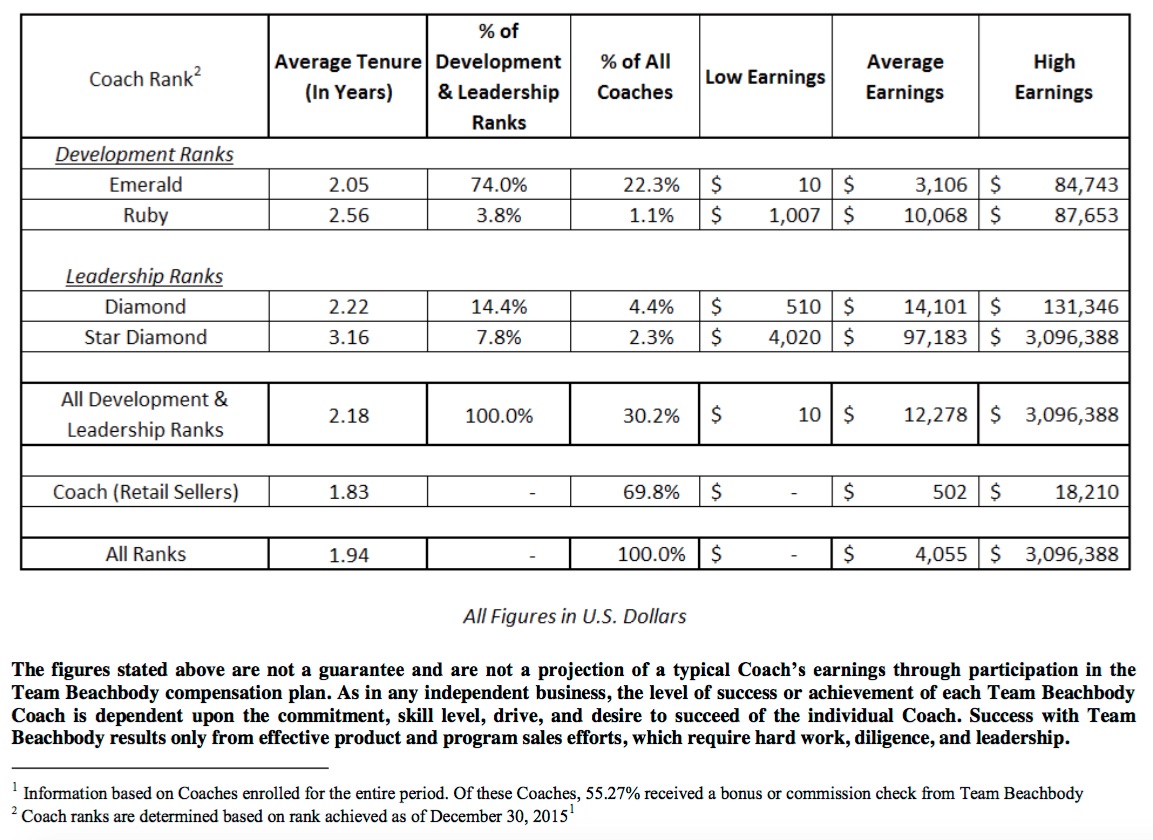 Looking at these numbers it tells me a few things. 69.8% are either just buying into the coach status to get better deals for them selves OR they are having a tough time making some real money with this business. Average earning of $502 yearly does hardly cover the expenses with this business.
If we look at the average earnings, with the first rank "Emerald" that's $3106 yearly, that's roughly $260 monthly, we have 22.3% of all coaches with this rank.
Only 7.8% make more than that. Out of that number 2.3% makes on average a full time income.
This is official numbers, facts and stats directly from Beachbody themselves.
Making money with BeachBody is NOT easy, I'm not saying it can't be done, but you have to be realistic about it. You have the numbers right here straight from the source and they are telling us that very few actually makes a living with this business.
What's the Cost
The Buy-in, seem pretty reasonable.  You get a Business Starter Kit, a Coach Welcome Book, a personalized Coach website, and 30 days of access to other tools for an initial investment of $39.95… okay… basically 40 bucks.  And each month after that to keep everything, you pay another $16 bucks ($15.95).
Not sure about the monthly fee. 
What If Beachbody Doesn't Work for You?
What if it doesn't work for you and you decide not to be a coach?  That is not a problem.  The site says you can stop/cancel at any time by calling their 800 number at the Coach Relations Department.
All though that sounds great, when I did a little digging it's not always that easy to cancel. Here's some feedback from Consumer Affairs with upset users that would like to cancel:

How to Make It Work for You
The way I see this working is that you would get moving towards getting your own self in shape by joining as a 'Coach'.  Take advantage of all the videos and other things you'll have access to through your membership; and if only you love the products, gradually begin to work the program as a business.
When people see your sculptured body as a result of your efforts, they will most likely inquire about how you got that way.
Even if they are not interested in being a coach at all, you can still introduce them to the videos and products that Beachbody has to offer and hopefully provide them with options to improve their health.  If they decide to allow you to be their coach, then you can also begin providing them with the resources you've used to get to your place of achievement.  That of itself makes it worthwhile.  And knowing that you helped someone better themselves should bring about a certain self-satisfaction.
Pros and Cons of the Program
Pros
Beachbody do have some good products.
The fact that they do have products to back up the program and are not just selling the "business opportunity" that many other MLM companies do.
Cons
Seem to be a hassle to cancel subscriptions and get refunds, for many users.
Looking at Beachboy's own numbers it seem pretty hard to make a decent income.
Some consumers feel ripped off by the company.
What Are Others Saying About the Program?
More feedback from Consumer Affairs: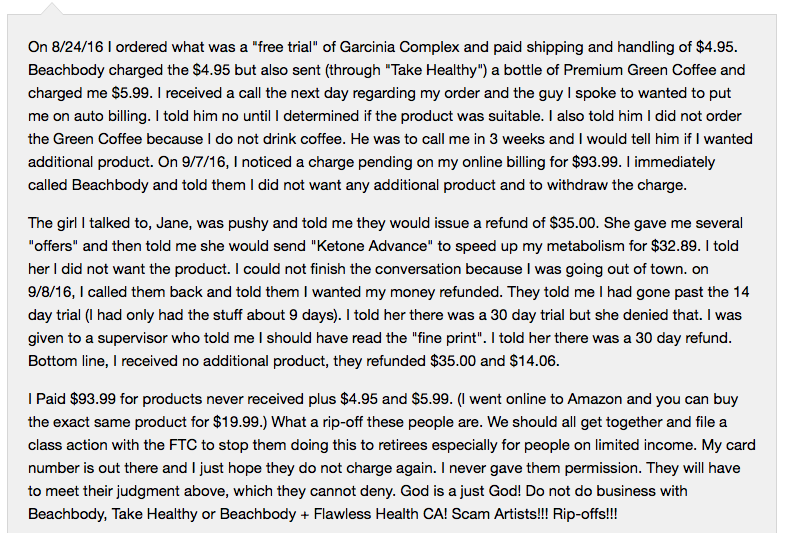 Final Analysis
Out of the many health and fitness options out there, I think that Beachbody offers some good products. They seem to have a well-rounded and inclusive approach to health and fitness.  The greatest cost to the user or customer would appear to be their time and effort.  If they are willing to invest that, they might see potential results manifest both physically and financially.
You'll also have the opportunity to make contact with a lot of other people in your Beachbody community that are there to encourage and befriend you as you work toward improving your health. I can't help to think though that some will do that only to try to get you to become of the "system" and purchase the products.
All in all, I would say this outweighs the alternative of not doing anything to improve your current state.   In reviewing the information, nothing has been promised—but the opportunity for success might be there.  The tools are there for you to get yourself in the best possible shape you have been in for years.
Now as far as doing this because of the business opportunity, because you want to create an income for yourself, I'm not convinced. The Earnings report presented above does not help me see this as a great business opportunity.
If you get the health results you are looking for, if you do love the products, then sure go ahead and promote the program. To see this as a sole business opportunity, I wouldn't go that rout.
What Are Your Options Now?
100% in
If you feel that this is a good option for you, if you love the products, compensation plan and reviewed outcome then by all means go a head and join the program.
I do suggest you read 10 Tips before joining an MLM opportunity.
50/50
If you do love the products but are not really in to the business model, use the products and record the results.  You can always set up your own health blog and share your experience. Blogging can bring in money in many different ways and a health blog can be a great way to not only share your experience but also make some money doing so.
Read more about how to get started with blogging, 4 things to know before getting to the "techie" part.
Beachbody Is Not For Me
If this MLM program is not for you, consider some other options. Continue your search…
For me, affiliate marketing has been the answer. For the last 8 years I have worked online, setting up websites on topics I enjoy and monetized (making money) the sites in different ways. The different between MLM and affiliate marketing are many but here are a few.
MLM – They want you to involve and sell to family and friends.
Affiliate Marketing – Everything is done online, most my family and friends have no idea what I work with.
MLM – Often complicated compensation plans.
Affiliate Marketing – Easy to understand commissions, often flat % or set $ amount of everything you recommend.
MLM – Often want you to hold meetings or home parties, which requires you to physically be there.
Affiliate Marketing – You can work from anywhere at anytime you want.
If you want to know more about affiliate marketing read: 10 reasons why you should consider affiliate marketing.
I also recommend this place if you are interested to find out more about affiliate marketing, a great community with likeminded people that offer step by step training!
So please share with us below, what rout you are taking? Are you going with the Beachbody program?
Have a productive day,
Vicky