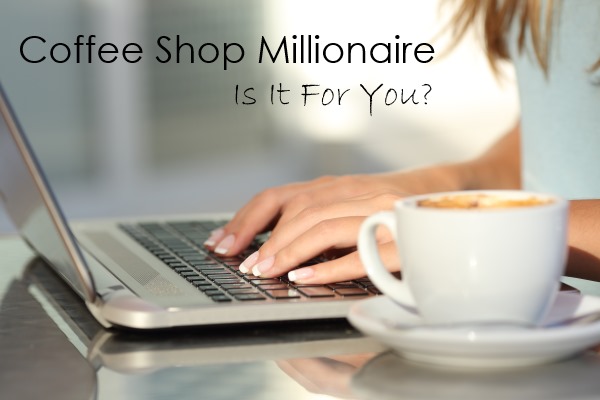 Coffee Shop Millionaire (CSM) is a popular "work from home" product launched by Anthony Trister.
A simple Google search on this topic comes with results which suggests whether it's legit or not.
There's not much information on the homepage, other than the sales video, claiming you know the usual…
Making money and lots of it from, in this case, a coffee shop.
In this Coffee Shop Millionaire review, I'll look at the aim of the program, what it's made up of, pricing, and support.
Will it be a keeper or a program for the sweeper?
Coffee Shop Millionaire, Legit or Scam?
Program: Coffee Shop Millionaire
Created by: Anthony Trister
Price: $37 (there is upsells)
Money Back Guarantee:
Verdict: Put your wallet back in your pocket
 2016 edition;
What The Coffee Shop Millionaire Does
The Coffee Shop Millionaire program teaches the basics of Internet marketing by using training modules and other content. It focus a lot on local marketing for local businesses. This means that you would for example learn how to drive more traffic to a local website by blogging and then go out and sell that service to a local business owner.
You would then outsource the product "the blogging" to a companies like odesk or elance.
This can be a great business model for sure. I have personally done some business for local companies, so I do have some experience with this.
The problem here is you need some experience doing online marketing before you can sell that kind of service to a local business. This is not something that can just be outsourced if you have no idea how to do it. Coffee Shop Millionaire does not give you all the pieces to make this work.
Selling to local businesses is very hard, believe me. There is no training in this program to do so. Sure they talk about email marketing and SEO for local businesses and Facebook pages. But if you have no clients you will never make any money.
Outsourcing is another hard thing to manage if you have never done it. I outsource a lot of my work and it`s not just to throw up a job and think, it will get done. There is a lot of time that goes into putting an outsourcing team together.
The Coffee Shop Millionaire program claims to make members millionaires by sitting in a coffee shop, working on their laptops and watching paychecks roll in. It`s NOT that easy.
Who's Behind The Program
Anthony Trister, an internet marketer, salesman, and the founder of the Coffee Shop Millionaire program.
The Coffee Shop Millionaire Training
The program consists of 12 training modules, video lessons, which teaches on topics like cash machines, affiliate marketing, and Adsense. People who have accessed these videos have however confirmed they lack, the necessary information they ought to provide. Below is a list of the training modules for CSM members. The basic training modules and upsells.
Cash Machines
Million Dollar Launch Secrets
Affiliate Marketing
AdSense Sites
Skillset Videos
Tech Tutorials
Six Figure Success Club
VIP
The 21k System
Interviews
Bonus Interviews
Anthony Trister's Rolodex
These videos are seemingly old content, never get updated and they can be found on the internet for free. In watching the videos, it is assumed that you have a fore-knowledge of internet marketing, so if you are new to internet marketing, CSM is not for you.
Community and Help
I was very disappointed when I visited the support page.
The rest of the page is filled with hundreds of consumer complaints. Nothing seems to work on the website and it's such a difficult task to ask questions or seek support on the product. Their Facebook page is filled with unanswered questions, which shows lack of attention and support to consumers.
Pricing of the Coffee Shop Millionaire
The standard pricing for membership is $37/Month and this includes training and support (which is very limited). Right after registration, you will be asked to upgrade to the "Six Figure Success Club" for another $297. You also pay an extra $47 for mp3 versions of the modules. Not to finish, you pay $100+ for website hosting and this continues with an endless list of upsells.
Pros and Cons
Pros
The website puts together essential internet marketing resources for just $37.
Cons
There is no overall plan, easy to follow along training.
There are many unseen costs you will be required to pay for once you start using it. The more you pay, the more upsells are thrown at you.
There is little to no support for CSM users. They literally get abandoned
The modules and tools do not show a clear way of making money online. The videos are vague and are just a hype. They merely show you how internet marketing works.
The website Anthony claims to create for you at a fee is a very poor quality WordPress website which is not worth the cost.
There have been endless complaints of consumers about this product and this doesn't seem to end.
Coffee Shop Millionaire a Keeper or for the Sweeper?
All though the Coffee Shop Millionaire teach legit ways to make money online, there are better places to learn the ins and outs of online marketing.
You can for sure make money with affiliate marketing or local marketing. You can set up your own online business creating an income for yourself. Personally I don`t see this program being the best alternative to make it happen.
The website claims to teach you the secrets of online wealth creation but just tells you a little about it and leaves you to figure out everything for yourself with little to no support. It lacks in every area and there is no overall plan to follow. It`s not a program I would spend my money on.
Therefore I do not recommend this product. To me it`s NOT a keeper it goes in the sweeper.
Coffee Shop Millionaire Refund
Somebody asked, how do you get a Coffee Shop Millionaire refund if you happened to buy the program but are not happy with it. The easiest way to get your money back is to contact Clickbank and ask for a refund. Clickbank is the middleman handling the refund issues.
Is There Better Alternatives?

For me there are certain criteria for a good online training program. If you are new to online marketing and want to learn the basics this is what I would look for:
1. Step by step training, with an overall plan. A program that walks you through everything from setting up a website, how to create content, how to get traffic, to how to make money. It is a process that can be learned.
2. Support and community. Find a place where you can ask questions WHEN they pop up. Starting out you will have tons of questions and having a place to go where you can get answers and help will be crucial.
3. Free. If it`s a good program, confident in what they have to offer, they will let you take a peek behind the doors for free. Never by a program on empty promises of making tons of money, and you have no idea HOW it will happen. If you can try a program for free, you can see if it`s for you or not.
So is there a place offering all these 3 criteria?
Yes, I have found a step by step training program with support and active community that you can try out for free. Is it for you? Read my review here, my #1 to learn online marketing, and see for yourself.
Who else thinks Anthony Trister is just a trickster? Do you have any experience with the Coffee Shop Millionaire program? Share your views and experiences with us.