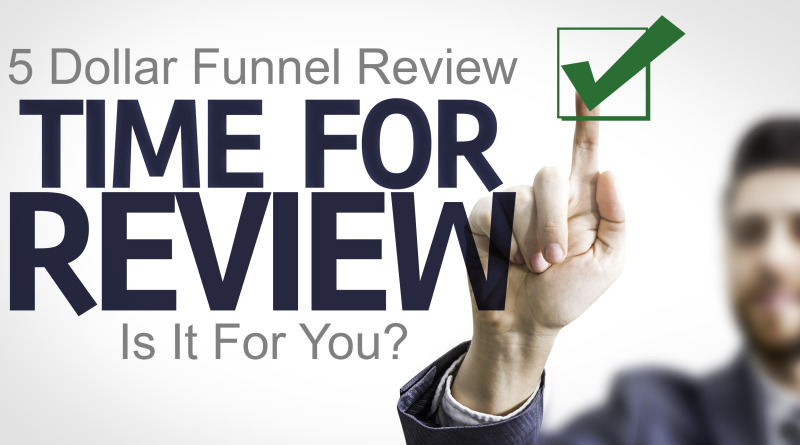 The Five Dollar Funnel is another program that claims that you can make money online with very little input from yourself. We are taking a look at what this program does and whether it is a scam, in our Five Dollar Funnel Review.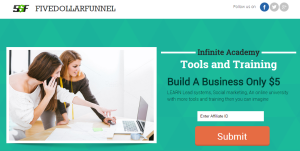 Name: Five Dollar Funnel
Website: http://fivedollarfunnel.com
Price: $5 / $20 / $99 / $297
Owner:  Bill Ebert and Tom Cellie
When I first ran into this program I didn`t realize it was an MLM (multi level marketing) company, but it clearly is when we take a closer look at the compensation plan below.
The question is can this program help you with your online marketing OR is the "product" just a cover up for recruiting others? Also is it an MLM opportunity to consider?
What Does the Five Dollar Funnel System Do?
It is a multi level marketing program, focused on recruiting using online downloadable products. It is a spin on the usual shampoo, nutrition or lotion MLM programs, but this time it is online marketing education.
So what products do they offer:
The Five Dollar funnel program includes three main things that it attempts to teach it's users about.
Marketing
Copywriting
Social Media
The first is various marketing, and it teaches users how to build your own personal brand to make sales.
It also focuses on how to create great copywriting, and finally how to make the most out of social media to get leads and make sales.
This sounds very up to date and are things that should be in focus if you are doing online marketing. Should this program be the one to help you with this OR is the main focus on recruiting people…
The People Behind Five Dollar Funnel
The two people behind the five dollar funnel program are Bill Ebert and Tom Cellie.
Not much information can be found online about these two individuals, but in the past, Bill Ebert helped with a marketing program called "unlimited profits," which basically provided training to different companies.
Tom Cellie has no internet history besides from his work with Bidify, which turned out to be a very large "get rich quick" scheme that actually left very few of it's visitors rich. Not good…
Five Dollar Funnel Review – The Program / Training
The first part of the program are the selection of marketing training videos that take you through a variety of different marketing techniques. The end goal of these videos is to teach customers how to build their own personal brand via video marketing.
Another part of the program focuses on creating and writing copy that can be used to "hypnotically" sell to potential customers. The word hypnotic is pretty important in this section, and it teaches users how to really encourage their potential customers into going through with a sale. You'll also be taught how to write an effective sales page.
Finally, the last section of this product focuses on teaching customers how to make the most out of social media and lead it into real, actionable leads.
The focus is NOT on the program and training though it`s on the compensation plan and how you can make money with the five dollar funnel.
The Five Dollar Funnel Compensation Plan
Like in all MLM "opportunities, you will have to refer the program to others to make money. So what you are getting yourself into here is not really a training program for yourself but a program that you can refer to others.
THIS VIDEO IS FOR EDUCATION ONLY…
Remember, the circles are real people that has to open up their wallets… not always as easy as they make it sound.
So you pay $5, $20, $99 or $297 depending on the level you want to recruit at. One thing that is unclear is if you are only paying for higher commission or if you actually get a better product at the higher levels.
Level 1 Kickstarter, you pay $5 monthly to get paid between $0.25 – $2 / person you recruit at this level.
Level 2 Builder, you pay $20 monthly to get paid between $1 – $4 / person you recruit at this level.
Level 3 Leader, you pay $99 monthly to get paid between $0 – $20 / person you recruit at this level.
Why would you not get paid for the first referrals on this level?
This means you have to up to level 3 every month just to get the monthly fee of $99 back…
Level 4 Mogul, you pay $297 monthly to get paid between $0 – $59 / person you recruit at this level.
This means you have to up to level 3 every month just to get the monthly fee of $297 back…
This also means that you have to recruit at the level you are at, so if you are on level 3 the leader level you have to find people to pay $99 monthly to join to make that kind of money.
As you can see there is a lot more to it than purchasing a money making program for $5.
Do you know how hard it can be to get 1 sale?
I have been doing affiliate marketing for years and I know how hard it can be to get a sale. So let`s take a realistic example. Let`s ramp it up to Level 3 the leader level, to be able to make some better money.
To reach level 3 you have to sell 39 products in a month, so between 1-2 sales daily.
If you do this you make $222.75 – $99 for your own membership : $123.75
That`s $123 for 39 people that buys into the same $99 level.
Not saying it can`t be done, but be aware of what it takes to get there. What will it take for you to make those 39 sales?
There are easier ways to make $123.
Community and Help
There isn't any real community or help system with this product, it comes down to the person that referred you to the program. If that person has little interest in helping you, then you're on your own.
Even though there is a lot of useful information in this product, you'll easily be able to find similar information online for free. Typically the sources of this free information are more than happy to help you out with any queries too.
Final Verdict
I would NOT call this a SCAM, it is an MLM program. I have a hard time seeing the big money at the entry level for $5, for you to see any greater financial returns you have to get into the higher levels. If you have done this for a while you know how hard it is to make a sale…
To make $221 at the entry level you have to have 363 sales.
That is a lot of sales for that amount.
If you are looking for a program to learn the ropes of online marketing, we don`t recommend this program for you, there are plain and simple better alternatives out there.
If you are looking for an MLM "opportunity" a way to recruit people and build a team, then make sure you know all the ins and outs of this program. I`m not saying not to do it but know what you get yourself into. Make sure you have a plan of how you will be recruiting people and so on. Read my article is this MLM opportunity for me…
What Would Be a Better Alternative?
I personally prefer affiliate marketing. With affiliate marketing I feel that I have better control over what I`m doing. I can take my time building a reputable online business/website and actually help people in any niche I choose.
3 Reasons to Choose Affiliate Marketing Instead
Real product / service that help – You will get paid for product or service sales, NO recruiting. Your visitors will actually benefit from the products you promote.
Better commission – With affiliate marketing you can also choose to promote digital downloadable products and make a lot more than a few cents a sale. $25 / sale is not uncommon promoting downloadable products for example.
You pay $0 – With affiliate marketing you pay $0 to promote a product. It is actually a win / win. You get paid if you make a sale, the vendor pays nothing for the traffic unless it converts to a sale.
There are many different places to learn the ins and outs of affiliate marketing – with my favorite one you can start for free…
I would love to hear from you if you have any experience with the Five Dollar Funnel system. Were you looking into it because of the training program or because of the recruiting opportunity? Please feel free to share your experience with Five Dollar Funnel system, leave your comment below,
Vicky