You can get traffic by using forums, very relevant traffic…
Are you looking into getting another traffic stream for your website, then forum posting can be very effective. The main reason forum posting works so well is that the traffic is very relevant if you interact with niche related forums. If you have a site on dog training then interacting with dog training forums will give you highly relevant traffic.
Where to Find Relevant Forums
The best way to find relevant forums to your niche is to go to Google and type in "niche + forum" I just did that with gardening and this is the result I got.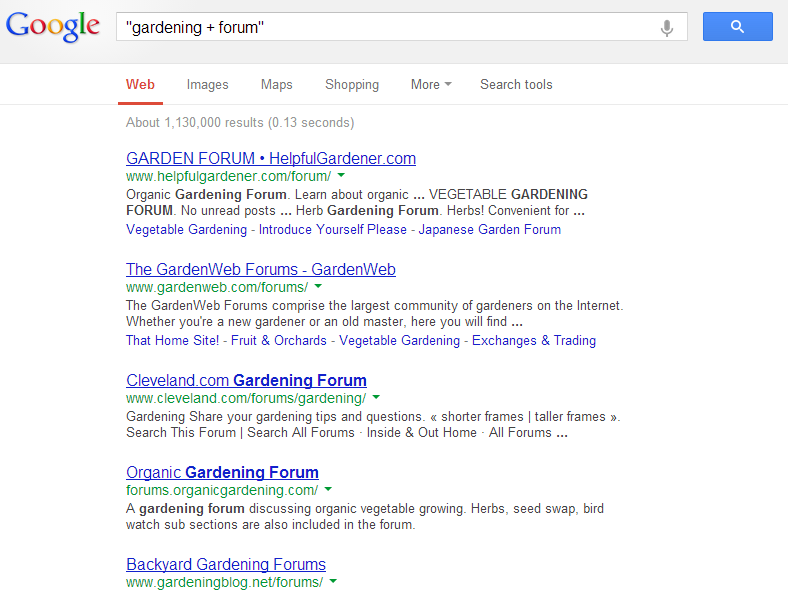 As you can see all these would be great to interact with if I have a gardening site.
How to Interact In a Forum
You do not want to come across as a salesman. In the forum you want to interact with people and be helpful. Answer questions people might have, start interesting forum threads and in a natural way become the to go to person for your niche.
Don`t sell anything and unless you are refering to something specific leave the links to your signature.
How Do You Get Traffic To Your Site From a Forum?
Which takes us to the question how do you actually get visitors to YOUR site from a forum. In most forums they will allow you to add a signature. Some forums have rules that you have to post certain amount of posts before your signature will show. This signature is where you will add a link back to your own website.
What Should the Forum Signature Look Like?
The forum signature is often two rows which allows you to write two rows about your site and why they should click the link. Make them an offer they can not refuse…
Make your offer catchy and interesting. To give something away usually work well.
Click Here for my Top 10 Spring Gardening Tips
Or
Do You Want The Tastiest Tomatoes?
Click Here to Get My Top 10 Tomato Tips
These are of course some examples that I just made up. Using action phrases like "click here" or "act now" will help your conversion as well.
You can also add different colors and size. Just make it tasteful… The biggest text or brightest colors is not always the best. You want to look professional.
Get traffic by using forums… how do you do it, what is your tips and advice? Feel free to share below in the comment section.