In this post we will be talking about how to write an article – show and tell style.
This means that I will take one of my own articles and go through the basics with you.
We will be covering:
Research
Headline
How to structure your article
The actual writing part
Submitting the article
What`s next
Research
I will assume that you have done some keyword research already so we are researching what to actually write about based on those keywords.
There are many places to get ideas. You can search Google and get ideas, now don`t copy and paste, get ideas but write your own unique content.
Article directories can be another place to get ideas, type in your keyword and see what other authors are writing about.
Magazines, pick up a magazine on the topic and get some ideas from there.
When you have some ideas of what to write about put them down on paper.
Here is an example of one of my articles: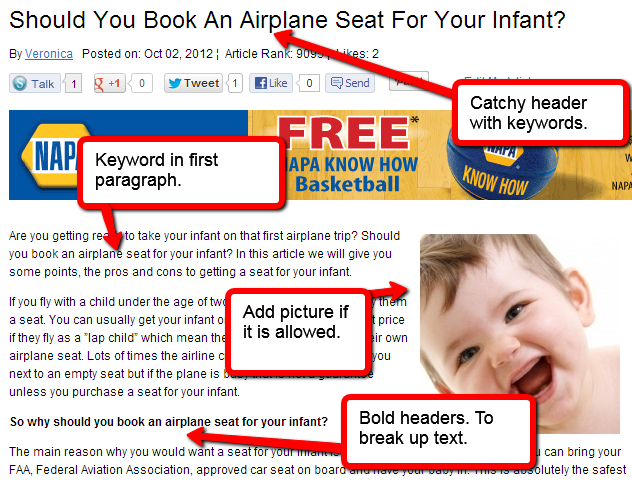 Headline
You want to write a catchy headline so that people click on it and actually read your article. If you have a boring header nobody will read the article. There are different ways to make a headline interesting:
Ask a question
Top 5 Ways…
How to…
Secret…
Get rid off…
Picture – if you are allowed a picture use it. People love pictures and today they are willing to share them at pinterest and other social networks. This can help you get more visitors to your articles.
How to structure your article
You want to make the article easy to read. Say your article is 400 words, if you have one text block of 400 words it will be very hard to read. Most people would just not do it.
Use paragraphs to space things out.
Use lists where it is suitable.
I usually use around 3 main points in a 400 word article. If I have these 3 points written out before I start with my article it is easier to come up with content. I make these 3 points bold so it is easy to see for the people that just skim throug…
The actual writing part.
I try to write naturally for the reader.
I use an introduction and a summary with the  3 main points (that we talked about earlier) in the middle of the article.
I use usually 400 – 500 words for my articles.
I use keywords in header, first and last paragraph.
When you first start out writing articles it can be hard, you dwell over things like what should I write about, is this article good enough…
There are no such thing as a perfect article. You should always do your best to provide great content but don`t spend hours trying to perfect it. It is better to have 5 decent articles submitted then 1 that never makes it online…
Believe me it gets easier the more you write.
Submitting the article
When your article is done you will submit it either to your own blog or to an article directory. I suggest that you write your article in a word document for example. If you write it directly in the directory it can get lost… Connection goes down, the directory do an update… you don`t want that to happen.
To be able to submit your article you need to create an account with the directory. When that is done you can submit it.  It is pretty straight forward they will ask for the following things to be filled out:
Author
Category
Title
Body text
Keywords
Resource Box
In my example this article is submitted to Streetarticles. They don`t allow resource boxes so you put your links back to your site using words in the last part of the article.
Usually the directories allow you 2 links linking 5 words each.
What Is Next?
Your article is submitted, now it takes anywhere from a couple of hours to a few days depending on what article directory you use before it is approved and live. Sometimes they will come back and ask you to adjust something, which is totally fine. That happens to all of us…
When your article is live you can always give it a push by adding it to social media like Twitter, Pinterest, G+ and other networks.
It does help the search engines rank the article.
Here are some helpful resources:
Write compelling article headlines to attract more readers 
Case Study: Organic Milk Article
Hope this will help you to learn how to write an article, what are your best tips and tricks for article writing? Feel free to share them with us.