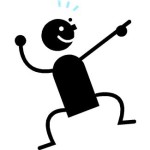 When I first started with Affiliate Marketing, I wrote down my financial goals. Some that I thought were reachable within a few months and some that would take me years to accomplish… I joined WA right away so I have been doing AM for almost 4 years now.
August 2011 I reached one of my bigger financial goals reaching $4000/month, believe me I have more goals set up, but reaching this one was huge. I remember thinking when I started if I can only reach this amount…
This proves to myself and the rest of the world, at least the tax authorities
that this is a real business. A real business making real money.
The cool thing is that I took pretty much the whole summer off, we spent 5 weeks in Sweden. I have two kids so I have been doing stuff with them all summer. The only reason I am telling you this is, build your business and it will work for you when you don`t. Beleive me I have spend hours and hours on my business, but I have reached a point where the work I have done will work for me.
If you are just starting out, keep going, do not give up. I know of many times when I questioned if I was doing the right thing. But then I got my first site up, then I got my first sale, then I reached my first $100 day… Set small goals and reward yourself when you reach them.
Last year was frustrating I felt like I was standing still I did not reach the goals I wanted to, so for this year I set up an action plan, I have been following the plan and have had good results. I do not have my own product, I do AM and Adsense sites only, I create small targeted sites that rank well in the search engines.
I no longer dwell over my mistakes or bad sites, I move on and hopefully my next site will do better.
So if I look back 4 years what info would I want back then to reach my goal sooner? This is what I wish I would have done:
5 Things I Wish I Would Have Done Right Away, When I Got Started With AM
1. Get your own domain, your own site (I did a lot of SQ lenses that got shut down)
2. Action plan, create your own action plan write it down and FOLLOW it
3. Outsource as soon as you start making money, start putting it back into your biz
4. Duplicate what is working, if you find a winner do it over and over and over…
5. If a project is NOT working out move on
I am so excited about the future, I know I will reach those goals it is just a matter of time
If I can do it anybody can, best of luck!!
Vicky
Feel free to leave any comment you might have,