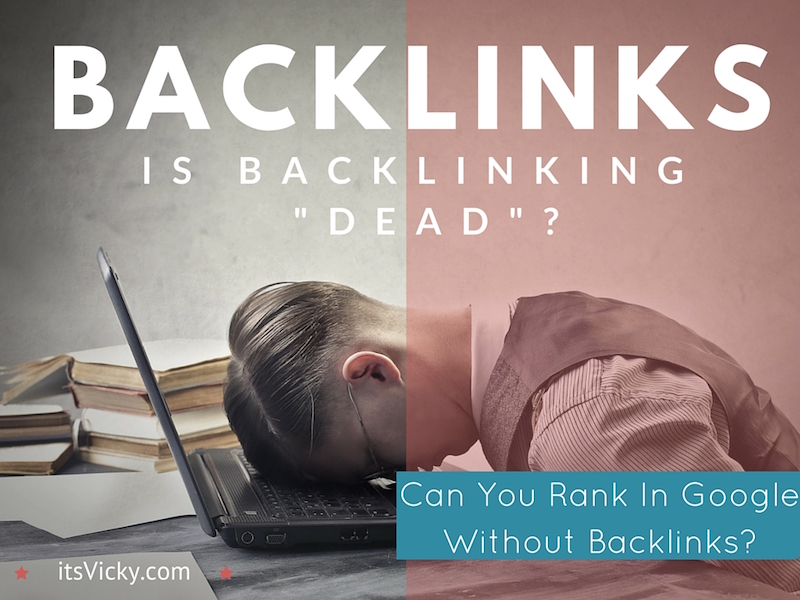 Fridays with Vicky 68
I'm very active over at this one online community for affiliate marketers.
The other day one of the owners of the community submitted a post, called:
"Are Backlinks Good for Rankings. Nope…" 
I had a comment that was too long, so I decided to turn it into a blog post instead.
There are many questions and claims around backlinks. Some still claim backlinking being a highly important part of SEO. Some saying you can rank in Google without backlinks…
I think this is an important discussion and it seem to stir things up a little, everybody has their take on backlinks and their importance.
What's your take on backlinks?
Let's go back to the title of that post…
Are Backlinks Good for Rankings? Nope…
I don't think the answer is as easy as Yes or No.
There were of course a lot to the post and I think the point Kyle is trying to make is that your focus should not be link building.
Focus when building your site should be on other things like content creation, targeting keywords, engagement and user experience.
I do agree with that 100%.
But…
I also believe that natural backlinks still has its role within the Google ranking system. Even though they seem to claim it doesn't.
The whole internet is build up by links, there's a reason why it's called the WEB. We want to link to others, we do it all the time.
If I read or refer to a good post or page, I will be happy to link to it from my site or social media for example. Most of us that interact and engage on the internet link multiple times daily… nothing wrong with that at all.
The Question Is How Does Google Look at These Backlinks?
When Google looks at the links to your site, they have 3 options:
If it's relevant, count it to your advantage
Ignore it if it has no value
Penalize you if they think it's black hat manipulative links
Back in the day…
Ok not that long ago but before the 2014 Penguin update you could rank a site with massive amount of backlinks. This is something that was easy to manipulate and Google adjusted their algorithm.
They gave these spammy backlinks no value at all.  In many cases they penalized the sites and they disappeared from the rankings.
Black hat strategies are not a good way to build an online business.
What Does that Mean Today?
That doesn't mean though that natural backlinks from other relevant authority sites does not have any value for your site when it comes to rankings.
I would say as of now 2016 they do. We naturally link to content we like. It is still a way for Google to see if a site is "popular" or not.
With that said trying to unnaturally manipulate Google with backlinks is not a good idea.
The key word here is natural backlinks.
Let Me Back This Up…
I've been doing affiliate marketing for a few years now but by no means am I a backlink expert.
There are many sites/companies that are experts in this field though. They research the effect of backlinks, so let's check in and see what two of them have to say about this.
Searchmetrics
This is their take on backlinks…
Searchmetrics say decreasing importance of backlinks, but as of now "backlinks still show quite high correlations with rankings".
MOZ
According to MOZ and their backlink Google study, the relationship between Google rankings and links were the following:
99.2% of all top 50 results had at least 1 external backlink to their site.
77.8% of top results had at least one external link pointing to the page.
99.2%, I would say that backlinks can't totally be taken out as a ranking factor…
The 77.8% does not surprise me when it comes to individual pages. Say that a news article is posted by BBC News, that will rank high immediately due to the authority of the site even though the page itself does not have any backlinks.
It seems according to this study that it would be easier to rank in Google with backlinks.
(Study was done 2015 after the Penguin update)
Should Backlinking Be Your Main SEO Strategy?
My answer to that would be NO.
Personally I don't spend any time building backlinks. Focus should be on great content and engagement for your readers, with that natural backlinks will come.
But to totally ignore the fact that it has an impact on your site ranking… I can't do that either.
The internet and Google is evolving and constantly changing, whether we like it or not. What works today might not work tomorrow. One thing that will always be of value is quality content that is helpful to your reader, that's where focus should be.
So what should you be focusing on instead of building backlinks?
Read the article that inspired this post, Kyle will have some great suggestions on what to do instead – "Are Backlinks Good for Rankings. Nope…"
What's your take on backlinks? Do you actively build links to your site? Do you believe your site can rank in Google without backlinks?
Please share your link building thoughts in the comment section below,
Have a productive day,
Vicky