Though the Isagenix® product line is nutrition and health related, Isagenix® the company, is first and foremost a network marketing company.  It says so on their "Culture" page.  They have an array of quality products; however, their overall focus is on the organization itself and the culture of its members—which I find to be somewhat… intriguing.
Many businesses focus on a particular industry or market segment, Isagenix® focuses on the relational aspect of its organization–creating more of a wholesale or co-operative environment for the company.
"Isagenix Review: Something for the Self Motivator"
Website: Isagenix.com
Founders: John Anderson, Jim Coover and Kathy Coover
The Company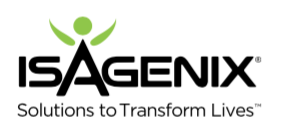 In 2001, Co-Founders John Anderson, Jim Coover and Kathy Coover joined together to found Isagenix®.  John Anderson was a Master Formulator of Nutritional Supplements.  Jim and Kathy were experienced in network marketing.  Together, they developed a model for one of the most successful network marketing companies in the world.
Today, the company has product solutions for weight loss, energy, performance, health and skin care.  Similar to other marketing companies, they use a variety of tools to help get the message out about products and the company; but videos and social media is where they place most of their efforts.
The business model is straight forward –buy the products and get others to buy too.
"You + Two; Them + Two" is what they call it.  You get two others to buy into the product.  Then, convince them to convince two others to buy into the product.   Even though you may see plenty of before-and-after pictures of people exercising in their brochures and social media, there's not a lot of focus on anything else other than the products and the business of selling them.
Losing weight by using the products is what we are talking about—cut and dry.  I can't say that enough.  This works  well for some people.  Especially if you can't exercise for some reason.  You take the cleansing product and you lose weight.  Simple, sure. But what happens when you get off the products? How long are you ready to "maintain" the weight loss with their products?
For, others a total plan of health and fitness works better.  If this is you, you can definitely incorporate fitness — your own.   If you do, your results will probably be greater and more sustainable
Isagenix Products
The Isagenix® Products fall into a few basic categories:
Weight Loss
Energy
Performance
Health & Aging
Wealth Creation
Wealth Creation is the last category.  Wait. What?… Yes, Wealth Creation.  I'll explain.  As I said earlier, conceptually speaking—this company is based on product sales.
So, categories are actually similar to product lines.  So, the last line of products, Wealth Creation, is an assembled groups of products packaged together for you to use to make money.  The first four categories are for you, as an individual buyer/consumer.  And each line builds on the other for a total wellness system.
In the Weight Loss line, they have shakes, cleanses and soups to aid the body with the process of losing weight.
Then in the Energy category, they offer the Isagenix® Coffee, C+ and Ionix Supreme, a nutrient rich botanical help with stress.
In the Performance category, they more shakes and supplements to assist the body recover from exercise and workouts.
Healthy and Aging category has all of the Isogenix® Advanced products—cleanses, supplements, nutrition that promote longevity and a healthy lifestyle.  For instance, the Ageless Essentials Daily Pack is a "balanced blend of vitamins, minerals, botanicals, antioxidants and Omega-3 Fatty Acids for complete daily nutrition."  You can't go wrong with that!
Did I mention that they have snacks?  To keep you on track and healthy, Isagenix® offers a line of snacks and health bars to supplement regular meals—for those times when you're hungry, but not hungry—hungry.
Isagenix® even has a line of products to address skin care.  With their skin cleansers, creams and lotions, your skin will have help rejuvenating after exposure to the elements.
So there you have it.  In a nutshell, Isagenix® has something for everyone looking for a product to help manage their overall wellness.
What Are Others Saying About Isagenix?
Looking at the consumer reviews over at Amazon, you will get a very mixed view of the Isagenix products.
You will get 5 star rating from some users, claiming it to be great and the "best system ever". Others will say exactly the opposite "be ware of the pyramid scam" or "Living on two shakes a day is not real life…"
How Can You Make Money with Isagenix?
Your first opportunity to make money is from the program we mentioned earlier, the You + Two; and Them + Two.  When the people you bring in, bring in people also, you have an opportunity to make more money.  Then, when you help others purchase products there is another opportunity.
According to their compensation plan, this is the money making options with Isagenix: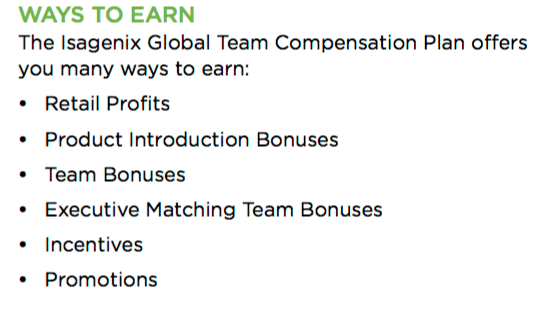 If making money is your sole focus, then your market would need to be people—with money who are looking for products to help them lose weight.  If you are shy and your shyness outweighs your desire to make money, then this business may not be for you if you intend on make a substantial income.
But, if you are outgoing and like to socialize with people and don't mind talking, and pushing the products it might be for you.  You will need to be able to build a team of other marketers to make the system work to its highest potential.
What Does It Cost to Earn?
To be able to be part of the compensation plan, you have to be an "active" member.
To be "active" means that you have to had a purchase within the last 30 days, of  and order of  100 PV (personal volume). What the cost of a 100PV product is, is unclear. If you have any information about this please share in the comment section below.
This is where the autoship, comes in. They want you to sign up for autoship and get monthly shippings of the products.
There is also a membership fee for Associates and Preferred Customers. $39 annually to join, or $29 to join with Autoship.
The Compensation Plan
One thing I like to look at when reviewing MLM programs is – is the compensation plan easy to understand?
If you are taking on the challenge of making money with this company, make sure you understand what you get yourself into. Make sure you fully understand HOW you will make an income and HOW much you will earn through out the process.
There are different levels, ranks, that you can achieve:
The higher rank the more you earn.
This is taken from the Isagenix site, this does not give a clear, easy overview of how to make money with the program.
Are People Making Money with the Isagenix Opportunity?
According to Isagenix own earning disclosure;
Only 5.2% of total members earned more than $500 in 2015.
This to me is stunning when the business model is focused on getting others to join, remember "You + Two; Them + Two". Plus will $500 cover the expenses for the products used that year?
Out of the 5.2%, 92% of them earned less than 10K yearly. This is their own numbers: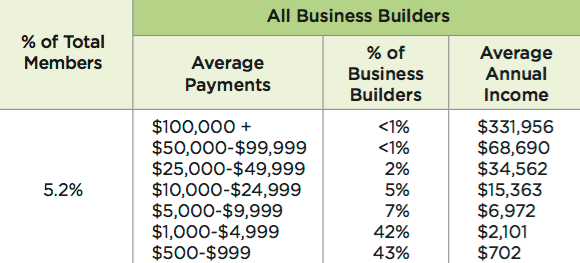 What to do If The Program is Not Working for You?
If you are wondering what happens if you buy the products and they end up not working the way you thought they would—there is a 30 day money back guarantee on products.
Final Thoughts
The premise of the program is to take products and supplements to help you lose weight.  Following the instructions and program guidelines, there is a high probability that you will reach your goals and start making the changes in your life you seek.
What you want to ask yourself though is, what happens when you stop taking the products? Or are you ready to continuously "maintain" the weight loss with the Isagenix products? If you do, know what it will cost you to do so.
The opportunity to make money is also there, for a few, according to their own earning disclosure. Because the company is driven by multi-level marketing, you will be prompt to bring in family and friends to build your business team. Is this something that you are willing to do?
Going Forward, Now What?
All in – If you love the product and feel that this is something you want to share with the world, then by all means go for it. Know what you get yourself into though.
Read – 10 Tips Before Joining an MLM
Love Health, Might Try the Product But Not Sure About the Business Model – if this is you, sure go a head and try the product for yourself. If you are trying to loose weight I would also change habits and get into a healthy lifestyle. The products might get you a boost, but to change long term and keep the weight off you need to get into healthy living and create healthy habits.
If you are looking for a business to do on the side, why not record your health improvements on your own blog. A blog can be a great way to share your improvements, what works and what doesn't. A blog can also be monetized in many different ways, via products, ads and other opportunities.
Read – How to Get Started with Blogging
Nah, This is Not for Me – if you are not into the products or the MLM model, try something completely different. There are many ways to make money online, affiliate marketing is one of them. Affiliate marketing has allowed me to work from home and stay home with kids, worked great for our family. If you want to know more about affiliate marketing, read my story how I got started here.