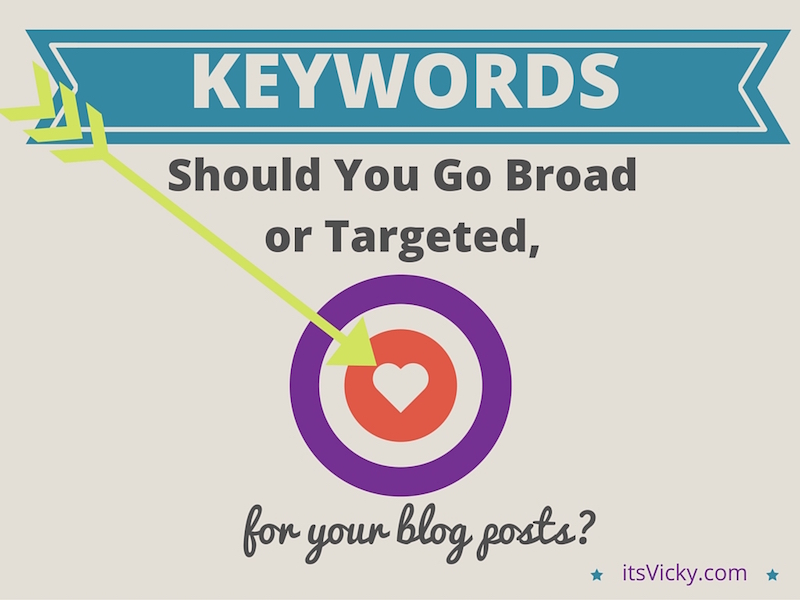 Fridays with Vicky 58
Keywords, our way to tell Google and the other search engines, what our post or page is about so they can rank it, hopefully well, under that keyword phrase.
Using keywords when you write your content can generate, organic listings that over time can grow to a good amount of traffic to your site.
This is the one method I've been consistent with, working with my niche sites, and for me it has generated great results.
I will not go into details about ways to find keywords or what's a good keyword in this post, I cover all that though in my keyword research guide. You can read that here:
Your Guide – Keyword Research Explained
In this post we will take a closer look at broad keywords vs. targeted keywords and why you should use one or the other. I also give you specific keyword examples. Let's dive in.
Broad Keyword
A broad keyword is a keyword with usually a lot of traffic but also a lot of competition.
If we have a weight loss website for example the keyword "weight loss" is a very broad term. If somebody search weight loss they could be looking for ways to lose weight, they could be looking for recipes or workouts for weight loss. It is not very specific.
It does get a lot of traffic, but t's not specific and it also has a lot of competition.

I use Jaaxy for my keyword research and it gives me reliable numbers to work with. We can see that the "weight loss" keyword gets a lot of traffic but has a lot of competition and only a SEO score of 1. You can read more about Jaaxy here.
Even if we target in on one of the above suggestions, weight loss recipes, ways to lose weight or weight loss workouts I would still consider it broad for a specific post or page.
I would pick one of these to be the direction of my site.
Say that we have a site about "weight loss recipes".
If we take a look at the numbers, we can see that "weight loss recipes", is a good keyword. To quickly define if it's good or not I look at the traffic and competition.
If we target in even further, and use a long tail keyword, it gets even better. Now we are getting to the keywords I would use for my blog post and pages.
Our second suggestion, "juicing for weight loss recipes", is a great long tail keyword to target for a post. It has traffic and it has a pretty good QSR number which indicates the competing websites. The SEO score is based on traffic and competition and that's a good one.
Long Tail Keyword Definition – a long tail keyword is based on three, four, five words in a keyword phrase that are very targeted and very specific, just as our example.
Jaaxy is a great tool to use to generate these long tail keywords that you might not have thought about. You can read more about Jaaxy here. Or even try it out right here…
Targeted Keyword, Long Tail Keyword
The more targeted the more specific. If somebody search for "juicing for weight loss recipes" in the search engines and I have a well written post on the topic that rank well, I will get highly relevant traffic to my post.
That's what we want, we want people who are looking for what we are offering, so that they stick around, read and take action.
The more targeted search the more likely they are to buy, if our goal is to sell or recommend a product.
This could be a possible search activity for somebody…
Search 1 – lose weight
Search 2 – weight loss recipes
Search 3 – juicing for weight loss recipes
Search 4 – best juicer reviews
Search 5 – Breville JE98XL Juice Fountain Plus 850-Watt Juice Extractor review
It flows naturally, what keyword do you want to jump in and target?
I prefer being in the end of the search cycle. Less traffic but very targeted and people are more likely to take action.
What was your last purchase online? Think about, the searches you had before you actually purchased the item. Did you start broad and then targeted in on a specific review at the end? This is not uncommon at all.
The targeted keywords will have less traffic, but the key is to get relevant traffic. Somebody searching for a specific product review, are very interested in that specific product.
The targeted keywords also have less competition which means it's easier to rank for them.
I'll take a first page ranking on Google for a low traffic keyword any day before a page 3 ranking on a high traffic keyword.
How often do you look at the results on page 3 in Google when you search something? I know I never do.
Let's take a closer look at what people click on after searching something in Google.
What Do People Click on in the Google Results?
People click on the first page results. In fact there has been many studies done on this with various results, but the fact is the better ranking the more clicks.
What we want with our keywords is free organic listings. One study suggest that the organic listings get 90% of the clicks and only 10% go for the paid listings in Google.
This is good for us.
What about the top 10 listings on the first page of Google?
According to one study,  this is how we click when the Google Search result is showing:
Position 1 – 32.5%
Position 2 – 17.6%
Position 3 – 11.4%
Position 4 – 8.15%
Position 5 – 6.1%
And it keeps dropping from there.
It makes sense, better ranking more clicks.
Broad Keywords vs. Targeted Keywords
Personally I want to work with targeted keywords, long tail keywords to be able to rank high in Google and other search engines. How about you, do you go for broad keywords or targeted keywords?
The more targeted the more likely your visitor is to take action.
The Power of Consistency
The power lays in submitting helpful keyword targeted content on a regular basis.
Over time you will have a lot of long tail keywords working for you and with that comes targeted traffic. Just imagine if you submit two posts weekly that's over a hundred posts in a year.
This is exactly how I'm growing my amazon case study site. You can read about the case study site progress here.
Your Turn
What's your thoughts on broad vs. targeted keywords? What tool do you work with to find good keywords? Feel free to share your thoughts on keywords below, in the comment section,
Have a productive day,
Vicky