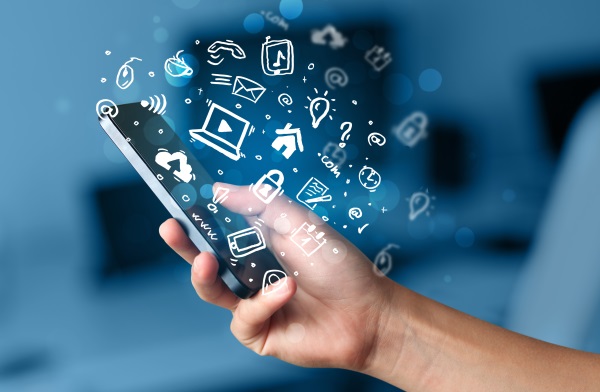 Smartphones are no longer a luxury but a necessity. Apart from enabling us surf the web, listen to music, watch videos, talk to our friends, play games, control our TV's and much more, they can earn us money too!
If you thought it was impossible to make money online using your smartphone, I have a list of interesting apps for your Android or iPhone which can fetch you a few bucks.
Make Money Using Smartphone Apps – 5 Apps to Use
1. ShopKick
Description:
Shopkick is a shopping app that you use helps you earn gift cards and many other giveaways scanning barcodes of items you shop for at stores like Target, Macy's, Best Buy, Old Navy, American Eagle, JCPenney, Sports Authority and Crate & Barrel.
What You Do:
Earn kicks when you enter stores like Target, Macy's, Best Buy, Crate and Barrel, Old Navy, Toys R' Us, and Exxon and Mobil convenience stores.
Scan specified barcodes and make purchases at these stores to earn kicks.
Refer your friends, link your credit card and browse through look-books to earn more points.
What You Earn:

Earn gift cards from Target, Starbucks, Old Navy, resturants, and the likes.
Clothing and gadgets
A cruise on a ship
Available On:
iOS | Android
Read more about shopkick here!
2. CheckPoints
Description:
CheckPoints is described as the "App that that pays you back". With Checkpoints, you get free rewards whether you go shopping, hang out at the mall, or even home. You can earn countless rewards in many categories when using CheckPoints.
What You Do:
Scan barcodes for products like Dreyer's and Coca Cola
Install and try new apps
Watch videos
Play games
Take quizzes
Shop Online
Complete offers
What You Can Earn:
Gift cards from Amazon, Walmart, and Target
American Airline miles
Tablets and Gaming Consoles
Donations to charities
Gas Cards
Shopping Sprees
Available On:
3. GymPact
Description:
Pact is the most effective way to keep your fitness and weight loss and still enjoy it! GymPact earns you cash for staying fit, paid by members who don't. Pact motivates you to exercise and make money at the same time.
What You Do:

Make a pact every week to exercise more or eat healthier.
Set how much you will pay to other Pact members if you fail to do your pact.
Use the Pact app to track your progress
What You Earn:
Earn between $0.30 and $0.75 worth of real cash paid by people who don't do their pacts. Once you earn $5, you can cash out via PayPal.
Available On:
4. Receipt Hog
Description:
Receipt Hog – Collecting receipts from everyday shopping can earn you some cash, thanks to Receipt Hog.  All you need to do is to download the app, and snap receipt with the app. Receipt Hog is a fun and rewarding way to turn your shopping into real cash rewards – whether you're buying groceries or electronics.
What You Do:
Take photos of receipts of items you've bought
Send the photos using the Receipt Hog app
What You Earn:
Free shopping trips
Real cash paid via paypal
Amazon Gift Cards
Paid surveys
Available On:
5. Surveys On The Go
Description:
Surveys On The Go is a mobile application which seeks for users' opinions about various topics and issues and then pay them for it. Topics range from business to politics to entertainment, etc.
What You Do:
Take quick, simple demographic surveys on your smartphone.
What You Earn:
You earn between $0.25 and $5 for each survey. Once you hit $10 and above, you can cash out using PayPal
Available On:
What do you think? Do you use an app to make some extra cash? Which one do you use?