Fridays with Vicky 160 
How do you get a number 1 Google ranking? I will be taking a closer look at one of the many number 1 listings, to see if we can figure out what they do, what they don't do both on-page and off-page to get that desirable first spot listing.
Why Would You Want the Number 1 Google Ranking?
The listing I will be looking at is the number one in the organic listing section, that you can rank your website for. Getting a number 1 spot could mean a lot of free traffic for a long time to come.
If the keyword you are ranking for has a high search volume, you could see a great increase in traffic to your site. There are many ways to get traffic to a website but FREE Google listings are always welcome.
There will be ups and downs when it comes to rankings and I can't guarantee that you will get the same result. But looking closer at a number one listing can help us understand why they got there…
It all starts with a keyword.
Somebody needs to be searching for something, for Google to generate listings. People type in keywords in the Google search bar all day long and Google generates relevant listings to that search.
That's where we want to show up, at the top of the free listings for those chosen specific keywords.
My daughter is really into magic tricks right now so let's look into the keyword "easy magic tricks for kids".
First thing I want to do is make sure that this keyword has some search volume to it and some competition. We want to make sure that the number 1 Google listing we bring up didn't get there by accident.
I head over to my preferred keyword tool Jaaxy and type in "easy magic tricks for kids".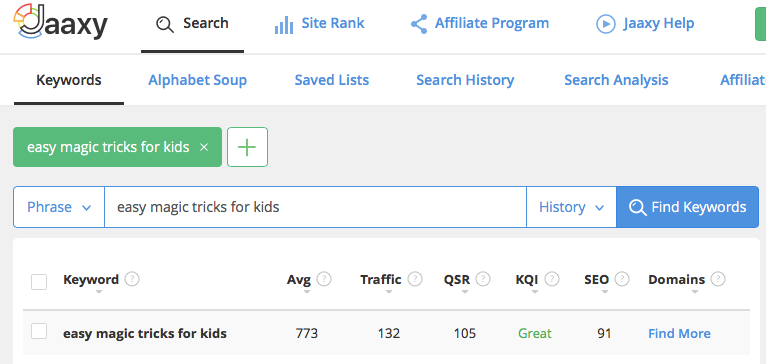 The keyword looks good, it has 773 average searches monthly with 105 direct competitors for the keyword. An SEO score of 91, which means that it is a keyword that should be "doable" to rank if your site has some age to it. The higher score the better on a scale of 1-100.
Let's see what site, has the number one Google spot for the "easy magic tricks for kids" keyword.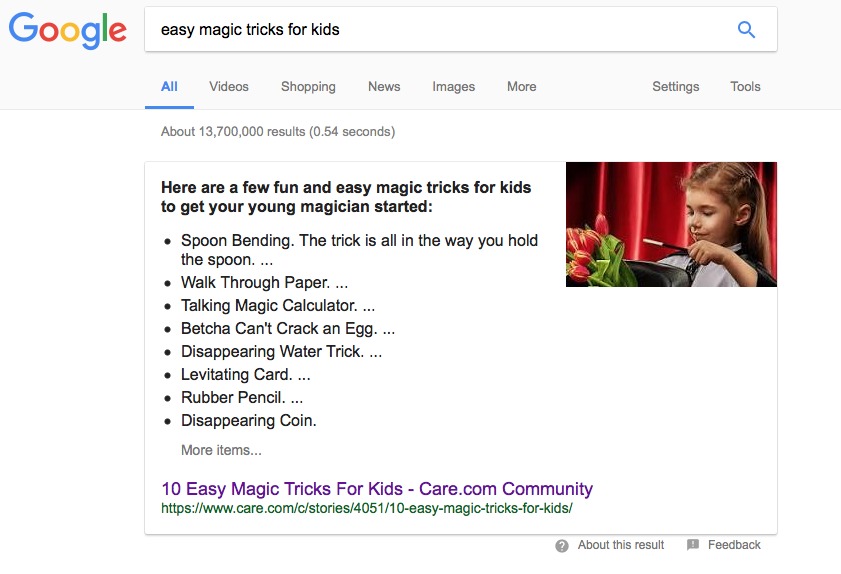 It's a post on care.com that holds the number 1 position. Care.com is an authority website, a community for caregivers. I would think that the domain and site itself has a lot to do with the top ranking but let's look at the:
On-page SEO
Word count: 764 words for the article
Keyword: "easy magic tricks for kids". The keyword is used in the URL, in the title and in the first section of the article. (Just like they teach over at WA 🙂
URL:  https://www.care.com/c/stories/4051/10-easy-magic-tricks-for-kids/
Title: 10 Easy Magic Tricks for Kids
Tags:
-The title is in H1 tags
-Short Intro of two sentences is in H3
-Each of the magic trick list suggestions (10) <strong>
Let's look closer at this article and break things down.

Introduction Before List
There is a short introduction of only five sentences. They have included comments from two magicians, which is a great thing. Having expert comments in the introduction creates trust and allow for networking with relevant websites.
In this short intro, they have also included three links.
Internal link
Relevant link to magician site with a comment from the magician himself.
Relevant link to magician site with a comment from the magician himself.
Top 10 Suggestions
After the intro, we get into the top 10 magic trick suggestions. These are all magic trick suggestions that can be found on other websites. There is a short description with each magic trick, just a couple of sentences with a link back to the original site. 10 outbound links to relevant magic trick suggestions.
Conclusion
At the end of the article, there is a short summary, two sentences with two internal links.
The main objective of the article: The main objective that I see, is to get people to click one of the internal links and sign up to be a part of care.com, to hire a Nanny or vacation babysitter.
Social Media
3 likes – 0 comments.
This post has 3 likes this far and no comments at all. So we can't say that it has a very strong social media presence.
Off-Page SEO
What Care.com has going for them is that they are an authority site with a 78 domain authority score. This is a great domain authority score.
Depending on which site I check the backlinks for this page, it varies widely some say 2 backlinks some say 16, some even more…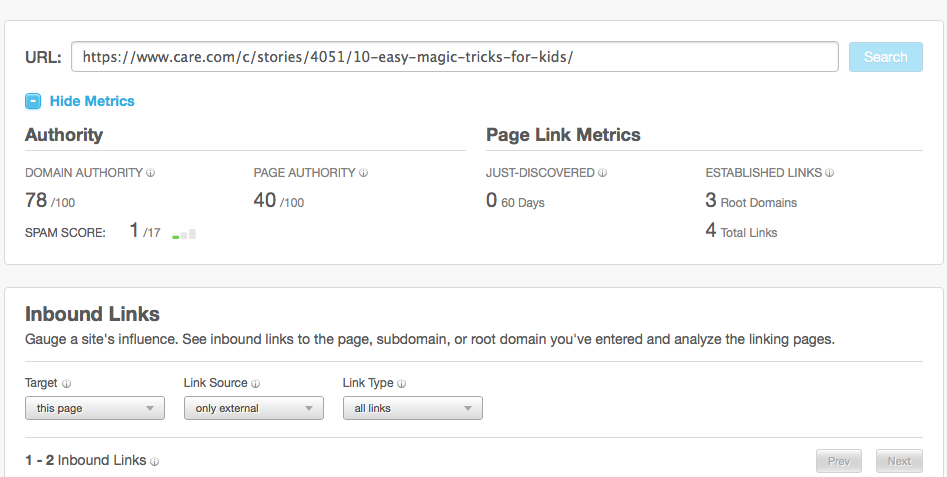 Personally, I know backlinks plays a roll in rankings, but I never spend time "building backlinks" I let them grow naturally. Maybe not the best approach but it has worked pretty good for my Amazon case study site.
Competition
The main competition is other magazine style websites like realsimple.com, todaysparents.com and thespruce.com a few magic trick sites and bloggers have snuck in on the first page as well.
Let's Sum Things Up…
On-Page SEO 
Wordcount: 764 words
Tags
-H1 for title
-H3 Short Intro
-<strong> list titles
Keyword in title and first part of article
Two expert comments with links back to their sites
10 short suggestions with outgoing links
3 internal links
Let's Try It!!
The things we can control is the on-page SEO. Let's see what happens when I do a post based on the same criteria.
I will do a top 10 post here at itsVicky.com with a lot less domain authority, let's see what happens. Will it rank on Google? Will it reach the first page? Will it reach the number 1 Google ranking?
To be continued…
Have a productive day!
Vicky