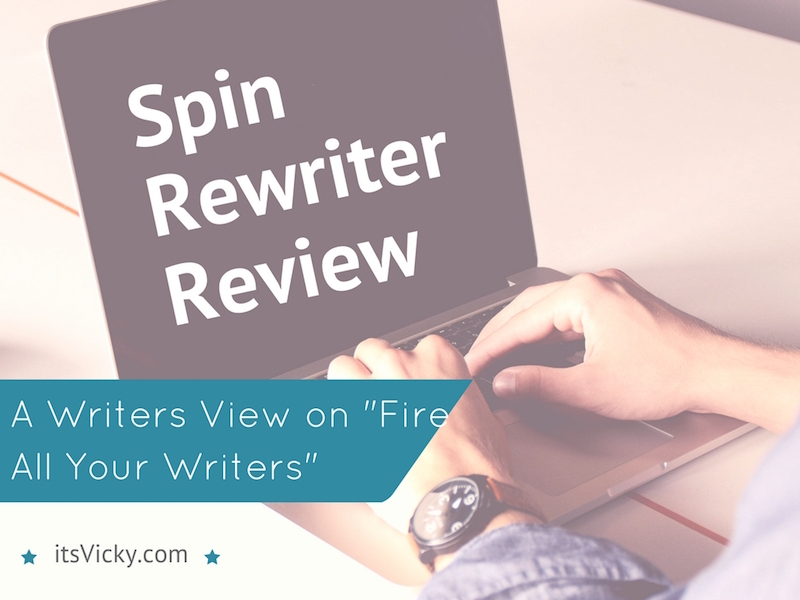 When it comes to spin rewriters, who would be better suited to review the program than my writer Daniel. This is his thoughts on Spin Rewriter.
At first glance, Spin Rewriter seemed to be the blogger or writer's arch-nemesis.  It looked the same way the second and third time too (smile).    I'm usually pretty open-minded about things.  It's just unusual talking about a product that takes all the effort, fun and creativity out of writing—when you are a writer.  The good news is that you have to have something to rewrite—which means original content is needed!
Writers save the day! …But, I digress.
About Spin Rewriter
Aaron Sustar is the creator of Spin ReWriter.  The idea behind his product is to have an automated tool that can create high-quality content in a manner of seconds.  It is an online product that you log in to make the magic happen.  It takes the original content that was submitted and finds ways to rewrite or spin the text to make it read differently—but essentially convey the same idea or message.
I visited the www.spinrewriter.com site and was immediately unimpressed.  Mainly because on the first page you almost immediately had to click through to the second page.  There, you are greeted with the phrase, "Fire All Your Writers!".   Really?  …when the tool is based on providing 'original' content to start the process?  I don't think so.
Anyway, however, if you are a writer, I did find value and usefulness in the product from the angle of being able to quickly see your content revised in several versions.  This could save a huge amount of time revising or rewriting a draft.
The rewritten articles are intelligent (for the most part) and you more or less have to go through and choose which set of words you'd like to use to complete rewrite.  The process is relatively fast and could be a time-saver for producing readable content.   Now, as far as the system is concerned, they do have articles and topic text that you can choose from.  By simply uploading the article into the text area provided the new article is created.
Money Making Potential
If you are a content provider, and your clients don't mind getting the same story (just worded differently) this could be a winner for you!  You can write one article and get 500 plus versions quickly by using Spin Rewriter.  You would be exponentially increasing your time and money while outputting minimal effort.  You would still need to proofread the resulting article, but most of the thinking and writing has been done for you.
Spin Rewriter also has an affiliate program!   The affiliate program starts with a commission of 30% and says they will pay you recurring 50% as long as the referral is in and using the system.  That is a win-win.   The affiliate program also offers a variety of links and images you can use in your ads and efforts to promote Spin Rewriter.  I tested the affiliate sign up process ('cause I might end up using it) and it is indeed free and easy to do.  After signing up, you'll get a link like this: https://www.spinrewriter.com/?ref=1f069 (mine J ).
There is a free five-day user trial period.  That, in itself, will help with your potential affiliate earnings.  Hopefully, users will see the link on your site and click through to try the product.  If they sign up and start using, you get paid!  Every time they continue to renew monthly, you get paid.
Cost of Program
The program has three participating levels:  Monthly: $47; Yearly: $197 or limited time $77  or, Lifetime: $497.  Each level offers the spin rewriting of unlimited articles, bulk spinning & mass export; and sentence & paragraph-level spinning.
Is It Worth Buying?
Is it worth buying is the $47 a month question of the day?  My answer is:  Maybe.
If you are a writer who provides content to several sources or sites, yes it would be beneficial for you—provided that your clients wouldn't mind getting similar articles.   Yes, it would be worth getting if you are interested in seeing several drafts of your writings to compare before finalizing your copy.
And, yes, even if you aren't a writer; you just need content but don't want to get caught plagiarizing—then, this is definitely for you.
Final Thoughts
[Honest Opinion:  Wait.  Let me get on my soapbox.]
I am all for technology.  I am all for progress.  I am also for being rewarded for original work.  I believe that every bit of technology has its place in helping every person achieve his or her potential.   But I disagree with the premise of replacing a person with a piece of technology.  There is something special about having the 'human element' associated with accomplishment.  Be it, work or a great work of art.  Expression of originality is the essence of writing.  You get to tell your story or make your point.  When you basically cut and paste something and rearrange the words without the effort of thought, it just seems to take something away from the art.  [Stepping off the soapbox].
But, getting paid is also a very important component of the work cycle.  So, used correctly, Spin Rewrite can potentially change everything.  You can write an article as casually as you like, then through the process of spin-rewrite, you can up the level to as professional as you want to be.  If the writing Is your writing, it's yours to do with as you please. I think if the developer of the product improved the marketing a bit, other potential uses of the online tool could be realized.
Finally, even though Spin Rewrite helps you quickly rewrite an article, you still have to proofread and finalize the article.  If it is not written like you want; or if the rewrite loses its meaning or intent, you will still need to have writing skills to produce something worth reading.  That requires topic awareness, a sense of what might be trending at the time, and an actual voice to express an opinion on the matter.  That is writing.  (And, yes…I'm still mad about that 'Fire All Your Writers!'  line on the website).  The nerve of some people—simply amazing.
Thank you, Daniel, for your honest review!
My personal experience with rewrites back in the day was not good, the outcome was poorly written content with terrible grammar. I rather hire a "real" writer to help me out, but that's just my 2 cents.