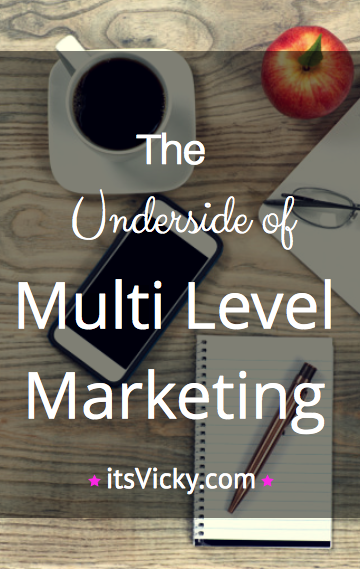 Thoughts, Opinions, Strategies
I asked my writer Daniel to put together a general article about the underside of multi-level marketing. Not because I don't like MLM companies but because before you get yourself involved with one, know the good and the bad…
Take it away Daniel 🙂
We have posted several articles lately about Multi-Level Marketing (MLM).  Some have been considered great ideas, others — had room for improvement…lots of room for improvement.  But, in each case, a personal, honest assessment of what was thought of the opportunity was given.
In this article, the underside of MLM opportunities is explored.   Underside meaning the inner workings of the basic concept and idea of a multi-level marketing.  The claim is certainly not that what is written below is the only explanation, but it is an interesting read and a creative presentation.
How Do You Make Money?
So, in every MLM opportunity, the goal is to make money regardless of the level at which you join into the opportunity.  And, supposedly, dependent upon your drive and creativity, you'll be able to go far and make lots of money with the organization that's presenting the opportunity.  In some cases, that claim is true, in other cases, it doesn't work out that way.
To make that small fortune, you often have to make an investment to get started.  But why?  And, how much should you pay in order to work (ultimately still for someone else)?  And, if you really put your mind to it, could you spend that money creating your own marketing program?
Sometimes if a lot of manufacturing and/or production of the product is involved, it is much easier to join or buy into a franchise or opportunity that is already working.  With other opportunities, consider the process below to see if you could come up with an opportunity of your own.
Know this before you start:
How much is the start up cost?
Is there a monthly fee or auto ship?
Are other people making money? (Search for the "MLM company name + income statement" in Google)
If you choose to leave, how hard is it? (check independent websites for customer feedback)
A View of the MLM Creative Process?
In researching Multi-Level Marketing opportunities, it seemed that there was a subtle omission about how the tippy-tippy top people made their money.  You saw in the company information about how it was worth millions and sometimes billions. But it never clearly stated how they made that money other than to say they had great affiliates, dealers and partners throughout the country who were top earners.  Right?  Have you ever considered what the owners did to start the whole thing off?
Well, here's one idea.  Consider that the people who came up with the pyramid or MLM idea, make their money void of the "opportunity" itself.   Consider they are all following one simple plan:
Create a Product
Sell product at "x" Price $
Convince others to sell product(s) for me
Pay [layered] commissions on resales
Repeat process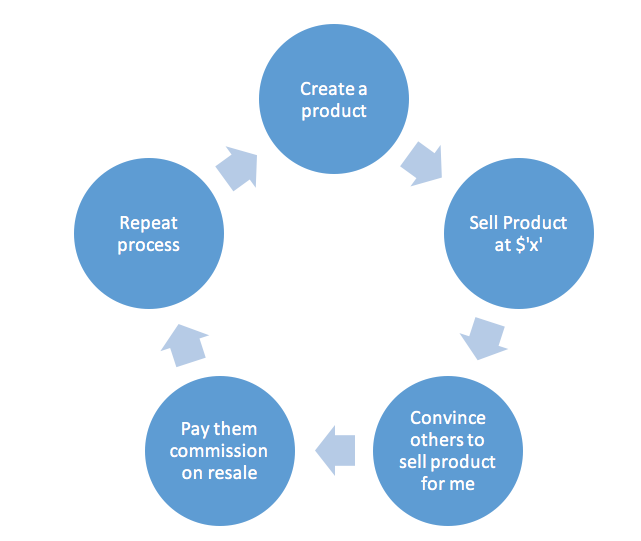 In this plan, the inventor of the MLM opportunity gets paid from everyone, at the same price, all the time.  That price being the cost of the product.  Think about it.  MLM participants usually get paid after so many sales or after bringing in a certain number of other participants who also have to (usually) pay full price for the product(s) or cost of buy-in for the opportunity.
So, in essence, they are (more or less) getting a rebate—like when you go to a pizza place and get a punch card that says "buy 6 regular pizzas and get the 7th one FREE!   Now, mind you, there's nothing wrong with this as long as people know and understand what they are getting into.
Sometimes people are happy to buy into an opportunity that they have seen work and don't want to have to put a lot of effort into getting something new established.  That is totally fine.
This article was really written for those who want to try something entrepreneurial, but either didn't have the needed capital to buy in or were missing a piece of information for that idea they'd been mulling around with but couldn't figure out how to grow it by getting others involved.
In any MLM (Multi-Level Marketing) opportunity, it is important to realize that your personal reputation is on the line.  So be fair with participants.  If you ever want to deal with those people again on any other level, with any other venture, you have to make sure that all your dealings are honest and true.  Relations and reputations have been ruined over a deal or opportunity not panning out like it was presented.  Having said that, well-wishes, good luck, go forth and prosper.
Thank you, Daniel,
Is MLM for You or Are You Still Searching?
If you have that entrepreneurial drive and think that MLM is the right choice for you then, by all means, go ahead and try it after you investigate the program and know what you get yourself into.
If you come to the conclusion that MLM is not for you BUT you still have that entrepreneurial drive, maybe an online business would be a good choice. There are many different ways that you can work online, I do online marketing and affiliate marketing.
I set up websites on topics I enjoy then monetize them in different ways, it can be using ads, physical products, downloadable products just to mention a few. No selling to family and friends, you target people that are already looking for what you have to offer.
Think about the lats time you purchased something online, maybe from amazon…. Did you jump to the main site right away and purchased what you were looking for or did you research the product first? Many researches and look for information online before they actually make the purchase, and that's where you as an online marketer come in and help…
You can learn more about how it works and what it takes, in this post.