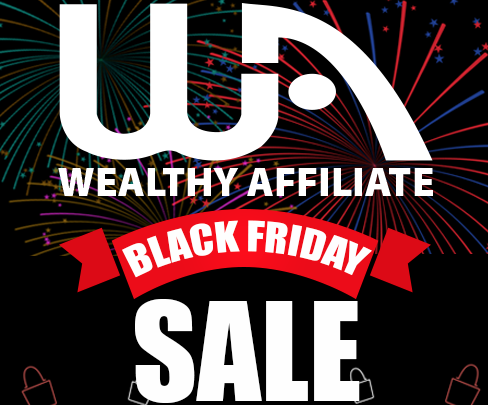 Fridays with Vicky 98
If you've been following me for a while you know that I don't usually throw "deals" around. Sure I can recommend a product but I'm not very "salesy", I kind of stink at sales lol.
Today is Black Friday and I do want to make a "shout out" for a program that I personally have been a member of for the last 9 years.
There's one simple reason why I want to share this…
Wealthy Affiliate changed my life
Dramatic? Maybe… but it's true.
I would probably not be working for myself, enjoying what I'm doing, having the flexibility that I do and be in charge of my own time if it wasn't for this program.
They taught me the basics of affiliate marketing, how to build a website, how to get visitors to the site and how to recommend products that the visitors were already looking for…
Today, 9 years later, I still enjoy the community of thousands of people doing the same thing I do, affiliate marketing. I also enjoy the weekly video trainings and other updates. It's an evolving program and community for sure.
There's another reason why I've stayed with Wealthy Affiliate. It's a safe place, where you will find no other promotions or upsells. They have one sale / year and that's the Black Friday sale.
It's simple and straight forward you either become a free member or a premium one, that's it. No annoying sales funnels, trying to sell you products for hundreds of dollars. Today you can get in on the premium membership, for a great price.
But first what's included in the membership? Here we have starter and premium compared side by side…

That clarifies more of what's included.
As you can see the monthly fee is usually $49, BUT for the next few days you can get in on a real deal. From November 25 – 28, the Black Friday Sale is on.
What's the Big Deal?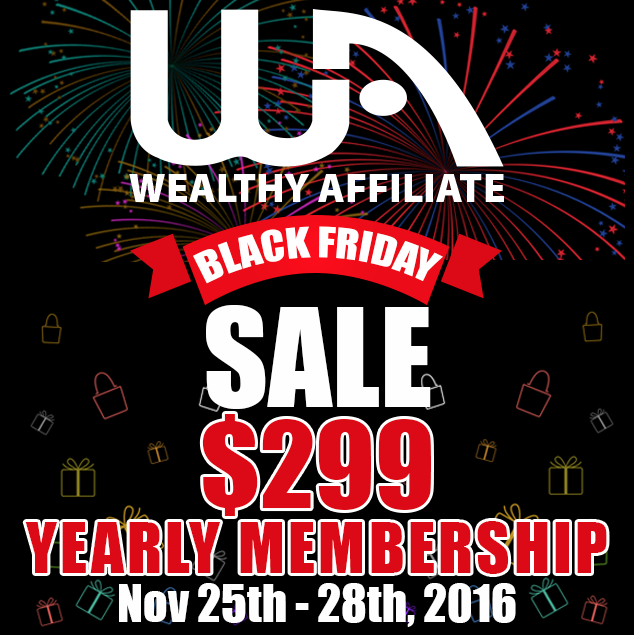 The regular price for WA Premium membership is $49 monthly or $359 yearly.
The $299 price tag is a great deal!
Still think it's a lot of money?
Do you get coffee at Starbucks daily? Do you have some purchase habits that ads up, that you could get rid of? Small daily fees ads up… compare that to what this deal will cost you. Don't choose between food on the table and this program, but if you do see the potential and you do have the money to invest… at least take a closer look at it.
You can get all the information and help you need to set up a website, get visitors and monetize it in some way, for under a coffee a day.
Let's break it down.
$24.91 instead of $49 monthly, that's a 49% discount!
That comes out to $0.82 daily and you get all the WA premium features for a year
I know they will be offering some great bonuses as well, you can get all the details here.
If today is the first time you hear about this program, I suggest that you read my Wealthy Affiliate review and find out more about the program, see if it can help you reach your goals.
If you have been thinking about trying the program, now is a great time.
Here are a few thoughts from WA members, on the Black Friday Sale…
(Kyle is one of the owners of WA)
Here's another one…
You can read more responses to the Wealthy Affiliate Black Friday Sale here.
What do you think about the Wealthy Affiliate black Friday deal? We would love to hear your thoughts feel free to leave a comment below,
Have a productive day,
Vicky