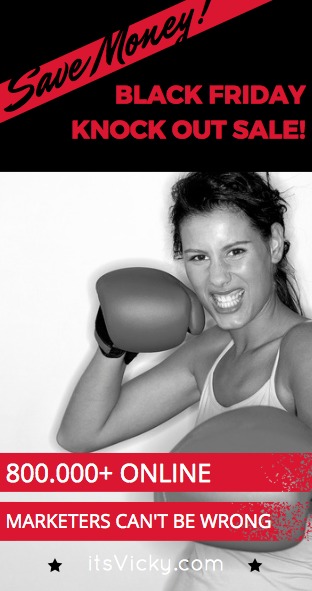 Fridays with Vicky 149
I will let you in on a little early bird secret…
Wealthy Affiliate is having their Black Friday sale, offering a yearly membership to a fabulous price!
$299 is a great offer! Sign up any other time of the year and you pay $49 monthly which ads up to $588 yearly or one time yearly cost of $359. With this black Friday offer, you can put some of that cash back into your pocket
Price: $299
Start date of offer: November 24, 2017
End date of offer: November 27, 2017

What Is Wealthy Affiliate?
If you have never heard of Wealthy Affiliate you might be thinking wow, what is this Wealthy Affiliate and why do I need a $299 program? Great questions.
Wealthy Affiliate is an online community, that offers training on how to set up a website or blog, how to get traffic to it and how to make money with it. If this is the first time you hear about the program I suggest that you read my Wealthy Affiliate review. It will describe in detail what it can help with.
Do you have a website already and want to make it profitable? Maybe you have a great idea and want to turn it into a profitable website?
Wealthy Affiliate could certainly help with that.
Statistics show that yearly members/long term members are more successful. Why? Because they commit to their website. It will take more than a few months to run a successful site. Signing up for a year means that you are committed and ready to take on the challenge.
Taking the leap of committing to Wealthy Affiliate for the next year, could give you the commitment, motivation, and inspiration to really put the time and effort in to make this work.
Give yourself this chance and opportunity!!
$0.82 a day, you could probably make that back by cutting back on your weekly Starbucks or other money hogs that you have. Just think of what you could get for this $0.82 a day.
Hang out and communicate with people that are doing what you want to do – make money from a website.
Get the step by step training that you need.
Weekly webinars that talk about the industry and how to get specific things done.
Free hosting with SSL for your website.
The opportunity to create the website and online business that you dream of.
This is a time-sensitive offer though, 4 days only! Don't miss this opportunity!

How Wealthy Affiliate Has Impacted Me and My Online Business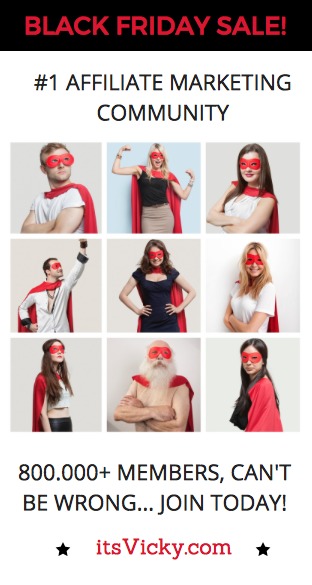 I've been with Wealthy Affiliate or WA for 10 years. Yes, it's a long time! 🙂
Here's the deal. When I first signed up I was soaking up all the training, learned the basics with the step by step program. I had no prior experience and a lot of it has been trial and error.
One thing I did right though was becoming a member of the WA community. Today, 10 years down the road I got the basics covered but I love hanging out in the community, talk and interact with other online marketers. I believe in constant learning at WA there's always something new to learn about. I also enjoy Jay's webinars.
The Result…
I run a couple different money-making websites, doing online marketing full time. You can follow the journey of one of the sites, an Amazon case study with income reports.
Working from home, being there for my kids has been the best combination for my family. We love the freedom that comes with it!
I have Wealthy Affiliate to thank for that!
Another thing I really like about the program is that they do 1 promotion a year, that's it. There are no up-sells, down-sells, side-sells, whatever you want to call the additional add-ons that most companies try to do.
Wealthy Affiliate keeps things safe and simple.
You have two kinds of membership options to choose between a free starter version and a paid premium version. The free starter version is a little limited, the premium version everything they offer is included…
When you sign up for the Black Friday deal, $299 you get ALL the premium options included:
The Black Friday Wealthy Affiliate 2017 Sale
Instead of $359 you can become a yearly member for $299 everything included!
This is a limited offer, November 24 – 27
But wait there is more…
2017 Bonus Offers
7 SEO Marketing Strategies to Explode Your Rankings in 2018
Date: December 1, 2017
This is a 1-hour live class where you will get the chance to ask your questions.
Bonus #2:
7 Unconventional Ways to Amplify Your Brand in 2018
Date: December 8, 2017
This is another 1-hour live class where you will get the chance to ask your questions.
Bonus #3: 
7 Brilliant Traffic Strategies You Need to Know in 2018
Date: December 15, 2017
Another live class, 1-hour where you will get the chance to get your questions answered.
Bonus #4: 
Kyle Goes LIVE, Insights into Becoming an Expert in 2018
Date: December 22, 2017
Kyle the owner of Wealth Affiliate goes live for 1-hour answering your questions.
Don't miss these live calls!

Is This Another Program Collecting Dust?
This program has 800.000+ members from 195 countries around the world. This is a very active community.
Wealthy Affiliate and their owners are constantly working to improve the program.
Here are just a few of the 2017 updates:
Page speed insight – helps you analyze and improve website speed
Site content images – free images for your website over 1,000,000+ images
Sitebuilder – new website builder
Redesigned training
Free siteSSL for hosted sites
That's pretty impressive but they don't stop there. There are some pretty exciting 2018 launches as well. Here are just a few that we can expect…
What to expect in 2018:
New keyword and research platform
SEO automation for your content
Personalized help and interaction
Revenue opportunities within Wealthy Affiliate
This program really changed my life, cliché' maybe but I would not do what I'm doing today if it wasn't for Kyle and Carson's program.
It's easy to get started.
Here's my Advice to Get as Much As Possible Out of the Program
Create your account.
Send me a quick message or note, if you have any questions at all I will be happy to answer them.
Follow the training and implement it.
When you get stuck ask questions. You can get help from the community, in the chat, from the owners directly or from me. We are all here to help!
Wealthy Affiliate has allowed me to work from home and be able to be there for my kids. We all want different things but WA was my ticket to FREEDOM, will it be yours?
Take advantage of the WA Black Friday Offer…



What are your thoughts on this offer? Feel free to leave a comment below!