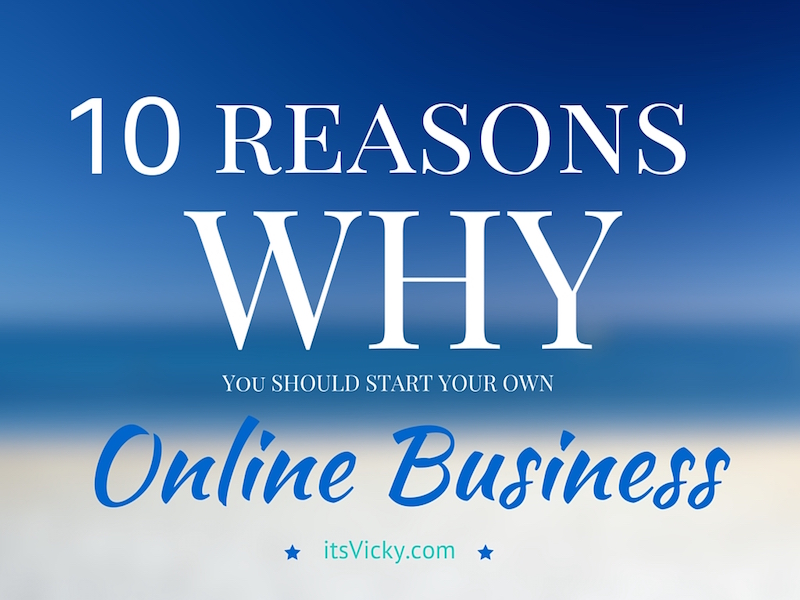 Fridays with Vicky 56
The reasons WHY people want to start their own online business has always intrigued me. It's not the answer to make more money that I'm looking for, but the deeper meaning of what you want.
The WHY will be what push you through the downs and let you enjoy the ups. The WHY will pull you through the times when you think of quitting… It takes hard work and determination to run your business, BUT if your why is strong enough then that will pull you through.
I'm part of an online community, filled of members with entrepreneurial spirits. A great place to learn the ins and outs of affiliate marketing through step by step trainings.
People joining the community are entrepreneurs, with a dream and a vision. If they are not already running a successful online business they are there to get one started.
What better place than that to do some research on the reasons WHY people start their own online business. I reached out to the community and asked the members one question;
WHY Are You Here (at the community)?
WHY Do You Run or Want to Run Your Own Online Business?
I hardly had time to submit the question before the answers started to roll in. I think I have close to a 100 comments on that question. (Below I share the link to the thread.)
To sum it up these where the 10 Reasons WHY the members are there building their own online businesses.
10 Reasons to WHY You Should Start Your Own Online Business
There were one big reason that most people brought up…
1. Freedom
Freedom looks different for each and every one of us. Having the choice to do what YOU want to do, what you want to work with, when you want to work and where you want to work, that means freedom for a lot of us.
Having the freedom to be in control of your own life and your own time, that's a dream for many.
I enjoyed Steve's answer;
Because I never wanted to spend 40 years of my life working in a cubicle to make someone else rich. That never made sense to me. I wanted complete control over my own life.
2. Create Your Own Reality
So many people go to a job, a 9-5, that they don't even like. Is that you? I don't blame you, bills needs to be paid, BUT it does not have to be like that…
With your own business you are in charge. You create your future, your own reality. The past brought you to where you are today, but looking forward YOU can create your future. You can take charge, you can be in control of your own destiny.
Create something you are proud of.
It might not be easy. You might have to start your business on the side while working your full time job. Just know it can be done though.
I like the way Frank puts it;
I'm here to build my own future, not someone else's.
3. Nurture the Entrepreneur In You
Many have the dream of setting up something them self building something meaningful and nurture that inner entrepreneur. If you work for somebody else you might be very limited to what you can do. Having your own business will allow you to let out that creativity and that entrepreneurial drive in you.
I like how Ruth looks at it;
I'm here for several reasons, the first one being that I can't shake my entrepreneurial spirit! I do love my work but it doesn't allow me to flourish and fully realize all my dreams and goals.
4. Be Your Own Boss
There are many benefits, being in charge of you own online business. You work on your own terms, when you want, from where you want and nobody can tell you any different.
It will take a lot of time and hard work to set everything up, but you can work on your own terms. If you like working at night nobody else will tell you, you can't. If you enjoy working in your PJs, nobody else will tell you, you can't. If you enjoy working outside on your laptop… it's your choice.
Being part of the kids school events, is important to me. I have not missed one event for the kids, because I schedule my time to work around it. The only reason I mention that is because that's what being my own boss means to me.
5. Get Away from the 9-5
Having to clock in to a job each and every morning, slaving away to make somebody else rich, well it comes a time when some just get fed up. Your WHY can be a pleasure like freedom but it can also be a pain, getting away from something that you never want to look back at.
The 9-5 lifestyle getting paid a mediocre salary when others become rich is not for everybody. Some online entrepreneurs can't wait to get away from it. Is this you?
Or like Gary Vayerchuk said in 2014;
There's no reason in 2014, to do shit you hate. NONE." – Gary Vaynerchuk
6. Help Others
To be successful, to help others and provide value for others is a must.
Your WHY will be very personal and that will get you through the rough times but helping others will bring success to your business. When you start focusing on what you can do for others, that's when you will move forward.
7. Spend Time with the People You Love
If you are a parent, spending hours away from your kids, when you rather would be home with them… I feel for you. I'm so very thankful that I've been able to pull this off, to work from home, so that I can be there for them. You can do it too! They are only little for a short period of time.
If you are in this situation take a look at things you do, can you take a couple of hours a day and start your own business on the side? When the kids where real little, I cut out most TV time, I was working when the kids were napping and when they got to bed. Did I leave the dishes in the sink ones in a while, sure I did… but it was all worth it.
8. Do Things You Enjoy… Travel
We all have things we enjoy doing, things that takes time and money. Travel, is one that's often brought up. Do you enjoy traveling? If you do, how would you be able to bring your business with you and work on the go?
To have the freedom to combine a passion like traveling with work, is a great why.
9. Be a Role Model for Your Kids
Do you have kids? To be a role model for your child, for him or her to see that you work hard and follow your dreams can instal great values in your child. Kids do what we do, not what we tell them to do. I want my kids to work with something they are passionate about, do what they love. I know I have to be the one showing them that it's possible.
Show your child that you are following your dreams, that you stick with it and don't give up when things get rough.
10. Supplement Your Income
I wasn't going to include any money reasons to why, but I do think this is a very important one. Many are struggling to make in ends meat. People are working hard but it's still not enough. Parents, students, retired people working hard but with limited income hardly getting by.
I see that improving that situation can be a very strong why. To not have to choose between veggies and meat in the grocery store, or having to say no to kids activities because there's just not enough recourses. Or as retired you worked your whole life and now it's time to sit back and enjoy but the money is just not there to do it.
Starting an online business does take time, hard work and dedication. It doesn't take a lot of money to get started though…
If YOU want to work from home, work for yourself with your own online business, you can! We all have excuses, to why not, it's time to cut those and give it a go.
Give yourself a chance!
We all have "time wasters" cut out TV time, get up 1 hour earlier in the morning, what are you doing between ten and midnight… if your WHY is strong enough you can make it happen.
That was 10 Reasons to WHY you want to start your own online business, here is the original question and comments within the community.
Now What?
Are you ready to get going, are you ready to find out more about starting an online business for yourself?
Great!
As always I would love to hear what you have to say about this, what's your WHY? Feel free to leave a comment below,
Have a productive day,
Vicky